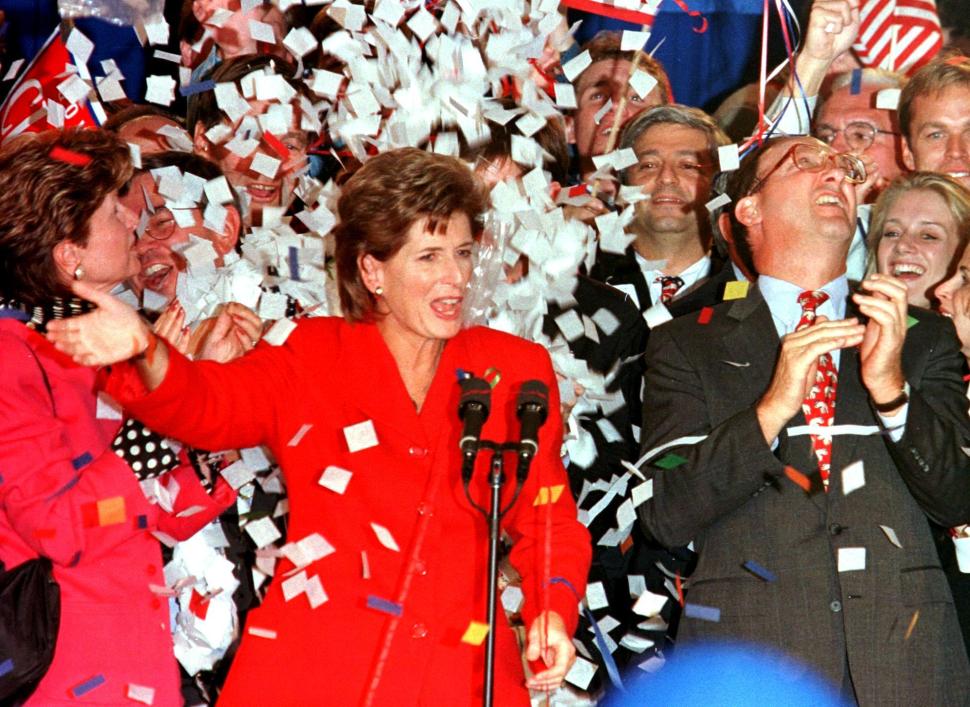 I think John Whitman would have liked the title of this column. From the moment I learned of his passing, I was determined to write a tribute to him. The title of this piece is the best way I know to describe him in brief.
John Whitman was a decorated war veteran, awarded the Bronze Star for his gallantry as an Army first lieutenant in the Vietnam War. A man of his family's wealth and social standing could have easily avoided Vietnam service. John Whitman was a fervent patriot, however. If that isn't a real man, I don't know what is.
John Whitman was fiercely protective of his wife, the former New Jersey Governor Christie Whitman, and of his entire family. That's what a real man does.
If you were loyal to the cause of Christie Whitman, the most underrated governor in the history of New Jersey, John Whitman was extremely loyal to you in return. Loyalty is what being a real man is all about.
John Whitman was a highly public spirited citizen whose fundraising efforts were critical to the restoration of the gold dome at the State House in Trenton. Devotion to the public good is something that usually typifies a real man. And John Whitman had the quality of dedication to the public good in great abundance.
My ideal of the ultimate real man was the late coach of the Green Bay Packers, Vince Lombardi. I have my own John Whitman story that is very similar to a story that the Packers' All-Pro guard Jerry Kramer relates about Lombardi in his book, Instant Replay.
Kramer describes a training camp session during Lombardi's first season as coach, 1959. During that practice, Lombardi drove Kramer unmercifully and berated him constantly. Kramer sat in front of his locker after practice and said to himself, "I can never play for this guy."
All of a sudden, Kramer felt a pat on his shoulder. It was Vince Lombardi, saying softly to him, "Son, one of these days, you're going to be the best guard in the National Football League."
Like Lombardi, John could be demanding. That is the biggest understatement since Ted Williams said he thought he could hit. As with Lombardi, however, if you performed to your utmost capacity in response, you had no better friend than John Whitman. My following story illustrates this vividly.
During the first term of Governor Christie Whitman, I had the privilege of serving under former Commerce Commissioner Gualberto "Gil" Medina as Assistant Commissioner. During her tenure, Whitman was the most successful economic development governor in the nation. Gil was her captain, leading her business attraction and expansion efforts that made New Jersey at that time the leading economic growth state of the Northeastern United States. This growth was made possible by two factors: 1) the Whitman income tax cuts; and 2) the Business Employment Incentive Program (BEIP), enacted in 1996.
John Whitman was vitally helpful to Gil and me in crafting the BEIP. Gil invited John to join us when we travelled to Israel in February, 1995 to open the trade office in Ra'annana. The then mayor of Ra'annana, Ze'ev Bielski, was a close friend of the Whitmans and had given New Jersey free space for the opening of the trade office.
Let me not mince words: John drove me absolutely insane during that trip, making constant demands regarding the briefings I provided him. I said to myself that I should make it my business to never travel with him again.
I was wrong. When I returned home and went to Governor Whitman's office to brief her, she greeted me with the words, "John said you did an absolutely magnificent job on the trip."
John Whitman and Vince Lombardi. Two real men.
It was my pleasure to spend a great deal of time with John on Governor Whitman's trade mission to Israel in November, 1996. On the next to the last night of the trip, John's voice broke and he shed tears as he spoke to the people of Ra'annana of the feelings of friendship and loyalty he and Christie Whitman felt for the people of the State of Israel. There was no question of John's sincerity. A real man is sincere, and John was a real man.
John often sought my advice regarding Governor Whitman's outreach to the New Jersey Jewish community and the State of Israel. In April, 1998, I returned from the annual AIPAC conference in Washington to attend a political event in New Jersey. John took me aside as I entered the event to ask me whether the Governor should accept the Friend of Zion award offered by the Orthodox Jewish outreach organizations, Aish HaTorah.
I have a very high opinion of Aish HaTorah, and I advised John that she definitely should accept the award. In August, 1998, the then and present Israeli Prime Minister Benjamin Netanyahu personally presented her the Friend of Zion award at a dinner banquet in Jerusalem. I could not have been more proud of her.
All of us who were blessed with John's friendship can reflect on wonderful times spent with him. The Whitman family has lost a great husband, father, and grandfather. America has lost a great citizen.
John Whitman, above all, you were a real man. Rest in peace, my friend.
Alan J. Steinberg served as Regional Administrator of Region 2 EPA during the administration of former President George W. Bush and as Executive Director of the New Jersey Meadowlands Commission under former New Jersey Governor Christie Whitman.