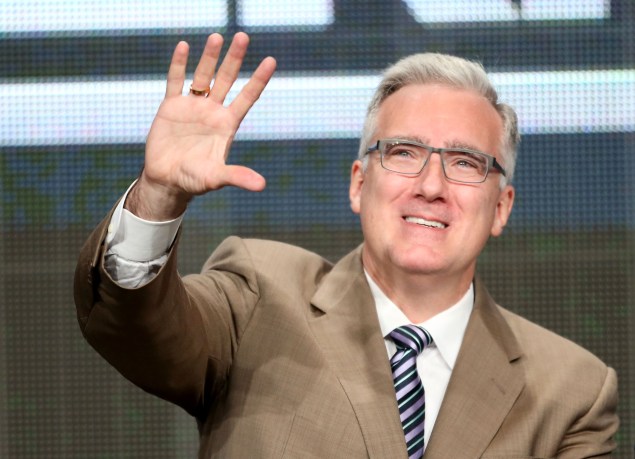 Keith Olbermann looks like Clark Kent and used to be the media Superman of the hip and liberal left.
He was a barb-tongued wit who threw spit at those right-wingers at Fox News and the Republican Party and sometimes Democrats, too. He rose to fame during George W. Bush's messy second term. Mr. Bush deserved him.
But for the last two years, after Mr. Olbermann ignominiously left political commentary, one of America's great television talents got jerked around by that behemoth sports network, ESPN, before it shed him this week for (a) lousy ratings; (b) criticizing the NFL; (c) picking Twitter fights with Penn State trolls; (d) all of the above; (e) some of the above or (f) none of the above. You never know with Mr. Olbermann. It could be anything.
ESPN seemed to be toying with Olbermann from the start, two summers ago. They put him on their second-string network (ESPN2) as floating filler for an hour or so around midnight after second-tier football and basketball games or poker or whatever.
When that didn't work out, Mr. Olbermann's time was cut in half and he was buried at 5 p.m., where he drew lower ratings than that time slot brought the year before. He returned to the ESPN sports nest only after flaming out at MSNBC and Current TV as a political pundit.  His ESPN contract is up this month.
I worked for Mr. Olbermann on his "Countdown" show during its Current TV phase. I was "let go" shortly before Mr. Olbermann was "let go." The only difference is that I never exchanged lawsuits with Current bosses Al Gore and Joel Hyatt that had all the dignity of a feces fight.
I knew Mr. Olbermann long before I made the mistake of working for him. It is great to be friends with the World's Smartest 14-year-old Boy. But it's hell to be in his employ. Mr. Olbermann is a crazy-maker up and down the chain of command.
And he tends to go off half-cocked.
For instance: On a show this week, he defended ESPN's report about the amputated finger of Jason Pierre-Paul of the Giants. ESPN had the evidence, Mr. Olbermann said. (The paperwork, not the finger). He ranted against "people pretending that it is OK to report something demonstrably not true simply because somebody told them it was true. And they have mistaken the fact that somebody told it to them for, quote, truth, unquote."
All this is well and good except that Mr. Olbermann reported one of the worst kinds of "untruths" possible when he said on Current TV that Joe Paterno was dead when the former Penn State coach was still alive. Olbermann – who was tormented by bullies as a child – was at that time flipped out about the Penn State child molestation scandal that led to the imprisonment of Paterno's former assistant coach, Jerry Sandusky.
Mr. Olbermann's only source of this bogus "news" was a web site report with no attribution – no family, no police, no hospital. As was usually the case at "Countdown," Mr. Olbermann ignored most of the staff, who could have saved him by proving the "scoop" false with a couple of phone calls. But Mr. Olbermann wasn't about to let reporting get in the way of the "truth" of his wishful thinking. Paterno died the next day. Mercifully, Mr. Olbermann was not on the air that day.
But there were lighter moments under Mr. Olbermann. My favorite was a script I prepared for him about Rep. Peter King (R-New York), the blustery Long Island right-winger. I can't recall what minor issue it involved, but the segment went well, Mr. Olbermann flawlessly reading a script that was basically unchanged.
As I left the production truck, I exchanged satisfied nods with a producer just as we heard Mr. Olbermann's loud, final words at the end of the script. "Peter King is an asshole!" Mr. Olbermann thundered.
"Hey, that's not in my script!" I said to the producer.
"I know, I know," he said. "Go!"
Had Mr. Olbermann said the same thing on MSNBC, it might have caused a stir. But at Current, there was no public reaction because hardly anyone was watching. After Mr. Olbermann got the boot, he went on David Letterman to compare himself to a chandelier in a room of shabby furniture at Current and said to anyone who would listen that the place was unprofessional.
Let this be known: At Current TV, there was no one more unprofessional than Keith Olbermann. He poisoned his own show; he killed the network. But enough truth for now. Let's conclude with an honest wish without schadenfreude: It would be good if Mr. Olbermann made yet another comeback as soon as possible with a return to political commentary for the coming election season.
Jon Stewart is going off the air. We don't know what the new Stephen Colbert will be like. Bill Maher is just once a week. Mr. Olbermann could help fill a void, perhaps back on MSNBC. Why not Comedy Central? Or podcasts? Or radio? In this vast cable and digital universe, there's got to be a fit for a properly humbled Olbermann to resume his role as the anti-Fox. And there's a market for it. Bring back the old K.O.!