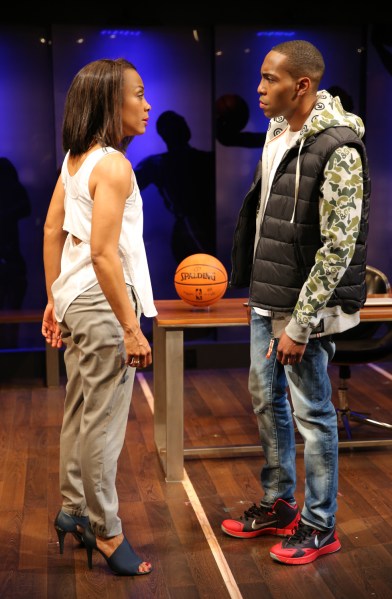 The unorthodox, cutthroat world of sports agents is a subject so few people know about that to my knowledge King Liz, a powerful, riveting new play by Fernanda Coppel at the Second Stage Theatre's small space uptown, is the first play ever produced on the subject. I don't know anything about the playwright's background, but she must have experience because she knows her subject matter and writes dynamically and forcefully about it. With a spectacular performance by Karen Pittman as a centerpiece, King Liz is a real midsummer surprise.
The competitive sports arena where seasoned veterans make stars out of swimmers, ice skaters, and basketball, hockey, baseball, and football players is a closed society with locked doors, impossible for women to crack in a man's world—especially a black woman like Liz Rico. But Liz is not only one of the few to make it; she's one of the best and most formidable. Even the other agents in her own agency are intimidated. She's worked hard to rise from the projects in Red Hook to the top rung on the ladder of success, building her career from a challenge to a triumph equaled by no other agent, regardless of gender.
She is King Liz. When the play begins she sails into her office in high gear, wearing a tight white dress and very high heels, and goes into a rap song that soars with self-assurance. She's hard as nails, glamorous and rich, inspiring equal measures of fear, envy and hate in anyone foolish enough to oppose her. She's the sports-agent equivalent of Sue Mengers, without the drop-dead wit and soft femininity it used to take trading quips with Gore Vidal and hours in a chair at Elizabeth Arden to achieve. She doesn't have the same star quality, but she's cut from the same bolt of ruthless, bloodstained caftan fabric, and her sangfroid is very funny to watch.
After 22 years, Liz calls the shots. Now her agency has an eye on Freddie Luna, a fast-rising high school athlete from the Brooklyn slums with a rap sheet as long as your arm, and Liz is strong-armed by her agency's CEO to sign Freddie as a new client. The play is about the strategy of a top female agent in a male-dominated profession to turn an impossible gamble into pay dirt, hang onto her power as the world changes around her, and live up to her reputation as a ruthless monster who will stop at nothing to get what she wants, even if she has to "eat the testicles off a newborn baby."
Liz has a client list worth $900 million, comes equipped with her own ambitious Eve Harrington secretary-assistant (Irene Sofia Lucio, who matches Ms. Pittman's every thrust and parry without losing her way), lives in a penthouse overlooking Central Park where her neighbors include Oprah and Spielberg, and she could even get Barack Obama on the horn if she needed him in a pinch or for a fourth for bridge. What she doesn't need is an arrogant little egomaniac with an uncontrollable temper who turns the press hostile every time he opens his mouth. But there's something about this kid that reminds Liz of herself at his age.
Determined to make Freddie into the next Michael Jordan, she launches the 19-year-old rookie guard on his way to becoming a Hall of Famer, seeing something in Freddie (well played by Jeremie Harris) that she learned to tame and overcome in herself. She's a handful, but so is he. As soon as he starts to rise in the Get Famous Business, the press drags in his criminal record, he punches out his coach, tells off the New York Knicks, and even causes a scandal by attacking network television's most formidable interviewer, Barbara Flowers (Caroline Lagerfelt in a not-so-thinly disguised sendup of Barbara Walters, without the speech impediment). Soon King Liz is forced to do damage control 24/7, the same way she saved Dennis Rodman from self-destruction in a sequined dress. Can she beat the odds before the world she created knocks her out of her Manolo Blahniks?
While you marvel at the myriad ways Karen Pittman bulldozes her way through this play, directed by Lisa Peterson with every flag flying, the playwright teaches the energized viewer a lot about the internecine mechanics of the sports world, where everyone wants something, everything has a price, and nothing is sacred or safe. For the first time in her life, King Liz makes a compromise and finds her heart. The play never stumbles; it keeps you gasping with excitement, entertainment value and polish, introduces a fine new writer who is going places and makes a star out of Karen Pittman. I was overwhelmed.