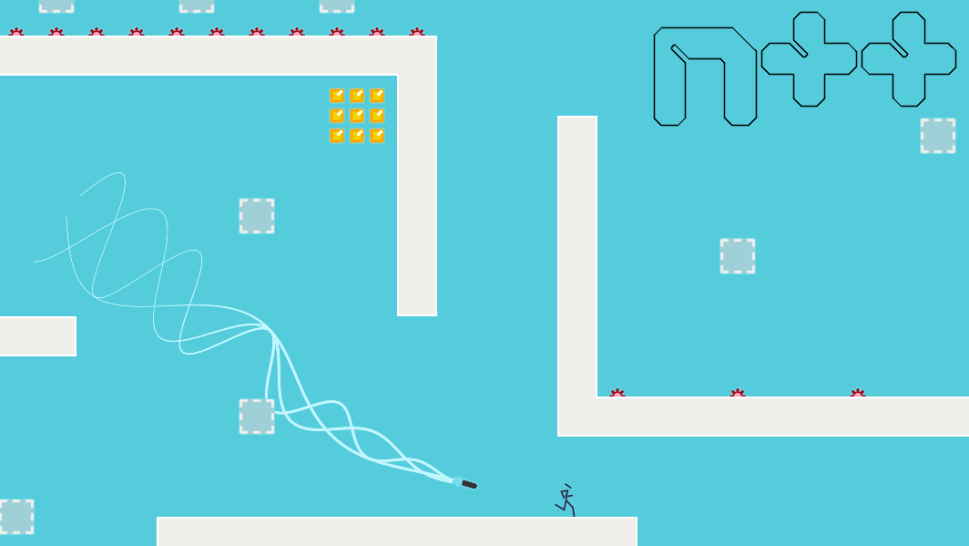 The best part about playing N, for me, was always dying. What was great, see, was when your character would hit one of the mines and explode; it's stick figure body parts would go shooting across the screen in every direction. If your arm, say, hit another mine, that mine would explode, too. Oftentimes, your body would hit a mine, explode into a half-dozen pieces that shot all over the screen setting off a brief cascade of explosions.
Dying should always be so fun.
I played the original N at IndieCade East in Queens back in 2014. The tiny team at Metanet, the company that brought us the games first two versions, N and N+, and has now released the most ambitious version to date, N++. With 2,360 stages, the company has given you a lot more ways to die.
N++ went live on Sony PS4 Tuesday. It's available for $19.99.
Mare Sheppard and Raigan Burns, the Metanet cofounders, gave an AMA on Product Hunt Tuesday. They described dramatically increased power for the game's graphics, so dying may be more satisfying than ever, here at the trilogy's end.
Quickly: in all of the N games, you play as a ninja stick figure. Your goal is to move through a hostile space, avoiding a multitude of perils. It's extremely simple in look and feel—highly abstracted. It's more of a puzzle game but with a mechanic that feels a lot like an adventure game. Players can run, jump, decelerate, somewhat control themselves mid-fight and somewhat stick to vertical surfaces.
Here's some of the standout points that the team made about the games last iteration in their AMA:
Vector Rendering System. Shawn McGrath, their developer, built the game to run in vector graphics, so that its very simple edges would still have a smooth quality. In an email to The Observer. Ms. Sheppard wrote, "It's basically drawing all the graphics procedurally using circles and lines, rather than using sprites, textures, bitmaps and pixels. Vectors are smooth and by their nature pixel-free, so they are a better fit for representing the sub-pixel movement in N++: finally the game looks as smooth as it feels."
Why the PlayStation 4. N++ had a deceptively simple look. Ms. Sheppard said that's been intentional from the start. "We cut back, to highlight the gameplay and really let it take centre stage," she wrote, yet its complex anti-aliasing and multi-layered geometry completely maxes out what Sony's console is capable of. Mr. Burns writes later that it's only 50/50 that the game could be ported to a Sony Vita.
New threats. The team invented a bunch of new threats to torment players through the game. Mr. Burns says that his favorite threat is the Evil Ninja, which follows players and imitates them, just a little behind. If the player inadvertently touches his twin, though, he dies. The new threat they couldn't get to work was the Tiny Deathball. Its conceit? It would lead players, predicting where they would go, in hopes that the player would touch it and die. The problem? It worked too well. Players couldn't beat it.

"Back in 2002-4, casual games were really becoming popular, and we longed for the days where to win a game you needed to be skilled, rather than good at clicking a mouse fast. So that's what N is: a little reactionary time capsule."
—Mare Sheppard

Gauging difficulty. "You kind of get a sense for when a level is too hard or too easy," Ms. Sheppard wrote, in the AMA, "You get to know you and your ninja's limits." N games stretch your problem solving skills while also pushing your very fine motor skills and reflexes. It can be quite hard, at times, to figure out how to get through a level. Ms. Sheppard said that this was a fine balance for them to walk. Too easy was boring, but the levels also couldn't be impossible. Sometimes, a tough level could just be moved later in the game, with comparably hard levels, but it was still nuanced.
Physics. Inertia. Friction. Velocity. All are critically important to this game. In a way, the N games are about two-dimensional physics. Most game makers would rely on software to solve these physics problems for them. There are a number of physics engines out there to calculate how bodies would move, collide and fall apart. Again, though, Metanet wrote their own, as Ms. Sheppard explains in a post on their forum. They first built the engine for N, she told the Observer, adding that it gives it a unique feel.
Level Editor. If the thousands of levels aren't enough for you, the game lets you build your own.
References. Mr. Burns explains that the game is loaded with all kinds of pop culture references. In many cases, the color palettes and/or the names of levels are inspired by people, games, movies or other cultural touchpoints that the team liked. Just as they started to release the game, they realized that this might be useful. Past iterations of N were almost entirely in grey scale. This one has a much richer color scheme, though carefully restrained.
[protected-iframe id="9c395b5f196585281e2a29b563f3f7f4-35584880-79214703″ info="https://www.youtube.com/embed/XFl3zU56-e0″ width="560″ height="315″ frameborder="0″ allowfullscreen=""]
If you've been dissatisfied with your simulated deaths lately, N++ could teach you to love violent annhilation all over again.
UPDATED 8/3/15 10:55 a.m.: This story has been updated with additional comment from Mare Sheppard.