The perfect basic tee is hard to find. In fact, the search for the elusive casual staple was so tricky that it convinced three Canadian transplants to leave their day jobs in New York and launch their own line of cotton shirts.
"There are really low quality cheap basics, or really expensive designer basics, which kind of defeats the whole point," Rami Helali said.
So Mr. Helali, together co-founders Ben Sehl and Mackenzie Yeates, launched Kotn, a direct-to-consumer line that sells sustainable shirts made from high-quality Egyptian cotton,  billed as "the softest tee you'll ever touch." At $35 for one or $75 for a three-pack, the price point is affordable but not alarmingly inexpensive. Fast fashion it isn't.
The company launched in March with a line of basic men's shirts: crew, v and scoop neck, in black and white. A forthcoming women's line features slightly less basic basics. Designed by Ms. Yeates, who studied fashion design and worked in branding, the shirts have subtle touches like slightly longer sleeves, seams that run down the back, and a subtle flair that make it more suited to a female form.
Both lines look good with jeans or tucked into skirts.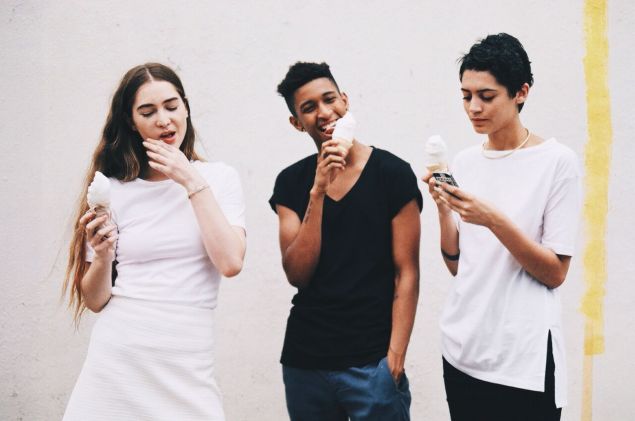 The fabric is, as advertised, soft and it makes for a sturdier construction than many comparable products. That, the founders say, is thanks to the primo Egyptian cotton. And, as is the fashion these days, there have a social mission to the brand.
Mr. Helali, whose parents are from Egypt, was in the country for a family wedding when, he said, he found out that the government was cutting subsidies for cotton farmers, making growing the long-held luxe crop unsustainable for many of the small-scale farmers.
That inspired Mr. Helali to quit a job in finance and, together with his co-founders, attempt to save the industry while solving the less grand problem of finding a cotton tee.
A distant cousin on his mother's side connected him with a cotton farmer in the Nile Delta.  "From there, it was just me, walking down a dirt road and introducing myself," he said, of meeting cotton farmers and convincing them to grow the crop by promising private subsidies, scholarships and guaranteed demand.
"We not only cut out the middleman between the customer and the consumer, but also between the everything else. We don't just buy fabric and cut it," Mr. Helali said. "We work through the entire chain."
Egyptian cotton, long synonymous with luxury, is in decline. The fiber is long or extra-long, which makes it feel softer than the shorter variety grown elsewhere. "The point is trade not aid. We are trying to take that one step further to make it sustainable," Mr. Helali explained.
The result? Soft tee shirts that can be worn undershirt-style beneath button-down, or tucked into a shirt. Unlike many of our cotton tees, Kotn's don't get demoted to the pyjama drawer after one wash. In fact, when we got it back from the wash and fold, it was softer.
Whether buying a $35 shirt can really save the Egyptian cotton industry, well, it's worth a shot.