MILLVILLE – Assemblyman Sam Fiocchi (R-1) and his running mate for the 2015 assembly race Cumberland County Freeholder Jim Sauro hosted a town hall meeting on Thursday night on their home turf in the first legislative district.
Discussion during the meeting focused on drawing business to South Jersey and away from competing states with more attractive tax structure for businesses, but the candidates were eager to talk about the state of the stalled Atlantic City casino referendum that has been at the center of Chris Brown's (R-2) campaign a district over.
When asked about the lack of consensus between Republicans and between north and south over the controversial proposal to build new casinos across the state, the candidates were firm in their conviction.
Saying that he would have to "part ways" with Governor Christie on the subject, Sauro was unequivocal in saying that he thinks the governor was "wrong in supporting that referendum."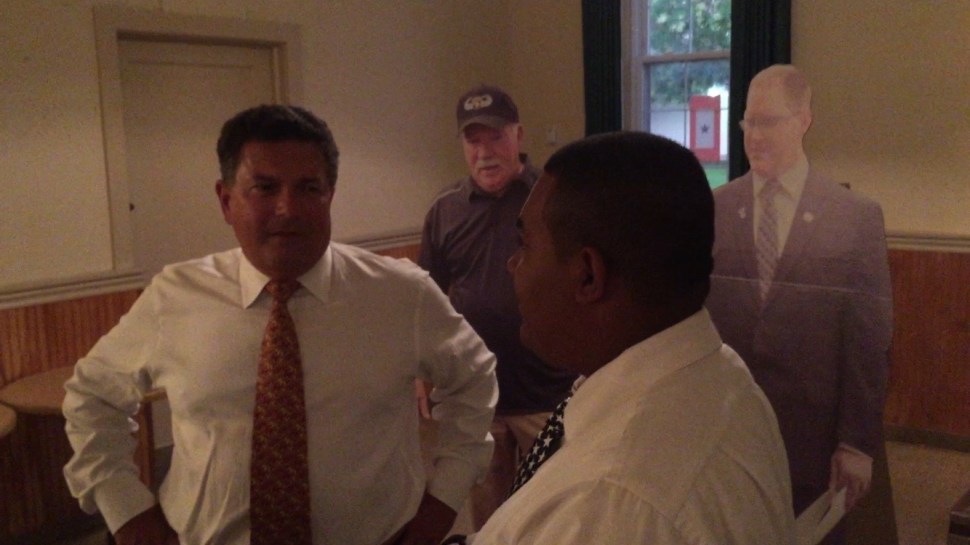 "Nobody agrees on everything," said Fiocchi. "I've disagreed with the governor on other things as well. "
Fiocchi compared the disagreement to a business partnership, saying "[my] brother and I always said that if you have two partners that agree on everything then you don't need one of them."
When asked whether the disagreement might cause a rift when it comes time to hold fundraisers, Sauro said "I wouldn't argue if he came down and wanted to do one."
Displayed at the front of the room were cut-outs of their Democratic challengers Bob Andrzejczak (D-1) and Bruce Land.
"The cutouts of Bob and Bruce are meant to get a few laughs, while bringing attention to a very serious issue – the fact that two people running for State Assembly have basically been hidden away from the public by their political handlers," said a release.