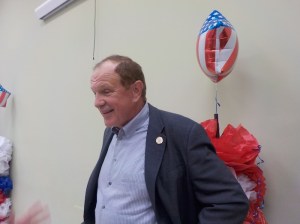 State Senator Raymond Lesniak (D-20) is holding strong to his assertion that the ExxonMobil settlement in is in violation of state law and is calling for its invalidation. Lesniak believes that violations to state law can compel the judge to not except the settlement and that, if it is accepted, "it would be reversible on appeal."
In a statement released today, Lesniak called the state's $250 million settlement with ExxonMobil over oil spills in that contaminated over 1,500 acres of wetlands a violation of New Jersey's "Spill Act."
Lesniak told PolitickerNJ that he believes the "state is being ripped off by billions of dollars" due to the settlement which, according to his statement should give the city of Linden $1.92 billion (including costs for Morses Creek cleanup).
The statement said: "On top of settling for less than 3 cents on the dollar, the state is letting ExxonMobil off the hook indefinitely for clean-up costs of $1.73 billion for Morses Creek in Linden. That violates the law."
Lesniak also told Politicker that, in addition to the issues discussed in the statement, the settlement also fails to address the delays in taking action for remediation of surface water contamination. Additionally, he claims that the Department of Environmental Protection wrongly denied requests to assess natural resources damage at 15 of the 16 other sites released in the settlement.
"It involves the destruction of the natural resources in the area where I grew up," said Lesniak when asked why keeping up the fight was so important. "Also, it is an absolute giveaway to a corporate giant that can absolutely afford to pay for the damage they have done."