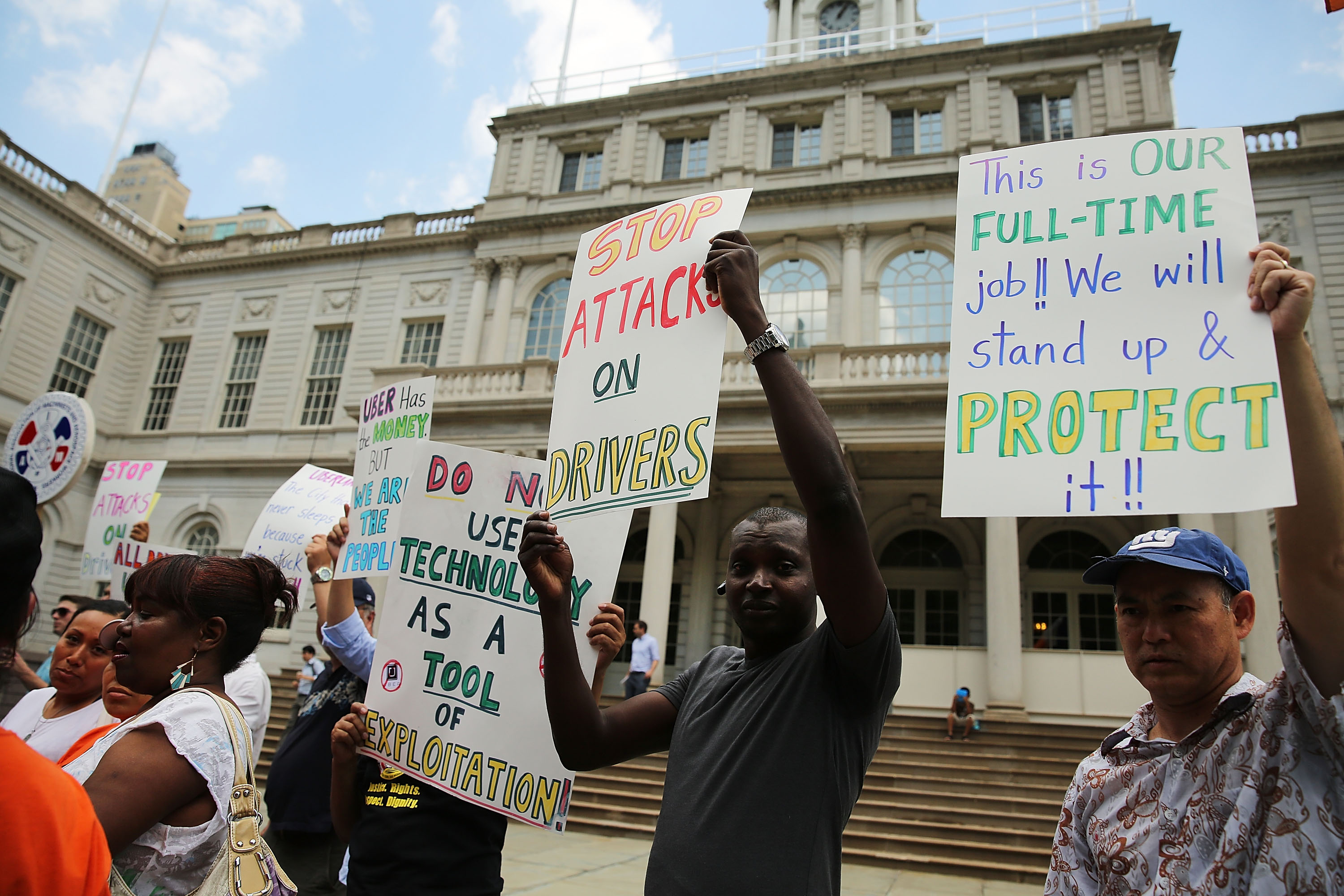 Comparing Uber to a greedy real estate developer and a big oil company, Mayor Bill de Blasio lashed out at the e-hail giant a day after his administration agreed to table a bill to drastically cap the number of new for-hire vehicles in New York City.
"Uber is a multi-billion corporation looking out for its own interests and its own profitability. Let's not kid ourselves about their motivations," Mr. de Blasio told reporters this morning at an unrelated press conference in Queens.
Mr. de Blasio, a Democrat who was locked in a bitter public relations war with Uber over the last several weeks, said legislation to limit the company's growth is still "on the table" after a four-month traffic study is completed. With plenty of vituperative rhetoric, the mayor said he was not going to allow Uber to function without some type of increased oversight–even after his administration struck a more conciliatory note yesterday.
"Everyone went through a similar scenario where Uber thought its ability to purchase advertising and lobbyists would be all it needed to get its way without any exception," Mr. de Blasio said, referring to his experience of chatting with fellow mayors about the company, "and those of us in the public sector, elected to serve the people take exception to any company that believes it can dictate the terms to government."
"I think the public's been very frustrated over the years, whether you're talking about big oil companies or real estate developers or anybody who thinks they can tell government what to do," he added.
But despite Mr. de Blasio's tough talk, it appeared Uber's tactics were successful–at least for the moment. Enlisting the support of prominent city Democrats, including Comptroller Scott Stringer and two borough presidents, the company argued through surrogates and a barrage of TV ads that Mr. de Blasio was taking thousands of jobs away from minority and low-income drivers and doing the bidding of the yellow taxi industry, a fierce opponent of any increased competition.
With the help of Obama, Cuomo and Bloomberg administration veterans, Uber was able to portray itself as a company that helps working class people in the outer boroughs get around easily, even if a vast majority of their pick-ups occur in Manhattan.  Although some experts backed up City Hall's contention that an explosion of for-hire vehicles is likely contributing to roadway congestion, other elected officials, editorial boards, and much of the public dismissed the suggestion.
Still, some council members maintained a bill to temporarily cap Uber's growth at 1 percent had enough votes to pass, and Mr. de Blasio said he hoped a bill, set to pass today, to commission a traffic study would bring "clarity" to the issue–and bolster his anti-Uber criticisms. Mr. de Blasio also pointed out Uber had agreed to limit their number of new vehicles as the traffic study is conducted. (In a statement yesterday, his first deputy mayor, Anthony Shorris, said Uber would "maintain" its approximate rate of growth.)
What the mayor also emphasized, with plenty of frustration, is that he does not want to eradicate Uber. "Obviously, Uber is going to have a substantial presence in this city under any scenario. What that doesn't mean is that Uber gets to go without any kind of rules or regulations which is essentially what they have tried to do all over the country and all over the world," he said.
"We want you to have options," he continued. "That's a fact that's been lost very quickly in this discussion in part because of the misinformation that Uber has spread backed up by millions and millions of dollars of lobbyists. They're gonna be a presence, they do bring value-added, but there are real issues."
A spokesman for Uber declined to comment.