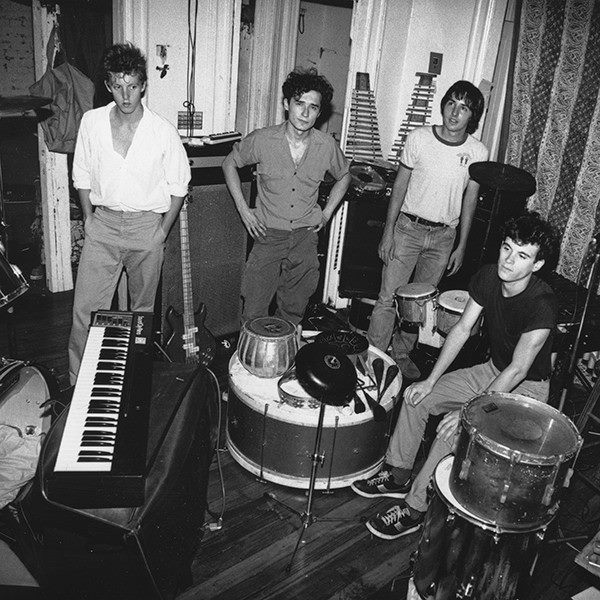 In the clouds between Earth and heaven, there's a jazz band that doesn't sound anything like jazz, an art rock band that eschews self-importance and never lets go of your hips and your heart, and an agile percussion ensemble whose tumble spells a melody in the soul. That's Liquid Liquid, one of the two or three best bands ever to come out of New York City.
The career momentum of Liquid Liquid was largely destroyed by one of the most grotesque thieveries in music history.
So why don't I know them, you wonder?
Timmy (you may be asking), if you're insisting that the only New York bands on Liquid Liquid's level are the Ramones and the Velvet Underground (and that is exactly what I am saying), why, when I visited my kids' dorm room and flipped through the vinyl collection of his music-geek roommate, didn't I see any Liquid Liquid records?
In the early 1980s, when Liquid Liquid were leaving jaws agape at clubs all over Manhattan, the limited press and media venues in NYC were distinctly anti-art rock. My efforts to put this in a subtle or diplomatic way will likely fail, so let me just come out and say it: if you waved Liquid Liquid, Branca, or even ESG at anyone from the NY Rocker or the old Punk Magazine crowd, you were basically chased down the street by people carrying torches and wearing Dictators T-shirts (as late in the game as mid 1983, Sonic Youth couldn't buy press in New York City and were dismissed as song-less noisemakers). With some narrow exceptions for photo-friendly Lydia Lunch and easily taggable funkists like the Bush Tetras, New York rock critics of the time hated (what they perceived as) art rock. Period.
This has contributed to the fact that an entire vastly creative wave of NYC music has left disproportionately small footprints.
[youtube https://www.youtube.com/watch?v=QTS5jXKLGkQ&w=420&h=315]
We tend to think of two major waves of post-Dolls NYC music: the '74-'77 CBGBs/Max's thing, and the '83-'88 noise thing (I am omitting hardcore because NYCHC was essentially a non-starter, if you examine it with any objectivity).
But there was an enormously engaging movement between those two that has largely been overlooked. In many ways, this true second wave was the bridge between the earlier No Wave movement and the far more visible Lower East Side Noise scene to follow (though generally, the artists in this "second wave" were less deliberate and more aesthetically pleasing than No Wave, and more subtle and diverse than LES Noise). It was typified by artists like Liquid Liquid, ESG, Rhys Chatham, and Glenn Branca, with some overlap into Y Pants, A Certain General, Circus Mort, Khmer Rouge, post-No Wave mainstreamers like the Bush Tetras, and pre-stoner rock metallurgists like Hose. Many of these bands shared a label, 99 Records.
Liquid Liquid sounded nothing like the No Wave before them or the Noise artists that followed.
Now, Liquid Liquid (Richard McGuire on bass, Sal Principato on vocals and percussion, Dennis Young on marimba, and Scott Hartley on drums) sounded nothing like the No Wave before them or the Noise artists that followed. The guitar-less Liquid Liquid defy description without ever being remotely obscure: Airborne and serpentine, mysterious but persuasive, restrained in execution but never remotely ambient, Liquid Liquid employed bass, vocals, marimba, and percussion with the adamant delicacy of a very nimble-fingered speed-typist pecking out a world-shifting manifesto.
Richard McGuire's dexterous and melodic bass was the anchor of the band. McGuire skips effortlessly between the lowest Eddie Cochran slurs and the highest arpeggios; the shimmering, wobbling and tingling percussion of Hartley, Young and Principato do great druid-dance circles around him. Principato's vocals generally remain obscure and bird-like, with a piccolo quality that resembles Michael Stipe calling the faithful to prayer. Seductive and swaying but never laid-back, each member of the ensemble perform the miracle of playing a lot without ever clogging up the Bullet Train-like fluidity of the band.
Liquid Liquid are polyrhythmic but never remotely an ethnic forgery (a vastly difficult thing to achieve). This restraint, this refusal to funk, makes them virtually impossible to imitate. I've been listening to Liquid Liquid since the latter days of the Carter administration, yet I find few obvious influences for the miracle they created.
The guitar-less Liquid Liquid defy description without ever being remotely obscure.
True, Principato's vocals carry a shadow of Pere Ubu's David Thomas, and there's a whiff of Can over the whole proceedings (but without ever slipping into Can's neutron bomb jamalama; even when Liquid Liquid stomp, they do so as if the stage is full of skyscrapers made out of toothpicks). If I was absolutely compelled to make a comparison, well, try imagining R.E.M. if they were a gamelan ensemble and they were performing Reich's Music for 18 Musicians with Holger Czukay guesting.
As you may know, the career momentum of Liquid Liquid (and their magical label, 99, amongst the most innovative indie labels in American history) was largely destroyed by one of the most grotesque thieveries in music history. In 1983, Grandmaster Melle Mel released "White Lines (Don't Don't Do It)," an almost instantly ubiquitous song that featured a rap over a (very) closely re-recorded version of Liquid Liquid's "Cavern." 99 Records literally went bankrupt trying to prove that this enormously popular rap song and it's sluicing, hooky bass melody were entirely lifted from a relatively little-known downtown art'n'rhythm band; when courts finally ruled in 99 and Liquid Liquid's favor and imposed a considerable settlement, Sugar Hill Records escaped any payment via bankruptcy protection. It was an ugly incident that 99 never recovered from, and the memory of Liquid Liquid's superlative career will, unfortunately, largely be associated with this criminal appropriation of their work, though I am delighted to see that relatively recent reunions have seen them garnering some of the attention they so richly deserve.
On August 21, the Superior Viaduct label is reissuing on vinyl, for the first time, all three of Liquid Liquid's weighty and essential EPs, along with an album of arty and lo-fi pre-Liquid Liquid experiments. Though it may not be the essential CD compilation this extraordinary band merits, it does much to honor one of the New York City's very greatest and most innovative bands.
[youtube https://www.youtube.com/watch?v=yGncWGLHdQw&w=560&h=315]