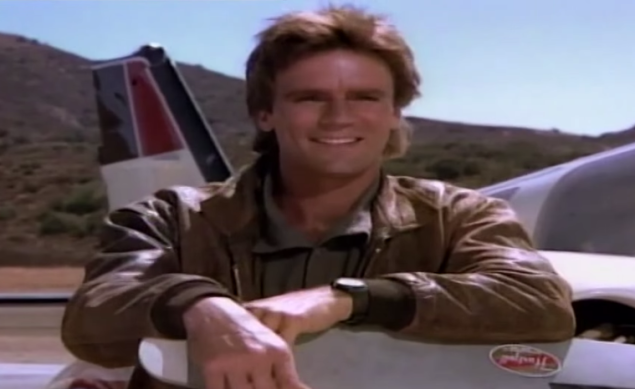 It may have started out as simply a TV series about an unlikely hero who every week fashioned some sort of amazing device out of improbable items to save the world, but that series has left more of an impact on society than anyone, even its creator, could have ever imagined.
"I absolutely had no idea that the word 'MacGyver' would join the lexicon as both a noun and a verb," says the man behind the series, Lee Zlotoff. "You hear it all the time – 'who do you think you are, MacGyver?,' or 'oh, we can fix that, let's just MacGyver something up.'  When the show first hit the air thirty years ago, we had no idea that it would become a common part of speech that symbolizes using ingenuity to solve a problem. It's really pretty cool if you think about it."
Explaining the evolution of the title character further, Zlotoff admitted, "I would be disingenuous to say that I set out to create what has become this icon. What I was trying to do at the time was just figure out what would make for an interesting, fun, and compelling show. So, I thought, 'what if you have an action hero and you take away his gun,' then he has to find other ways to solve problems. That makes for great drama right there in that every week he has to come up with some contraption to thwart the bad guys. He can't just shoot everyone. Then, I wrote him with humor and humility rather than having him be a smug, arrogant guy because then he seems like an everyman and he's more relatable that way."
The series debuted in 1982 and ran for seven seasons with a total of 139 episodes. While the show may have ended its television run in the early 90s, Zlotoff is now using the name recognition of his title character to inspire the current generation to create stories about science, technology, engineering and math (STEM).
To this end, he's helped launch The Next MacGyver competition which is a joint venture with USC Viterbi School of Engineering, the National Academy of Engineering, the Paley Center for Media and The MacGyver Foundation. The competition challenges content creators to come up with the next female protagonist who will use her powers of engineering to solve complex problems.
From the 2000 entries, 12 finalists have been selected and will pitch their series proposals to a panel of judges on Tuesday, July 28th at the Paley Center in Los Angeles. That field will be narrowed to five winners who will receive a $5,000 prize and two mentors — an experienced Hollywood producer and a distinguished engineer, in the hope that their ideas will be brought to life as a series.
Zlotoff credits Adam Smith from USC's School of Viterbi with actually creating the contest, "I just offered the name really, the rest was his idea," says Zlotoff, to which Smith responds, "USC is right in the middle of Hollywood, which is the epicenter of popular culture, and rather than bemoan the fact that women engineers are virtually invisible on television, and rather than bemoan popular culture, we've decided to enlist it. To explode some stereotypes about what engineers are, what they look like and what they do."
Randy Atkins, of the National Academy of Engineering, who helped develop The Next MacGyver project, agrees, adding, "Unfortunately, most young people don't even know what an engineer really does so they can't see themselves pursuing that as a career. Hollywood can play an important role in raising the profile of engineers and engaging the talented people we need to take on some of the biggest challenges of our time."
The reason for gearing the contest toward the creation of a female lead is significant for many reasons, says Maja Matarić, Vice Dean of the USC Viterbi School of Engineering, whom Business Insider named one of the 25 Most Powerful Women in Engineering. "Would you consider yourself successful if you failed to reach half of your potential or use half of your leverage? That's what we're doing when we are failing to engage half of our population, girls and women, in STEM. There are nearly 320 million Americans and slightly over half of them are female. Just think how many new ideas, patents, inventions, and breakthroughs we miss out on by not engaging that talent pool? Beyond just the numbers, we miss out on the diversity of thought, ideas and perspectives, and we need all those thoughts, ideas and perspectives to create a future that is good for everyone."
The 12 finalists chosen for The Next MacGyver competition will be coming to Los Angeles from Arkansas, Washington, New York, Canada and Australia where they will present their pitches to some Hollywood heavy hitters, many of whom will also serve as mentors to the five finalists. These include Anthony E. Zuiker, the creator of the CSI franchise, including and the newest series in the franchise, CSI: Cyber,  Roberto Orci, writer/producer of  the television series Scorpion, Sleepy Hollow, Hawaii Five-O, and Fringe, and America Ferrera, an actress/producer who's starred in Ugly Betty and The Sisterhood of the Traveling Pants.
The interest and enthusiasm in this competition opens up the possibility for more like it in the future, say Zlotoff. "If there is sufficient interest this time out we could certainly do this on a yearly basis and it wouldn't necessarily have to focus on creating a TV show each time. We could focus it more on the next global problem we're looking to solve and creating a competition to tackle that."
Zlotoff and his team have another unique project in the works that encourages innovative thought and problem solving skills. "We're also gearing up another MacGyver project called The MacGyver Challenge which is a live immersive experience that's like a mash-up of a Tough Mudder race and an Escape Room type of thing," explain Zlotoff. "We're going to build a state of the art series of rooms, call it a maze if you want, each will be a fully produced movie experience and you have to go into each room and you and your friends are given a certain amount of time and items to solve a challenge and you have to solve it to get into the next room. Ideally there will be scorekeeping and it will be a contest among teams. It's a new type of entertainment platform that we're exploring and that we hope will become a big thing."
Another MacGyver project that might seem a bit off the wall is also in consideration — a MacGyver musical. Yes, an actual live stage event. Zlotoff is adamant that this will actually materialize "Oh yes, it will actually happen at some point. But, to be clear, the concept is not something that's designed for Broadway. It's designed for 100 – 500 seat theaters so that it's more of a community experience." Giving more details, he discloses, "In every performance the role of MacGyver will be cast out of the audience and more and more audience members will get pulled into the production as it progresses so that by the end it's very interactive." Then he laughs a little and says, "I don't exactly how or where the musical part comes in but we'll work that out I'm sure."
Zlotoff truly seems to have great affinity for the character he's created, but this does mean that he doesn't also have a sense of humor about MacGyver as well. He admits that he found the Saturday Night Live parody, MacGruber, amusing. "I thought it was a wonderfully funny skit." But, he admits that he did not see the feature film when it came out in theaters. "I read a draft of the script and that's all I needed to see of that. What they tried to do in translating it to a movie was a mistake. They made the character the antithesis of MacGyver – he was dumb and vain and foul mouthed. I think people were tickled that they were having fun with the character in the skit but when they put it into the movie and were sort of pissing on the character, people clearly didn't like seeing the character mocked in that way and they stayed away in droves."
After having lived with this character for so many years, Zlotoff firmly believes that the ideals and methods the character employs will continue to stand the test of time and can offer some guidelines for thought and action going forward. "MacGyver is a great icon for this century in terms of offering some management tools in all kinds of situations, whether it's financial problems, conflict issues, resource challenges or whatever," says Zlotoff. "When you find yourself in a difficult situation, just stop and say, 'What would MacGyver do?' He wouldn't pick up a gun; he wouldn't beat people up because that's not the way to accomplish anything. Using the techniques he used, you would start looking at what you have at your disposal and start thinking, 'how do I turn what I have into what I need and how can I do this with a sense of humor and humility?' All we need to do is remind people that you can use these tools in your personal life, your community or your country to solve problems. We have to remember that we are a global civilization and we all need each other. If we're going to make this work we have to work together and I think if you approach things with that sort of MacGyver attitude it's a really good way to get us there."
To watch the livestream of The Next MacGyver competition with finalists pitching to the judges, a panel discussion about creating television series and the presentation of the winners, please visit the Paley Center for Media website here. The event will begin at 2:15 PT on Tuesday, July 28th.
 For more information about The Next MacGyver competition please visit this website.