Indian artist Charanjit Singh grew tired of other artists ripping him off, he said.
"I started painting tattoos, but people followed me, then I did wall paintings but that also became common. I started painting bikes but people copied that too," Mr. Singh lamented in a recent interview with The Sun.
So the artist looked within himself for inspiration. Literally.
Mr. Singh took to painting with his own blood, by attaching a glucose pipe to a syringe and then fastening it to an airbrush with which he paints on a conventional canvas. Miraculously, people have stopped mimicking his work.
"People haven't copied my blood art so easily," said Mr. Singh. "My dream of standing out in the crowd is slowly being fulfilled."
Or so he thinks. In 1991, British artist Marc Quinn began casting his own head with 4.5 liters of his own blood (carefully housed in a viewing refrigerator), and the Viennese Actionist Hermann Nitsch used animal blood in his paintings and performances as early as the 1960s. And, of course, there are the innumerable female artists who have made art with menstrual blood or placenta, such as Jen Lewis and Zoe Buckman. As a matter of fact, Mr. Singh claims to be inspired by an American artist Vincent Castiglia, a very scary looking gentleman who also paints with his blood, which is preserved in glass tubes.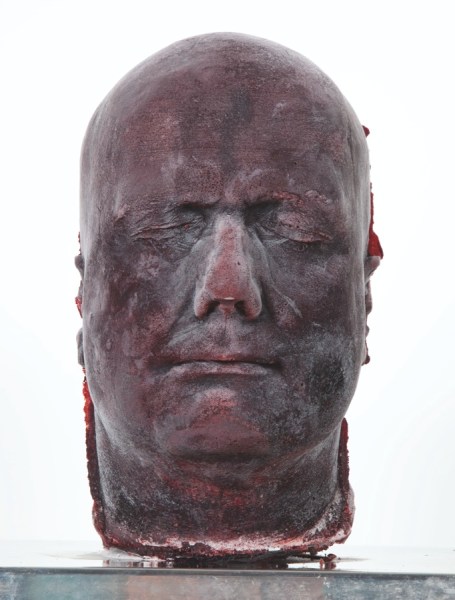 Regardless, Mr. Singh has fully committed to his gruesome practice where he uses 200 grams of his own blood to create 5-minute paintings of dragons and other cool things.
At first the rest of the Singh family wasn't really on board with Charanjit's "concept," but apparently they came around. "They were not happy for a long time. But when I started uploading my videos to the Internet and I got support from the USA, Canada and Dubai my family began to relax," said Mr. Singh. "They now help me maintain a healthy diet and boost my morale." Considering that Mr. Singh is hoping to land a gallery exhibition, he is going to need all the support (and nutrients) he can find.