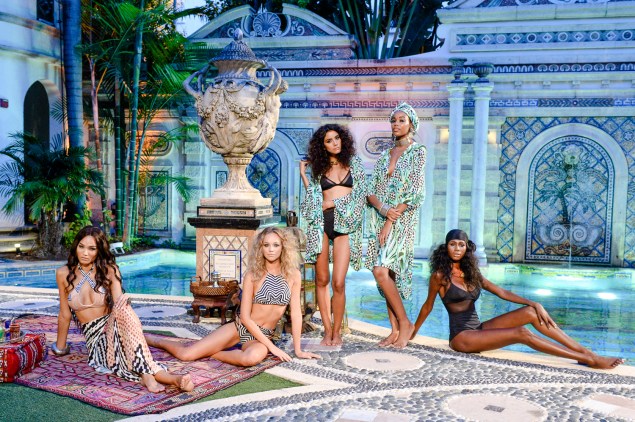 While heat may have caused tempers to mount outside the Mara Hoffman Swim 2016 showing this weekend during Miami Swim Week, it didn't turn away fashion hungry attendees. "Do you know who I am? I write for an international fashion publication! I shouldn't be standing out here in line," one male journalist yelled to a clearly nonplussed guard, blocking the entrance to the Versace Mansion.
A full 42 minutes after the slated start time, the crowd crushed into Casa Casuarina (most commonly known as the Versace Mansion), through the tile corridors and out into the Mosaic Garden. It was in this ornate space, which featured a mosaic tiled pool lined with 24-karat gold, that model's in Ms. Hoffman's latest designs posed. With the poolside rotunda floor in the foreground, Marrakesh styled models as the focus and the lavish, palm-frond filled mansion as the setting, this was an Instagram moment if there ever was one.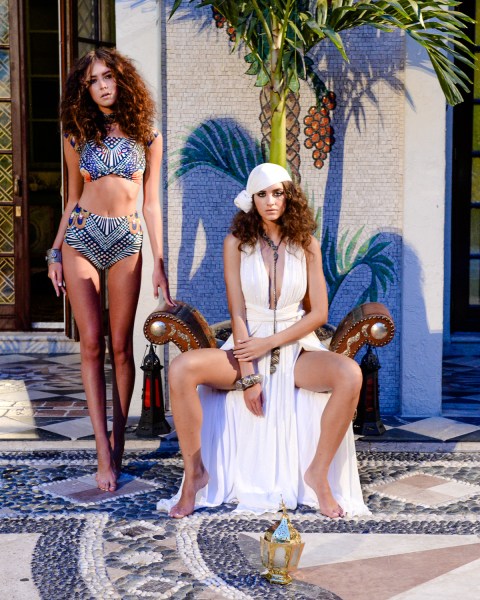 "I took this trip to Marrakesh so everything here was really inspired sort of by the 1970s," the designer said as guests swirled around her. That explained why her collection this season seemed a little more YSL than Gianni Versace. "It was really inspired by Yves Saint Laurent designing, spending time and creating in Le Jardin Majorelle." Ceramic pottery was rendered as a draped cover up and elsewhere, rug inspirations seemed to weasel their way onto halter top bikinis. It was a lot to take in, with crochet one-pieces adding texture to the line-up, while reversible suits underlined it's practicality. Models perched on seats, while some sat cross legged on carpets, hair swept up into turbans, wearing a selection of florals, which were new for Ms. Hoffman.
To be clear: Ms. Hoffman never intended for this to be a Versace inspired collection at the Versace mansion. "To be honest, I think [my only similarity with Versace] is this unapologetic celebration! Like I'm going to do what I f*cking do, love me or not. I don't have to be on-trend every season; I'm going to be me and he was him so I think that really is the connection." Hoffman admitted that the venue choice came long after the collection's creation was underway ("Come on, look at this place!") and her team rented and arranged all of the furniture surrounding the models.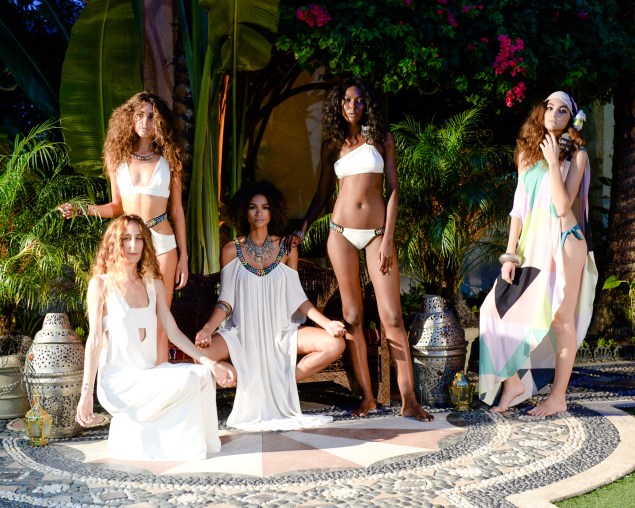 The statement about staying true to one's self was an apropos, as Ms. Hoffman occupies a space where some consider her to be a Queen of Resort. Each year, the designer manages to stay a step ahead of the pack with a show that's definitely an anchor to Miami Swim Week's events. "Honestly, that's why you just keep going. I just keep going my way and no one else's," she said of other collections that are inspired by hers.
After a few drinks and mingling with the likes of Mia Moretti, Ben Pundole and Miami model Rocky Barnes, the party moved to The Edition hotel for a much milder, relaxed pace before cranking back up in The Basement where friends like Maxim's Kate Lanphear danced late into the night. An Instagram moment indeed.