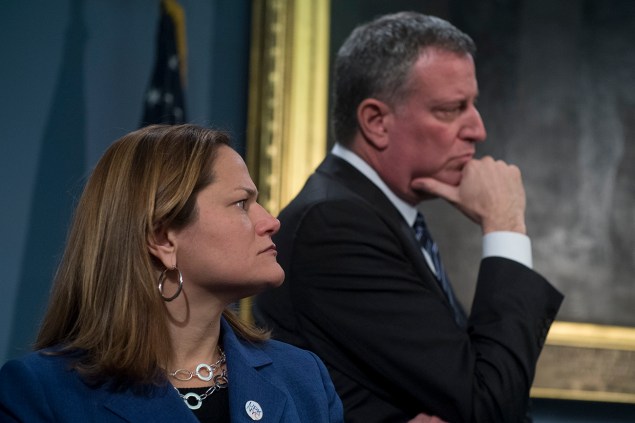 Making perhaps her biggest break with Mayor Bill de Blasio to date, Council Speaker Melissa Mark-Viverito ripped into his claim this morning that his proposal to cap the number of e-hail cars on the street was still "on the table" for the Council—and accused the mayor of trying to "save face."
Ms. Mark-Viverito, a fellow Democrat, seemed angered when reporters asked her at a press conference at City Hall about the mayor's claim that the Council was in fact still considering his proposal limiting companies like Uber and Lyft to just 201 cars over the next year. The administration announced yesterday that, after an intense public relations battle, it had reached an agreement with Uber wherein the company would agree to share internal data about its services in exchange for tabling the cap proposal—an agreement sources told the Observer the speaker played a crucial role in.
"Let me say this: I'm not going to allow anyone to attempt to save face at the expense of this Council," she said. "This Council decides what bills we need to discuss, what debates we will have, what will be taken off the table, what will be put on the table. No one else leads that discussion, no one else influences that discussion."
Asked if she was specifically referring to Mr. de Blasio with her remarks, the speaker answered in the affirmative.
"The fact is that this was a process that belongs solely to the City Council in deciding what direction we're going," she said, describing the city's truce with Uber as successful. "Unfortunately, you know, the mayor seems to have a different opinion. So I don't agree with the way that he has presented it. And in him saying the cap bill is off the table, it's not really for him to decide."
Ms. Mark-Viverito was among the earliest backers of Mr. de Blasio's mayoral campaign in 2013, and he exerted intense pressure on council members to elect her speaker. There has been little daylight between them on most major policy issues, with this year's budget passing with ease.
Ms. Mark-Viverito has also used her power as speaker to not allow measures Mr. de Blasio opposed, such as bills establishing a city Department of Veterans Affairs or expanding police and firefighter disability pensions, from reaching the floor of the Council. She has, however, broken with the mayor on matters like hiring more police officers.
She also attacked the media for depicting her as somehow in thrall to the mayor's wishes, suggesting first on Twitter this morning that such a portrayal was tainted with gender bias.
"Clearly sexism alive & well in politics as well as press coverage. Always disappointing, never surprising," she wrote in response to Brooklyn Councilman David Greenfield's tweet that her role in negotiating with Uber had gone "underreported."
It was a point she reiterated in the presser, adding that there was also a racial element to such reporting.
"I find it offensive as a woman, and as a Latina, who is leading this legislative body, that somehow I was forced to my position. That I couldn't possibly have arrived at this position on my own. That it was others, and predominantly men in this case, that got me to this point," she said. "And that is completely erroneous."