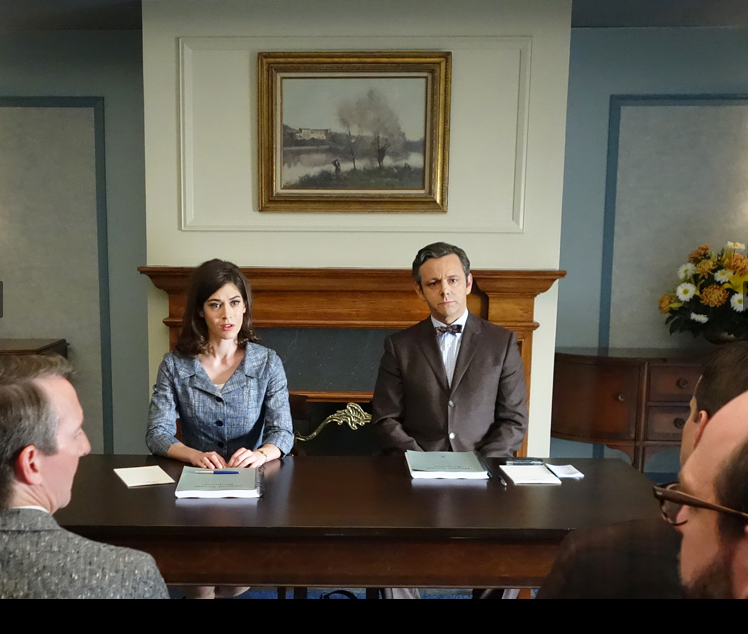 "An arch consists of two weaknesses which, leaning one against the other, make a strength."—Leonardo Da Vinci
In one of the opening scenes of the third season of Showtime's acclaimed series Masters of Sex, Dr. Bill Masters glances out of his office toward the construction of what's now a prominent symbol of the expansion of the United States, the St. Louis Gateway Arch.
"We've made a fuss over the arch this season because it would be brand new in 1965 and it helps establish the time period and shows a little bit about what was going on in the world at that time," explains Michelle Ashford, Executive Producer of the series.
Ashford says that season three of the series deals with the famed duo navigating the glare of the national spotlight as their sex study is finally unveiled.  "We take a really close look at what happened to their careers and lives when they stopped working in just their own world and took what they had out into the light and presented it to their colleagues and the media and the public," says Ashford. "This changed their work and their personal lives in very significant ways and we've getting into all of that this season."
The five-year time jump was necessary says Ashford to be expand the narrative within the series. "There were many years when Masters and Johnson were just conducting research and we showed a great deal of that in the first two seasons so we wanted to get to the time when that research was being released into the world," explains Ashford.
One of the benefits to moving ahead was the ability to explore the effect that the work of the duo was having on their offspring. We feel there's a lot of story to tell with the kids. Growing up with parents who did this kind of work is pretty substantial and there are a lot of family dynamics to explore there," says Ashford.
While their families are prominently featured the focus of the series is, and always has been, on Bill Masters and Virginia Johnson and that doesn't change this season.  Balancing the narrative to make sure to story doesn't too heavily on one or the other can be a bit of a challenge, admits Ashford. We do sometimes struggle with this. We try to adhere to what really happened in their lives and stray too far from that." She goes on to give a bit more detail revealing, "We want to show them together and separately as well. They were the biggest thing in each other's lives, but they did have separate families and relationships outside of their involvement with each other. But within that core relationship you need to know how is this weird dynamic is growing and evolving. We talked a lot in the writers' room about how to keep a comfortable balance between their lives together and separately and finding that perfect balance to do that."
Speaking a little more specifically about Virginia, Ashford explains, "At this point in her life, Virginia was really at a crossroads; she and Bill had this long work affair and while that was going on he remained married and she continued to date. We sat in the writers' room for days on end thinking, 'what was that like? What was that about? What was really going on with her?' She had this weird capacity to separate sex and love, which I believe at the end of her life was really her Achilles heel. It allowed her to be trailblazer and a revolutionary but I think there was a heavy price to pay for that. There were a few times in her life where she had that opportunity to go another way with her life and her career and yet she didn't."
With Bill, Ashford knows that he's a complicated character that many people might have trouble rooting for. "Here's why TV is so great. It's a slow burn with this character. For two years we've strained people's patience with him and that was by design. We've talked about how Bill was the product of an incredibly abusive childhood. We wanted to explore what happens to a guy who's abused as a kid and goes out into the world as an adult, especially in a time with there was no real therapy to speak of. We feel that this is connected to why he picked this work. He's a man desperate for connection and intimacy and some kind of human salve to heal these wounds. He's drawn to this work but he's a real cut off person. The impact of Virginia on his life is significant. She's been able to get into the parts that he's closed off. It's not a pretty thing to watch because he's realizing that there's something radical wrong with him. This season something shifts in his life when he realizes that he's not his abusive father. He changes a great deal. I know watching this evolution was tough at times, but we had to build for a bit to get to this payoff and now it's happening."
While Bill and Virginia are clearly the many focus of the series, there are several other characters in the Masters of Sex world and this season there are some familiar faces, some returning favorites and a significant newcomer who shows up to stir things up as well. Giving just a bit of tease about these people Ashford says, "Sarah Silverman returns as Helen and she and Betty (Annaleigh Ashford) are still together and they become these sort of pioneers in the fertility field. Beau Bridges is back as Barton Scully and he becomes an interesting part of Bill's practice. Allison Janney is also returning as Margaret Scully and she becomes this very intriguing barometer of what women were going through at that time – adjusting to everything that was happening in the world and in her world as well. Her picture perfect life has imploded and she's dealing with all of that. And then there's Libby Masters (Caitlyn Fitzgerald). She's learned that being Dr. Master's wife is never going to be easy, that she's going to have to make a lot of sacrifices. She's come to a point where she knows that this isn't how she intended her life to go but now she's onboard with the way things are going. That doesn't mean she's not going to make mistakes and she does get herself into some complicated situations."
The newcomer in all of this is Josh Charles as Daniel Logan, "He was an investor and he came from a company that is still the #1 company in the work they do. It's called International Flavors and Fragrances. He came to Masters and Johnson and said, 'I want to bottle the scent of sex. How do I do it? How can we get a scent that will arouse people?' In the course of trying to do that, things got really complicated as he and Virginia embarked on what became a very significant relationship for her. As for Josh, we knew this role was coming and we knew it had to be well cast. We talked about him for a long time and he signed on and we felt lucky like we won the lottery. He's fantastic. He and the character really broaden the story we're telling this season."
Ashford admits that the series may have a bit of an image problem, given the title. "I think there are a couple of things that people perceive about our show. Because it's called Masters of Sex it sounds like a late night exploitive sex show, but I want to say don't be put off by the title. It's actually a very complicated, interesting drama about grown ups going through a particularly difficult time in history in a field of study. For people who are squeamish and think it's going to be salacious and gratuitous, it's not that. These are interesting characters worth following which is why I took on this project to begin with. There's so much opportunity on TV for pyrotechnics and big stuff to happen and I understand the appeal of that, but I would say there is room for stories that reflect how we live our lives even now and the decisions that we're faced with and the dilemmas of love and marriage and family and children. I think it's good to balance it out. We don't have heists or crimes or other worldly things like dragons, we just have humans, but I think those stories are worth telling. These are the stories that most reflect how we live and that can be pretty fascinating so give it a shot."
She added one last enticement, "And, of all our seasons we've done, I feel this season is really very viewer friendly. It's humorous, it's lively, there's effervescence to this season that makes for more fun. We'd gotten a little dark out of necessity but now in combination with the 60s there's a little more levity and I hope that will draw people in. I can say that if you give us a shot, you won't be disappointed."
What many people don't know about The Gateway Arch is that when the structure was 'topped out,' the insertion of the last section was a bit tricky. The sun that day had expanded the south leg by five inches. The margin of error in the placement of that final piece was miniscule. Fire hoses were brought in to pour thousands of gallons of cold water on the south leg to make it shrink to match the length of the north leg. Then a hydraulic jack had to place 450 tons of pressure on the legs to provide an additional four feet to the opening in order to position the final piece into an eight and a half foot gap. There was a mere three inches of clearance on each side of the last section before the pressure was reduced and everything came together and the structure was complete.
In building that monument, there was pressure and prying and manipulating – all to achieve something that continues to stand. The symbolism of the 'two weaknesses' making one strength accurately reflects the collaboration of Bill Masters and Virginia Johnson on many levels. While both were strong in their convictions about the work they were doing, they needed each other to succeed in formulating their theories, presenting their work to an often skeptical society and, whether it was welcome or not, in their personal lives as well. Masters of Sex makes many statements about the evolution of sex research but more profoundly, those statements continue to inform contemporary culture in many, many ways. One could say that the work done by the duo formed, and continues to build, a gateway to some small understanding of the often-mystifying correlation between sex and intimacy.
As Ashford says, "The world is stranger and more magical than you can imagine and these people are proof of that."
The third season of Masters of Sex begins Sunday at 10e/p on Showtime. The season three premiere episode is also available now at Showtime.com