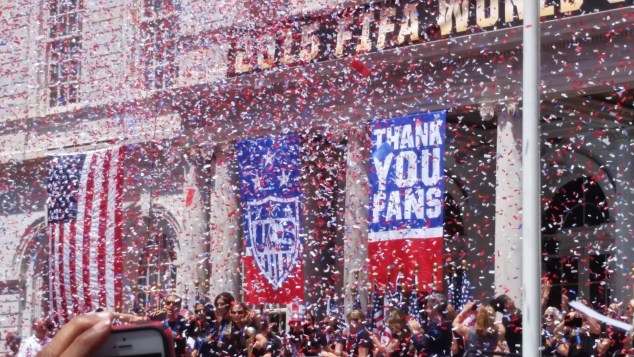 After a quickly-planned parade down the Canyon of Heroes, the U.S. women's soccer team was feted at City Hall today, where a gushing Mayor Bill de Blasio presented every member of the U.S. women's soccer team with keys to the city.
Thousands of screaming fans greeted the World Cup winners in downtown Manhattan and later at City Hall plaza. Robin Roberts, the anchor of ABC's Good Morning America, was the master of ceremonies for an hour-long celebration of the soccer players, and Mr. de Blasio–not necessarily the biggest soccer nut–noted America's victory over Japan was the most-watched women's World Cup final in history.
They were also the first women's sports team to be honored with a city ticker tape parade, he said.
"You can see out there the love the people of the city and the people of this country have for this team and what they mean to all of us," Mr. de Blasio said. "You can see it in the faces of men and women, boys and girls and it was just the purest, deepest sense of admiration. Our hearts are with this team, aren't they?"
The mayor said the team brought home a message about the "power" and "strength" of women and the "need to create a more equal society for all." (Controversy has arisen over the pay gap in prize money between men's and women's world cup winners.)
Red, white and blue confetti rained down on the crowd after the women received their keys. The city hopes to recycle most of the confetti.
Despite the good feelings, the ticker tape parade did have at least some political intrigue. Gov. Andrew Cuomo, a fellow Democrat who has been publicly at odds with Mr. de Blasio, attended the parade, though the two men stood on different floats.
Mr. Cuomo came first on a float sponsored by Powerade, riding with soccer players Abby Wambach, Christie Rampone, Christen Press and Julie Johnston. Mr. de Blasio, closer to the tail end of the procession, rode with his wife, Chirlane McCray, Major League Soccer Commissioner Don Garber and soccer players Carli Lloyd and Megan Rapinoe.
Council Speaker Melissa Mark-Viverito, a close de Blasio ally, sat on the City Hall stage with the mayor. Mr. Cuomo did not.