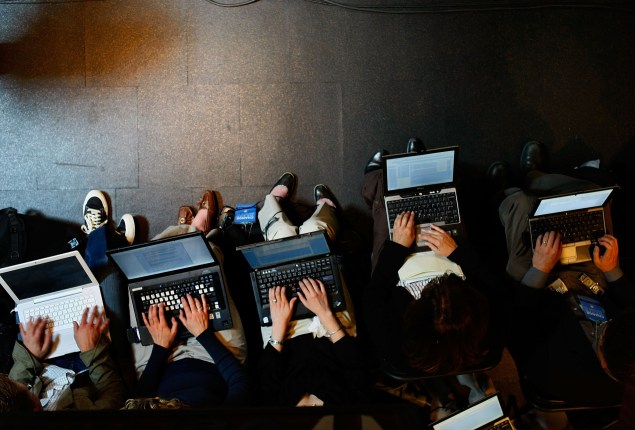 Mainstream media has a diversity problem, and a Twitter conversation started yesterday by CNN correspondent (and former New York Times national race reporter) Tanzina Vega is bringing attention to issues of race, reporting, and hiring bias.
Ms. Vega's discussion was prompted by a recent article in The Atlantic that looked at the statistics surrounding the lack of minority journalists. What began with the simplest series of questions for journalists of color — "How many of you have gotten the job, but then struggled to get promoted?" — turned into an expansive conversation about the realities of writing, editing, and networking without the privilege of whiteness.
Connecting on Ms. Vega's timeline and using the hashtag #mediadiversity, media people of all ages and ethnicities chimed on hiring biases, low- (and no-) paying entry level work, and the impact of diversity recruiting. There was a general consensus in each response: the lack of diverse voices across mediums (and media) isn't a new phenomenon. It's just not one that many editors have made meaningful strides to address.
The stepping stones into a journalism career are expensive: elite writing programs, internships in New York or LA, and a string of low paying jobs in high cost media markets. The cost of paying to just be around (and, if lucky, write for) editors you admire is a cost that many young college students of color can't afford.
"Media diversity is not some type of progressive ideal. It's a journalistic imperative for any outlet devoted to fairness and accuracy in its coverage," wrote The Washington Post's Wesley Lowry in Nieman Reports June 2015 issue about the dearth of people of color reporting the news.
In December, Ta-Nehisi Coates delivered a blistering account of what he described as the "Whites Only" sign that for too long infected The New Republic's pages. "When I asked former employees whether they ever looked around and wondered why the newsroom was so white, the answers ranged from 'not really' to 'not often enough,'" Mr. Coates wrote. "This is understandable. Prioritizing diversity would have been asking TNR to not be TNR."
Individual magazines and papers might be improving on a case by case basis — The New Republic certainly has. But this month, the Columbia Journalism Review reported that the percentage of black newspaper editors hasn't even grown by a full percentage point since 1967. And that's not all: According to data from the American Society of News Editors, there are 200 fewer black reporters in print/online newsrooms than last year. Poynter used ASNE's data to craft a compelling interactive: "Find out how diverse the newspaper industry is." Even with diversity outreach and hiring initiatives, the stark reality is that many JOCs (journalists of color) write for white editors and audiences that acknowledge neither their voice nor their abilities in a way that can foster long-term progress.