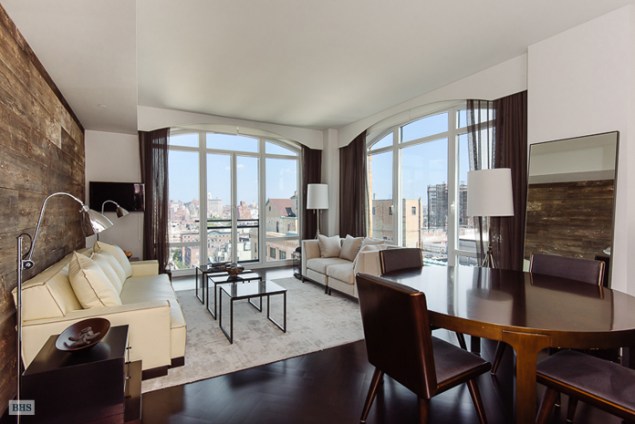 Not everyone—very few people, in fact—enjoy the privilege of living like an Oscar-winning actress. And Hilary Swank isn't offering any discounts for those who'd like to try walking on her herringbone floors. Ms. Swank is renting her West Village two-bedroom at 400 West 12th Street for $20,000 a month.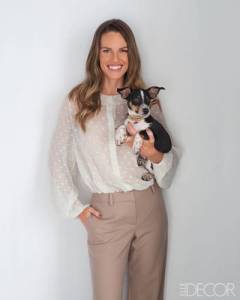 Chris Kann, Robert Browne, and Jennifer Ireland at Brown Harris Stevens have the listing for the rental, located in in Superior Ink, where amenities include a full-time concierge, gym, and the very crucial "party room".
Ms. Swank resides primarily on the West coast, so she's putting the 1,500-square-foot condo, which she purchased for $3.64 million in 2009, temporarily up for grabs—the listing is for a one-year minimum lease (which Mr. Browne told us is because of the building restrictions). Though Mr. Browne could say that "the owner" was renting the apartment because she wasn't using it as much, he opined that the apartment would be especially attractive to someone who is undertaking a renovation and wants to "live it up" for a year in a "stunning home." The apartment is listed as fully furnished—a configuration was featured in Elle Decor in 2011—so potential tenants can get maximum mileage out of living in a Hollywood star's apartment.
The actress hired designer Mark Zeff to decorate the space—he told Elle that he "wanted to create a place that would give her a sense of grace and harmony." To that end, he selected neutral-toned "serene, clean-lined pieces" and adorned one side of the living room with a reclaimed barn wall.
But lest renters find the space excessively soothing, there's also an eclectic collection of artifacts that Ms. Swank filled the study's custom-made built in cabinets with, including African headrests and hand-forged scissors.
The actress told Elle that she preferred the modestly-sized apartment (comparatively, we guess?), which she likened to being in a tree overlooking the city. She continued that she felt "comforted in smaller spaces…they're more nurturing." It helps, of course, when squeezing oneself into an unassuming, 1,500-square-foot space, to have "intoxicating views" of the city.