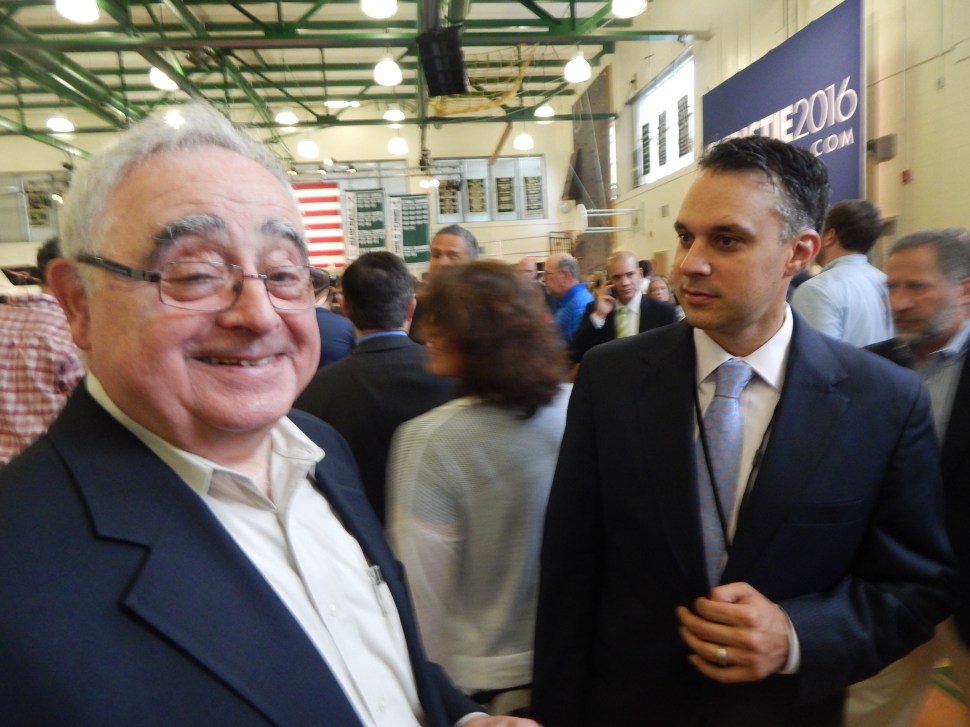 Murray: indictment sinks Menendez poll numbers
After taking a slight dip in May, Pres. Obama's job rating stands above 50% in New Jersey, while the state's two U.S. Senators' ratings have dipped.  The Monmouth University Poll also found increased support for Obamacare and gay marriage after recent U.S. Supreme Court rulings.  On the state level, few say that Gov. Christie can claim pension reform as a major accomplishment. (Politicker Staff)
Stile: Christie's soft criticism of Trump reflects balancing act
Chris Christie boasted to a southern New Hampshire audience in April that he often dines with his "good friend," the casino mogul, reality show celebrity and now presidential candidate, Donald Trump. (Stile/The Bergen Record)
http://www.northjersey.com/news/stile-christie-s-soft-criticism-of-trump-reflects-balancing-act-1.1370021
Dems will try to force Christie to resign
Senators Ray Lesniak and Loretta Weinberg want to introduce legislation that would force the 2016 barn-storming Gov. Chris Christie to resign.
Read the story here.  (PolitickerNJ)
Dems will try to force Christie to resign | New Jersey News, Politics, Opinion, and Analysis
New Jersey Democrats troll Chris Christie
New Jersey Democrats are planning to throw a monkey wrench into New Jersey Gov. Chris Christie's plans to run for president.
A pair of Democratic lawmakers, state Sens. Raymond Lesniak and Loretta Weinberg, are likely to cosponsor legislation that would require Christie and future New Jersey governors to resign from office if they want to run for president, according to NJ.com.  (Strauss/Politico)
http://www.politico.com/story/2015/07/chris-christie-new-jersey-democrats-resign-119802.html#ixzz3fGFAqx17
J.P. Morgan Chase Seeks to Move 2,150 Jobs From NYC to Jersey City
J.P. Morgan Chase & Co. is looking to move 2,150 jobs from New York City to Jersey City, the latest expansion of the financial institution across the Hudson River.
The New Jersey Economic Development Authority on Thursday is expected to consider an application by the New York City-based bank for a $19 million subsidy over 10 years, the second round of tax credits for the firm in about a year as the state seeks to create jobs in the Hudson County city.
New Jersey's unemployment rate was 6.5% in May, compared with New York state's 5.7% and 5.5% for the nation, according to the U.S. Bureau of Labor Statistics.  (Haddon/Wall Street Journal)
http://www.wsj.com/articles/j-p-morgan-chase-seeks-to-move-2-150-jobs-from-nyc-to-jersey-city-1436300285
Welcome to the Romney Primary
Mitt Romney, the man Republicans were so quick to dismiss after his failed 2012 presidential bid, is suddenly in high demand among his GOP colleagues. (Reston/CNN)
http://www.cnn.com/2015/07/07/politics/mitt-romney-2016-republican-primary/
Matt Friedman leaving Star-Ledger for Politico
Matt Friedman is going to have to change his Twitter handle. (Bonazo/The New York Observer)
http://observer.com/2015/07/matt-friedman-leaving-star-ledger-for-politico/
Jeb Bush and Hillary Clinton accuse each other of flip-flopping on immigration, and they're both right
Jeb Bush and Hillary Clinton accuse each other of flip-flopping on immigration — and they're both right- The barbs traded between the Republican and Democratic front-runners previewed the partisan warfare to come and showed yet again that one of the most emotionally charged, unresolved issues of the Barack Obama era will be a dominant factor in next year's presidential campaign. Immigration remains a rallying cry for Democrats, particularly Latinos upset that President Obama and Congress have so far failed to strike a legislative compromise. But it's divided the GOP, which is torn between those seeking comprehensive reforms and others more concerned with tighter border control and supporting candidates like Donald Trump, who has argued that "rapists" and other criminals are streaming across the Mexican border. (O'Keefe/The Washington Post)
http://www.washingtonpost.com/blogs/post-politics/wp/2015/07/08/jeb-bush-and-hillary-clinton-accuse-each-other-of-flip-flopping-on-immigration-and-theyre-both-right/
Nearing launch, Walker sees Bush, Rubio as 2016 competition
Nearing launch, Walker team sees Bush, Rubio as 2016 competition- Wisconsin Gov. Scott Walker is poised to become the 15th Republican to declare his presidential bid, with at least one more candidate expected to enter soon after. But at this point, his campaign advisers said this week that they see just two principal rivals for the GOP nomination: former Florida governor Jeb Bush and Sen. Marco Rubio (Fla.). Walker will make his intentions clear Monday with an announcement and rally in suburban Waukesha County, the heart of Republican territory in Wisconsin. The venue will be the same place where he celebrated his victory in a 2012 recall election, one more indication that he intends to make his battles with public employee unions in the state the centerpiece of his appeal to conservative activists. (Balz/The Washington Post)
http://www.washingtonpost.com/politics/nearing-launch-walker-team-sees-bush-rubio-as-2016-competition/2015/07/07/837fc280-24db-11e5-b72c-2b7d516e1e0e_story.html