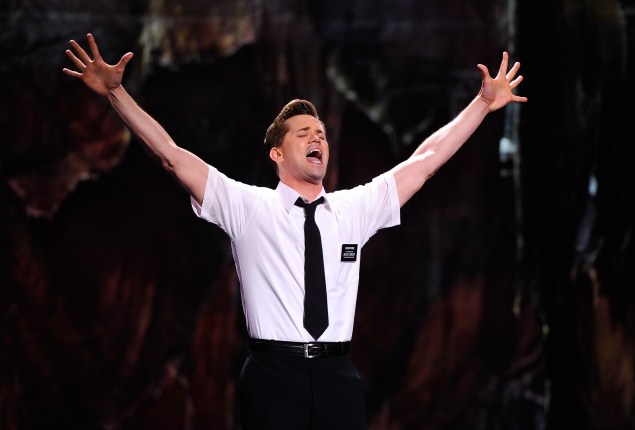 I'm a huge fan of theater. I love live shows; I think they're perhaps the best way to watch very old or very young people talk and sing very loudly at you. I also love television. However, I do not love live TV musicals. They are the worst.
However, seeing as Fox announced last week that Aaron Tveit would star as Danny Zuko in the channel's live version of Grease, it appears TV musicals have no intent of, well, going away. And I guess if you can't beat them, join them. Here are my predictions for the next live TV musicals, which I can guarantee I'll watch while weeping quietly about the fate of television.
1. Spring Awakening
Channel: FX
Cast: Original Broadway cast. Easy.
Why: It'll come right on the tail of Spring Awakening's return to Broadway. And now that Skylar Astin is a bona fide heartthrob, it'll be a treat to see him back in his tiny reading glasses and some tightly wound curls. Oh, and the masturbation jokes. Those were good too.
2. Hedwig and the Angry Inch
Channel: HBO
Cast: Okay, bear with me, but I'm really thinking Russell Crowe. Wait, don't leave. Hear me out. He can sing (kind of). He can act (definitely). But it's more than that. Hedwig is all about embracing who you really are and discovering yourself. And I think Russell will really discover himself in some fishnets and a wig.
Why: Russell Crowe.
3. Bye Bye Birdie
Channel: ABC Family
Cast: Anna Kendrick as Kim MacAfee, Zac Efron as Conrad Birdie, and Michael Cera as Hugo Peabody.
Why: Because I want to see Michael Cera sing, dammit. Also I have a theory that Michael Cera next to Zac Efron will be so pale in comparison that we won't even be able to see on screen. Let's make it happen.
4. Book of Mormon
Channel: Showtime
Cast: Jack McBrayer as Elder Price and Jonah Hill as Elder Cunningham.
Why: Because I'm not typecasting Jonah Hill, but I'm totally typecasting Jonah Hill.
5. The Sound of Music
Channel: NBC
Cast: Katharine McPhee as Maria.
Why: Because The Sound of Music is a classic! And Katharine McPhee is a talent and—oh wait, we already did that? With Carrie Underwood? Really? That is…that is disappointing.