Here's one for Emily Post: When practicing naked yoga, is it better to be in the front of the room or the back?
The question arises as I make my first foray into the world of exposed asanas. I'm not a prude—I sleep naked and enjoy nude beaches. What's more, I actually like my body, a rarity for many women. Still, the thought of staring into the butt cheeks of some big, hairy guy—or God forbid, him into mine—seems the opposite of enlightenment. Namaste, indeed.
But on a sweltering evening earlier this month, I visit Bold & Naked Yoga on 23rd Street to take a class taught by co-owner Monika Werner. The studio had been offering unclothed classes for men for a few years, but after receiving requests from women they added a co-ed option in January 2014. "We personally just love to practice naked," said the pixie-haired Ms. Werner, 43, who has the posture of a No. 2 pencil and the flexibility of a rubber band. "It's such a freeing experience, so we wanted to share that."
There is no changing room, so I remove my shorts and T-shirt in the hallway and shove my clothes in a cubby. I'd expected a group of creepy old men, the sort of people I imagine would be eager to drop trou, but everyone seems completely normal, in their 20s and 30s, and in excellent shape. Besides me, there are 12 women and four men.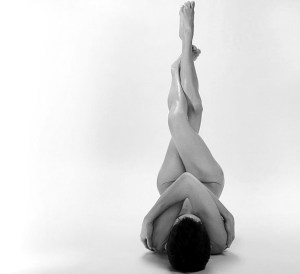 I'm not supposed to check out anyone else—that's kind of against the whole ideal—but I can't help it. In downward dog (feet planted at one end of the mat, hands placed at the other, derriere in mid-air) I surreptitiously peer at the flapping scrotums and flaccid penises (I happen to be surrounded by men). I expect to lock eyes with someone, one rebellious yogi to another, but everyone seems completely engrossed. There are no erections, no covert winks; they're too busy concentrating on proper alignment and breathing, as they should be.
And the truth is, it's a great class. Ms. Werner does not speak in whispery tones. There's no Enya or endless loop of ocean waves; the music is upbeat and happy: Beyoncé and indie rock.
Like most Europeans, Ms. Werner, who was born in Stuttgart, Germany, is baffled by America's weirdness about the bare body. Growing up, she often saw her parents naked, and it was nothing special. Our lingering Puritanism astounds her. "I was once at the gym, and a girl came out of the shower with the towel on," she recalls. "Then she put on her bra and underwear while the towel was still on. I thought that was sad."
***
If Ms. Werner and others like her have their way, this country will soon embrace a more positive approach to the naked body.
There is some evidence that we are heading in that direction. Burning Man and the oft-disrobed Lena Dunham aside, social nudity is rising among the younger set, and not just those with washboard abs. Nude recreation has grown to about a $450 million industry. Three years ago, the American Association for Nude Recreation (AANR) began actively recruiting young adults, speaking on college campuses and offering student memberships. In late August, the Young Nudist Leaders Summit presents its fourth annual confab for nudists between 18 and 35. The three-day event includes a think tank-esque discussion entitled "What Are We Sharing With Others And How Are We Reaching Them" as well as daily Frisbee golf.
"I'm 72 years old—and we'd like to have new blood in," says AANR spokesperson Carolyn Hawkins.
There are hit TV series like Naked and Afraid and Dating Naked, and events such as Nudestock, "a Nude Rock and Roll Experience" and Bodyfest, a weekend-long extravaganza of music, dance, yoga, massage, and the occasional tug of war. There are naked bike rides, running races and erotically themed naked obstacle courses. (The Blue Balls Dash! The G-String Crawl!) In comparison, skinny-dipping's a snooze.
"There's been a wave of pushback against what naked beauty is," says Vivian Diller, Ph.D., a clinical psychologist in New York and the co-author of Face It: What Women Really Feel Like As Their Looks Change And What To Do About It. "Culturally, we're saying we don't care. Let's just display bodies, not perfect bodies."
The confining nature of the city inspires some people to go au naturel, believes Isis Phoenix, 34, who taught naked yoga in the city and also ran clothing-optional interfaith church services before moving to Leominster, Mass., last year. "New York is very dense and the energy is very yang and structured, linear and directed," she says. "I think there is a collective yearning for release, letting go and freedom that the Type A, yang masculine personality craves. That was my experience in teaching naked yoga—life is so fast, structured and stressful in New York, it was a deeper level of letting go."
But baring it all is not just about exhibitionism but something even more radical: body acceptance.
Women in particular are taught to find fault with every extra fold of skin; body dissatisfaction is part of our cultural DNA. I am certainly not immune. I spent six years at fat camps, from ages 16 on, trying to sculpt my figure into a size 0. Never mind that I only "needed" to lose 20 pounds at most, I felt fat, and fat, in my household and in the world at large, was one of the worst fates.
It has taken years to come to terms with my body, but the truth is: I like it. It's muscular and strong and it survives 100-mile-long bike rides and 19,300-foot mountains.
(Today, I joke that I suffer from something called "Reverse Body Dysmorphic Disorder"—a condition afflicting people who think they look better than they actually do. This became evident a few years ago, when I walked up Lexington Avenue and checked out my reflection in a storefront windowpane. I eyed my stomach, my hips, my ass, slowly making my way downward until I rested on my calves. "Damn!" I thought. "I look gooood." And then I realized I was looking at someone else.)
It's an act of courage, if not outright defiance, to admit that you're actually O.K. with your body. It's even bolder to expose it.
"Most of us have the nightmare of being naked in front of a group of people," says Wendy Shanker, author of The Fat Girl's Guide to Life. "For someone who doesn't think much about body image, the truly embarrassing part of the dream is everyone pointing at you and mocking you because you forgot to wear clothes. For a fat person, or someone with body image challenges, the nightmare is that they are pointing at you and mocking you because of your body. So, in real life, stepping in front of a group of people fully naked and discovering that no one really gives a shit can help eradicate that fear.
"It's confronting a phobia with flooding," she continues, "Like making a person who fears flying take a ride on a plane."
Though they're loath to admit it, men have as many body image issues as women do. They just pop up differently. (Or, as the case may be, don't.)
"With men, there's much more focus on the genitals," says Ms. Phoenix. "'Are mine normal? Are they functioning normally?' Men would say to me, 'What happens if I get an erection in class?' There's this cloak of shame that follows them from puberty and adolescence."
***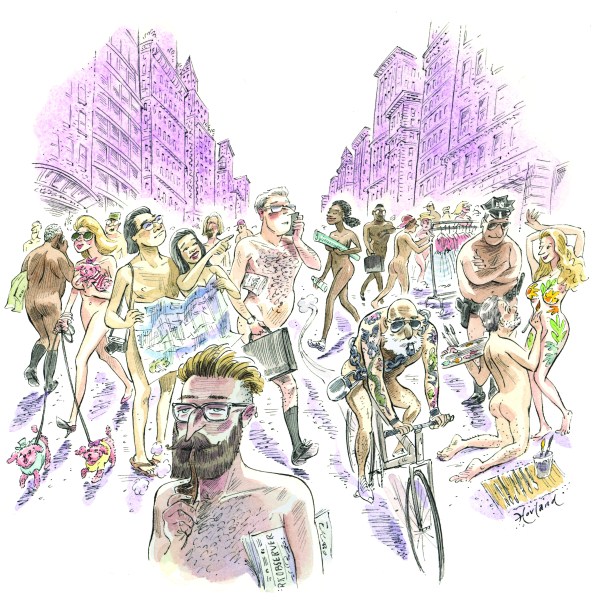 Of course, being naked in the relatively safe space of a yoga class and being naked on the streets of Manhattan are completely different concepts. Which brings us to Body Painting Day.
Indeed, there are interesting things a person can do, and there are unnecessary things, and somewhere in between there is having your unclothed body decorated before a throng of gawking strangers wielding cameras pointed directly at your breasts. 
There's no real reason to do it, and yet here I am, on a recent Saturday afternoon: standing immovably while renowned body painter Andy Golub coats me with swirls of orange, green and blue. All I'm wearing is flip-flops. And sunblock.
It's a heady feeling, prancing around the city nude, though I'd be happier without the throngs of tourists-cum-paparazzi. The road from camera to Internet is instantaneous; I'm not sure I want my image in all its unwaxed glory online.
But nearly 100 other people of all sizes, shapes, ages and genders are also spending the day as human canvasses to celebrate the second annual Body Painting Day, held at Dag Hammarskjold Plaza near the United Nations.
Think of it as a General Ass-embly.
"We're people positive," says Jordan Blum, 38, co-founder of the Young Naturists America (YNA), a nudie organization in Long Island City, which co-sponsored the body painting event with Mr. Golub. "When you remove the clothing you remove all social hierarchy that people might be able to judge you on."
"People have this idea that the body is inherently lewd, and that nudity is inappropriate for children to see," adds Mr. Golub, 49, who has an 11-year-old son and 16-year-old daughter, both of whom were at the event (neither has been painted.) "I firmly disagree with that. I think sexuality and certain types of things you might see in a movie is inappropriate, but the body in and of itself is not lewd, and that is an incredibly important distinction. If we think of our own bodies as being inapporpaite, then we think of ourself in a very negative way."
Mr. Blum and his fiancée, Felicity Jones, who runs YNA with him, came to "naturism," as they prefer to call it, organically. (Whereas nudism is basically about getting naked, naturism is more overtly political.)
As a kid, Ms. Jones vacationed at Rock Lodge Club, a family-friendly naturist resort in New Jersey. Following college, she met Mr. Blum, the son of lefty parents who raised him between the states and a kibbutz in Israel. "My dad's first cousin used to date Jerry Rubin," he says in slightly accented English, as if this explains everything. "We believe in equality. We don't care what anyone does for a living as long as they're good people."
For the couple, going naked is less about public exposure than ethics. "The nakedness goes hand in hand with a certain type of value system I believe in," says Mr. Blum, who has a day job as the manager of an antique carpet gallery in midtown. "We don't judge people, we don't care if they have clothes. We treat everyone equally. We judge based on actions. I'm trying to promote acceptance of people and behaviors, period."
(Ironically, both Mr. Blum and Ms. Jones requested pseudonyms; when I ask why, they hedge. "For Jordan, his boss asked him to use a pseudonym," Ms. Jones wrote in an email. "For me, I use it for privacy. Most of the people in our community know our real names.")
YNA, which was founded in 2010, runs Naked Movie Nights, and Naked Hikes (sneakers recommended), and naked art openings, in addition to Bodypainting Day. Mr. Blum estimates that they have about 500 dues-paying members evenly split between both sexes, with the average age hovering around 28.
He credits this to the fact that the younger generation has already forfeited its right to privacy. "A lot of things happen online, and they're less afraid of repercussions," he says. "They're more willing to take risks."
Public nudity is illegal, unless you're breastfeeding or "performing in a play, exhibition, or show," according to New York State law. Mr. Golub challenged this edict in 2011, when he and some of his models were arrested during a public body-painting session. After fighting it with the New York Civil Liberties Union and lawyer Ron Kuby, live nude body painting is now considered performance art, similar to Spencer Tunick's naked photography shoots. There is clearly interest: Last year's event featured 40 models and 30 painters. This year it more than doubled.
Anthony Illiano, 30, the co-founder of news aggregator Buzzworthy.com, decided to participate at the suggestion of his life coach. "He wanted me to get out of my comfort zone," says Mr. Illiano, who has shoulder-length Fabio hair and a compact, trim body painted in military camoflage. "I haven't been naked before in public. It was awkward at first, but I felt more fear when my pants were on. When they came off, you realize that there's nothing to be ashamed of. It was like—'This is it?' Yeah, this is it."
Stand-up comedian Billy Procida, 26, whose torso was emblazoned with palm trees and clouds, agrees. For him, though, it's not as big of a deal; he often performs comedy naked. "The second time I did a show I bombed—naked," he recalls with a laugh. "It was like, 'Well, that's the worst thing that'll ever happen to me in comedy.' It can't get any worse."
For comedian Alison Klemp, 28, who emceed the recent Naked Comedy Show at the Creek and the Cave, a club in Long Island City, performing naked has been one of the most positive experiences of her life (the audience has the option of undressing; about 30 percent do). For starters, she looked hot. "I worked out a lot in advance. I starved myself," Ms. Klemp confesses. "I juiced a lot. I was motivated to look as good as I possibly could, even though kind of the point of doing this show is to release some of the stigma we have about the female body, and with all of our puritanical hang-ups we have about sex in this country," she says. She knows it's hypocritical—the idea is to embrace yourself no matter how much you weigh—but come on. "I'm a performer," she says. "I'm vain."
***
I'm vain, too. And I can't help but inspect the people around me as the artists work their magic: angular women with protruding collar bones, fleshy women with droopy breasts, and men with shriveled penises dwarfed by mountainous bellies. There's a transgender person with a lot going on.
But as paintbrushes dab at necks, at bellies, bodies morph into walking-and-talking art. By the end of the day, I am covered in a colorful geometrical pattern. I look like an extra from The Lion King. Any discomfort I felt has evaporated. It's as if I'm wearing a leotard; I actually feel clothed. I want everyone to snap my picture.
Besides, what is there to be embarrassed about? Sitting next to me is purple-haired Nicolette Barischoff, 30, who was born with spastic cerebral palsy, and has spent her life in a wheelchair. But that didn't stop her from stripping down and getting painted. In fact, she sort of sees it as her responsibility.
"In our culture, only certain people—porn stars, actresses—are allowed to get naked," she says. "When you have a disability, people try to ignore your body and how it functions. You kind of let them disembody you. This event is all about not pretending that we don't have bodies." 
Read Abby Ellin on how the new health food industry markets eating disorders