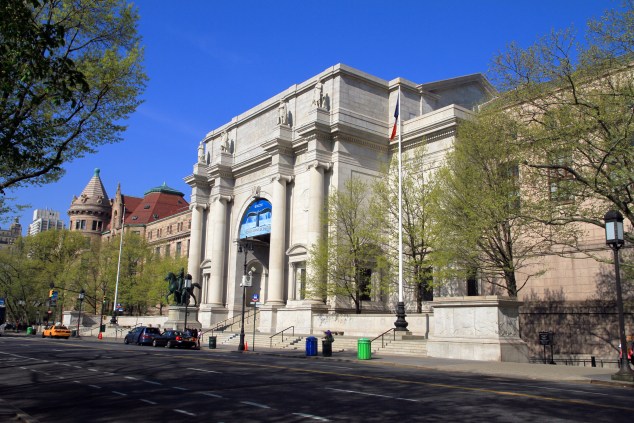 Pushback from Upper West Side residents to the American Museum of Natural History's plans to build an expanded science complex that would cut into an adjacent park appears to be mounting.
Some members of the community who are fervently opposed to the expansion have taken their cause online with a petition on Change.org that proclaims "Save Our Park!" (as first spotted by The New York Post). The petition has garnered over 850 signatures in just a few days.
The petition describes Theodore Roosevelt Park as a "sanctuary" for the community, used as space for residents to exercise and children to play, which would be lost in the proposed expansion.
AMNH's plans for its first expansion since the addition of the Hayden Planetarium in 2000 includes a new $325 million complex for science education, to be completed between 2019 and 2020 in order to coincide with the museum's 150th anniversary.
The Richard Gilder Center for Science, Education and Innovation will be located on Columbus Avenue at 79th Street on the west side of the museum, on a yet-to-be-determined block of land carved from 25 acres of public park space, called Theodore Roosevelt Park. Designs for the new six-story, 218,000-square-foot building are still in their infancy, but will be led by Jeanne Gang and Studio Gang Architects.
According to AMNH spokesperson Roberto Lebron the museum has been aware of the petition from the beginning, and explained that the institution has actively reaching out to the local community for feedback, from everyone from elected officials to advocacy groups, since December.
AMNH vice president of government relations, Dan Slippen, added that "some meetings have yielded good questions and comments—and some concerns." He stressed that while plans for the Gilder Center are in beginning stages, "community involvement is needed, and we want it."
To engage residents of 79th Street, the museum went door-to-door with "Dear Neighbor" letters, Mr. Slippen said. "We put letters into every door of every building, inviting them to talk to us."
Mr. Slippen told us that the museum's plan to use as little green space as possible has been the plan from the start.
"[The expansion] needs to be able to integrate well with the park," he said.
The museum also said the proposed expansion must be approved by the New York City Department of Parks and Recreation and the Landmarks Preservation Commission and reviewed by Community Board 7. It also said that the terms of its initial lease allow it to utilize additional portions of Theodore Roosevelt Park.
And to be sure, there is support from many local residents for the expansion.
"I think they're completely within their rights to do this," said Barbara Adler, executive director of the Columbus Avenue Business Improvement District.
Ms. Adler also commended the museum on its transparency through the process so far. "We think it's a very exciting project because, presuming it's done correctly, it will be a win-win for everyone," she said.
Community Board 7 chair Elizabeth Caputo said there has't been a public meeting yet, but that there have been numerous discussions between staff and community board members about the design and its potential impact on the neighborhood.
"Pockets of the community are concerned with loss of park land, but there will be others who are equally excited about their kids being able to participate in the programming of the new science education center," she said.
"We take the park issue very seriously," she added. "Up to now, I feel able to say the board is hopeful that we'll be able to work with the museum in order to mitigate the loss of park land and trees."
AMNH's expansion plans come on the heels of another hotly debated museum expansion. The Frick's proposal for a 60,000-square-foot addition that would raze its 70th Street garden inspired Change.org and Facebook petitions from a large group of architects, artists, residents, and preservationists who called themselves United to Save the Frick. Then, in June, the museum released a statement announcing that proposed expansion plans would go ahead, but the garden would stay.