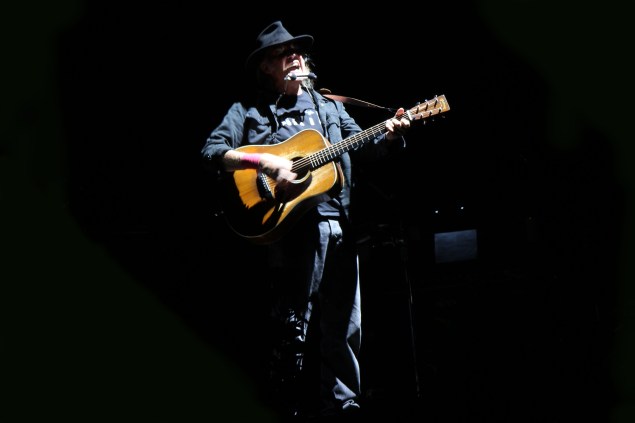 "We are stardust, we are golden, we are billion-year-old carbon, and we got to get ourselves back to the garden." You'll find those words, sung by Crosby, Stills, Nash and Young, printed over a doorway at the Bethel Woods Center for the Arts in upstate N.Y. The song is "Woodstock" and Bethel is better known as the site of the legendary 1969 music festival.
In 'People Want To Hear About Love,' Neil Young sings a protest number about how nobody wants to listen to protest numbers.
Last weekend, Neil Young returned to Woodstock. He came back with a new record called The Monsanto Years, a blunt screed against genetically modified food, and thousands of farmers, bikers and country folks—or those dressed much like them—welcomed his return.
"I was here a long time ago, and this looks very different now," the musician told the audience in the expansive open-air pavilion. "I'm not saying it's good or bad, I'm just saying it's very … different." At 69, the wry, haggard musician still had that patented Neil Young scowl.
"I would like to propose that we get some Woodstock veterans up here and get some jackhammers, maybe 10 of those jackhammers, and we take this whole area here where the cement is, and we jackhammer it down to the ground (the crowd erupted) so people can stand here and have a good time like they did at Woodstock."
That's ironic, really. Neil Young played with Crosby, Stills and Nash (their second gig ever) at Woodstock, but, complaining that all the bands "weren't playing to the audience as much as to the cameras," he refused to be filmed. And so the story goes of how Mr. Young was both at Woodstock and not at Woodstock. As the festival was immortalized in Michael Wadleigh's documentary, and subsequently became the first music festival to establish itself as a brand, it didn't matter that Neil Young was physically at Woodstock. He wasn't on film.
Point is, the artist was always one to define his own reality, be it by calling bullshit a half-century ago on packaging rock and roll for a field of 400,000 hippies or touring the country today to tell people about Monsanto. The biotech company, the largest in agribusiness, sells farmers genetically modified seeds and pesticides, and has a stranglehold monopoly on that business, he warned.
"Don't say that pesticides are causing autistic children, people want to hear about love," Mr. Young sings on The Monsanto Years track "People Want To Hear About Love." It's a protest number about how nobody wants to listen to protest numbers, perhaps more urgently sung for the fact that the musician's son Ben has cerebral palsy. It's also a jolt of self-awareness from a man many are treating as an old coot for going on tour to rant about his liberal agenda.
As the concert began, women dressed as farmers spread seeds across the stage, while lights rose slowly on pots of Echinacea flowers. Mr. Young soon walked over to his piano for a somber "After the Gold Rush" and when he altered its lyrics to sing "Look at Mother Nature on the run in the 21st century," it telegraphed the show's theme.
"Heart of Gold" and "Long May You Run" came next, during which he actually bowed down to the plants as he sang, "Long may you run, although these changes have come."
Mr. Young then kicked his harmonica off the stage to an adoring hippie girl sitting in the front row, played "Old Man," and sat down at a pump organ to deliver a hymnal-sounding version of "Mother Earth (Natural Anthem)," before actors in gas masks came out to spray the stage with fake pesticides. As the solo portion ended, the musician's band Promise of the Real took the stage.
That band, featuring Willie Nelson's sons Micah and Lukas Nelson, sounded older than the members' years. The band began with the country twang of "Hold Back The Tears," Mr. Nelson's kids hitting the harmonies sung by Linda Ronstadt in 1977 with pitch-perfect precision. Then the Nelsons swapped solos with the old man as if they'd been playing together for years. (Promise of the Real actually took their name from 1974's "Walk On," when Mr. Young sings, "Sooner or later it all gets real.")
By starting with a solo set, which transitioned to a full-band, acoustic set and then into the hard-driving, electric tunes later on, Mr. Young managed to build what could have been a drawn-out event into a cohesive experience. Indeed, the magic of his three-hour set that night was not in the new numbers off The Monsanto Years album so much as in the earnest vigor that the new numbers brought to his performance of the rich classics.
The rawness of Mr. Young's performance was bookended by its inherently theatrical presentation—but then he always did fancy himself an amateur filmmaker (Mr. Young also directed several films under the pseudonym Bernard Shakey). His habit of giving stagehands costumed roles to play in concert, be it as scientists on-stage during Crazy Horse's Psychedelic Pill tour or these farmers and exterminators of The Monsanto Years, allows him to take his love of theatrical presentation on the road.
If it's a seeming hypocrisy that a man who balked at the superficiality of filming Woodstock moonlights as a filmmaker, well, that's Neil Young for you.
Though the musician promised the crowd he would be back to check on Bethel next year, he finished with the song "Roll Another Number (For The Road)," in which he sings, "I'm not going back to Woodstock for a while, though I long to hear that lonesome hippie girl smile."
On the way out, we saw that hippie girl who caught the musician's harmonica—still full of his "tooth gunk," she told us—sitting on the hill overlooking the original Woodstock site. It sounded like she was playing "Taps."