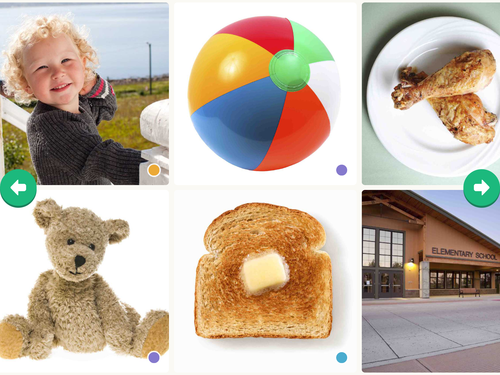 A study found that mothers of children with autism have stress levels comparable to those of combat soldiers.
That mental strain affects their children too, and much of it stems from the frustrations associated with the seemingly simple day-to-day activities that most of us take for granted. For children with low-functioning Autism Spectrum Disorder (ASD), just trying to communicate their thoughts, wants, needs and feelings is a distressing task. Any communication effort is daunting, inhibiting and truly upsetting for non-verbal children—a problem that's never really seen a solution.
Today, Norwegian startup Superplus is launching their first app called SuperSpeak, which will let children with ASD communicate without the difficulties and frustration. It's a true game changer and has recently earned the company the Nordic Startup Award for Best Social Enterprise.
A child with ASD can use the app to take his own photos, categorize them and use them to communicate. If he wants to ride his scooter, for example, he can bring up the photos of his own scooter and helmet to express his desire to someone else. There is also text like "yes," "no," and "later" for answering questions. And because it's all digital, the child's account can be synced so both parents and special needs providers can access it. This way, both can take photos, and if a child learns a new word at home, the teacher can see it and use it as well.
"When they're non-verbal, they can't tell you what they want and they might have a meltdown," Katrine Gulstad Pedersen, SuperSpeak CEO and Co-founder told the Observer. She is a special needs educator with more than 12 years of experience who has been manipulating apps to help teach her students for years.
There are other systems that rely on photos to help children communicate, but they all fall short. They use stock images and symbols, but this is a major systematic flaw; many children on the ASD spectrum can't relate to those images, and they can't understand them. A stock image of a car means nothing to a child with low-functioning ASD, but a photo of his dad's blue Chevy with the familiar bumper sticker—that he gets.
"A car can be a car if it's this car, but not that car. That's not mine," Ms. Pedersen said as she explained this to us.
It helps kids understand what others are communicating to them as well. Ms. Pedersen told us how the app helped one of her students conquer his fear of going to the gym:
"All of the other kids were very happy, and they ran out and put their shoes on, but this child was afraid in the corner and started to cry. He didn't understand the meaning of going to the gym, even though he has before. He can't recall that good memory, so I had to use so much time and energy to motivate him to go, talking to him for a half hour or so to get him to come. He was six and could tell he was acting differently than other kids. Now, I use SuperSpeak and take photos of him at the gym to show him it's okay, he likes it and he can play soccer and do fun things."
The other important benefit is that the app can be used on any regular phone or tablet.
"It allows us to be mobile and bring it on the train in a non-stigmatizing way," Kirsten McLoud, the company's director of marketing said.
She described the available systems, which are nothing short of dated and scream "special needs."
"Kids have used big computer-like things. Some are big boxes that aren't even digital," she said. "Other little kids carry around books or fanny packs with cards in them, and they'd have to search through all of the cards to say what they want. You're not able to organize it in a thoughtful way."
Ms. McLoud and Ms. Pedersen have been working with a diverse team developing SuperSpeak since September. Roald Øien, another co-founder, was formerly a sports agent, but after his young, non-verbal daughter was diagnosed with ASD, he went back to school and eventually become the leading autism spectrum disorder clinical research scientist in Norway. He brought the Child Study Center at Yale into the mix, and other academics including a mathematician/software engineer and a psychologist have become part of the team as well. And then there was Kim Daniel Arthur, former founding team member of social gaming startup Playfish who had an exit to EA Sports of $400 million, who pulled the team together.
"It's very exciting that all of these people can come together and work for the common good," Ms. McLoud said. "We're breaking down barriers, and we really are cross-pollinating."
Next, they are working on eye tracking that will, for example, allow a child without motor skills to communicate if he wants an apple or pear by staring at one side of a screen versus the other. The team is also developing two other apps: SuperDay and SuperStory. The former is a scheduling app while the latter is a collage of different mediums that will help kids with ASD communicate, make social stories and recall what they've been doing.