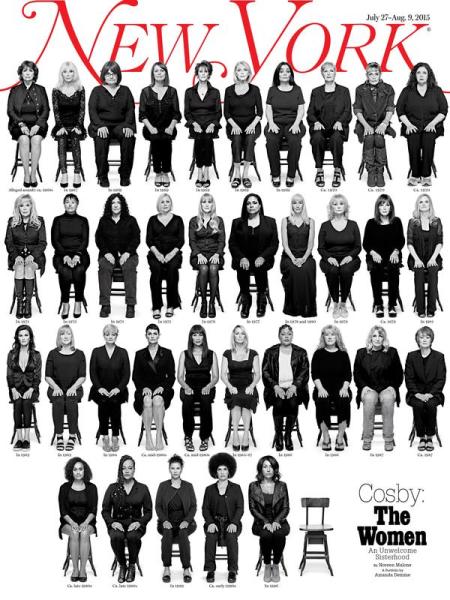 Around 9pm EST last night, New York magazine published an article about the alleged sexual assault victims of Bill Cosby, for which the magazine interviewed 35 of the 46 women who have come forward with allegations. People everywhere, however, woke up disappointed to learn they couldn't read the groundbreaking cover story—the publication's website went dark around 2am.
After about 12 hours, New York magazine's website is finally live again. The magazine just tweeted that the story—"Cosby: The Women"—is accessible again.
Around noon, The New York Times and The Daily News both erroneously reported that the site was running again. An error message, however, was still appearing as we tried to access the site, and the magazine soon tweeted the following:
While we work to get our site up for everyone, we've published the full cover story on Tumblr: http://t.co/NdjnnS1J86 pic.twitter.com/867dgpmeUX

— New York Magazine (@NYMag) July 27, 2015
While our video page is down, listen to several women's stories on our Instagram: https://t.co/z3gY1Fi6J6 pic.twitter.com/7I8hrghalY

— New York Magazine (@NYMag) July 27, 2015
When the site went down, it was first speculated that overwhelming traffic on the Cosby cover story was responsible. However, it now seems a hacker launched a DDoS attack on the magazine's website. The following tweets appeared when it went down last night, tweeted by a handle that appears to be for Vikingdom, a hacking group that gained attention earlier this year for taking down several government websites.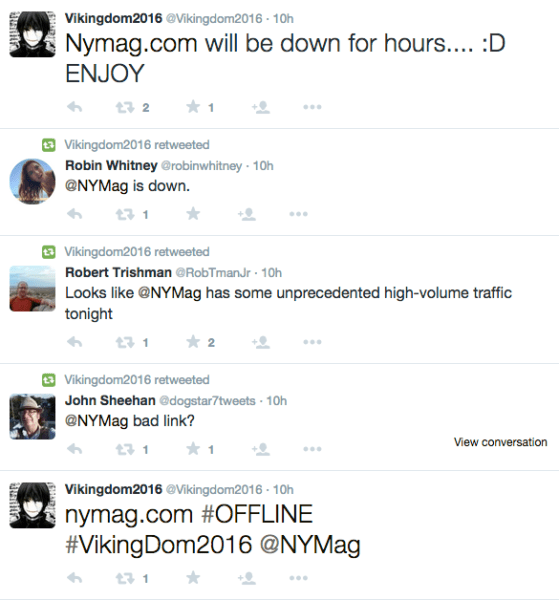 The Daily Dot then spoke to an anonymous employee from the magazine who confirmed their site seemed to be on the receiving end of a DDoS attack. They then interviewed the self-proclaimed hacker calling himself ThreatKing, who is claiming responsibility for the attack, and it appears his motivations were not to silence the women nor the magazine. Instead, the hacker claims to just hate New York because he was laughed at and pranked with a fake handgun during a visit.
"Many stupid people at [sic] New York. I have not even seen the cover, LOL," ThreatKing told The Daily Dot over a Skype chat.
He also shared a link to Vikingdom's Soundcloud page with The Daily Dot. There, in a recording titled "Warning Message to the United States," a robotic voice could be heard saying, "We are going to destroy state websites, city websites, agency websites and court websites of the United States. You have took away our country and it's time to get it back by destroying the United States."
ThreatKing claims to be trying to keep New York magazine offline for 14 hours and that Vikingdom plans to attack more websites based in New York. A list of potential targets that have "New York" in their names was shared on Twitter and includes The New York Times, the New York City FBI bureau, and New York University.