It took Hurricane Sandy to make Long Island's Public Service Enterprise Group (PSEG) listen to Greg Thomson, the executive director of renewable energy collaborative Clean Coaliton, who had tried for several years to pitch them on clean distributed generation projects, with little success.
Mr. Thomson partnered with the company on a scalable solar-centric microgrid project on East Hampton, which derives between 30 and 50 percent of its energy (about 15 megawatts) from solar power. The rest comes from an energy storage system which minimizes the need for local generators.
The resulting plan, dubbed the Long Island Community Microgrid Project, is one of 83 energy systems selected by the New York State Energy Research and Development Authority (NYSERDA) as finalists for the NY Prize microgrid competition. East Hampton and the other 82 communities represented will compete to create cleaner, more affordable and more resilient localized energy grids for a limited number of users.
The value of solar microgrids during the summer is that in addition to offering energy independence during power outages, they can reduce pressure on the main grid by providing extra power on hot days when needed.
Mr. Thomson explained that the East Hampton microgrid targets a specific area of only a few thousand customers.
"When you get that kind of scale, you can see where to put local renewables like solar," Mr. Thomson told the Observer.
Since solar power is a locally available resource, it has more potential and so communities can get more out of it, according to Mr. Thomson. By contrast, the generators which are currently used have trouble dealing with power needs at peak hours.
"The solar grid is more reliable and maintains power quality," Mr. Thomson said. "We're balancing the grid, which as it's designed today is vulnerable."
Mr. Thomson credited New York for its willingness to look into alternative power sources.
"The state is a leader in modernizing," Mr. Thomson said. "New York is a pioneering space in renewable grids."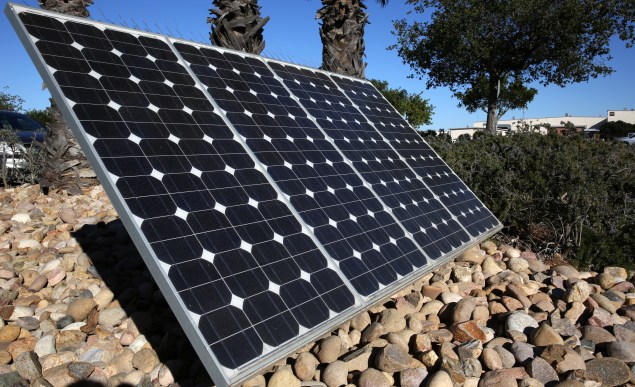 Micah Kotch, the director of NY Prize and strategic adviser for innovation at NYSERDA, said this same desire to modernize is what drives the Prize competition.
"NY Prize is a program that is really focused on promoting clean energy and making the electric grid more reliable and resilient," Mr. Kotch told the Observer. "It's validation that communties across the state and individual customers really value power quality."
Solar programs like Clean Coalition are particularly valuable, according to Mr. Kotch.
"You go across the state and see a hockey stick growth of solar," Mr. Kotch said. (For the record, many homes in New York ran on solar power during Hurricane Sandy, but since they were still connected to the main grid, their power went out as well.)
The fact that microgrids, using solar or other power sources, can operate independently in the event of a power failure is what attracted NYSERDA to the technology and inspired the NY Prize project.
"The key value of a microgrid is optimization and control," Mr. Kotch said. "You can operate in island mode; if everything else goes down it can stay up. Energy is the invisible engine that makes industries possible, and having a modernized grid is critical to the growth of New York's economy."
The state is not relying solely on NY Prize for ideas about alternative power sources, however. New York, in partnership with the Department of Energy, the National Grid and GE, is involved with two microgrid control research projects in Buffalo and Potsdam. These programs are exploring ways to make the state's electrical grid more efficient.
Mr. Kotch said that even though microgrids were more complex systems. they were more resilient and so it was worth investing time in them.
Because of his background as the director of innovation and entrepreneurship at NYU Polytechnic, Mr. Kotch views the NY Prize competition as an incubator for new technologies that pay dividends environmentally and economically.
"We are supportive of startups on the commercialization curve," Mr. Kotch said. "They turn innovative ideas into businesses that get private capital, and are a catalyst to reduce soft costs and risks for investors."
New York is not the only state investigating in microgrids- New Jersey Transit plans to build one to power its most heavily traveled rail lines in the event of another superstorm.