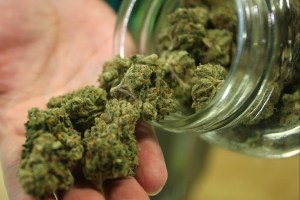 Medical marijuana is one step closer to being available in New York. The New York State Department of Health announced Friday afternoon the names of the five companies that will be permitted to sell medical marijuana in the state, the New York Times reports.
The five organizations receiving licenses—Bloomfield Industries Inc, which will grow marijuana in Queens; Columbia Care NY, which will grow in Monroe County; Empire State Health Solutions, growing in Fulton County; Etain, growing in Warren Country; and PharmaCann, which will grow the drug in Orange County—are all benefitting from the Compassionate Care Act, signed by Governor Cuomo in July 2014. The companies must be registered with the state and are free to open up to 4 dispensaries in New York. As they are required to be in business within the next six months, medical marijuana may be available across the state by the end of the year.
The Governor's deal on the Compassionate Care Act in 2014 came with certain conditions following his initial opposition of legalization—smoking the drug is still prohibited in New York. Instead, the state has provided alternative options, such as inhaling a vaporized form of the drug.
The dispensaries will be in various locations across the state, including Manhattan, Long Island and Westchester. The five companies, which were selected out of 43 applicants, underwent a comprehensive evaluation process adhering to the state's strict program requirements.
In a statement, New York State Health Commissioner Dr. Howard Zucker described the announcement as a "major milestone" in the state's implementation of the Medical Marijuana Program.
New York is not one of the first states to permit medical marijuana—22 states now allow it in some form. California was the first state to legalize medical marijuana in 1996, and in recent years four states and the District of Columbia have legalized recreational use of marijuana.