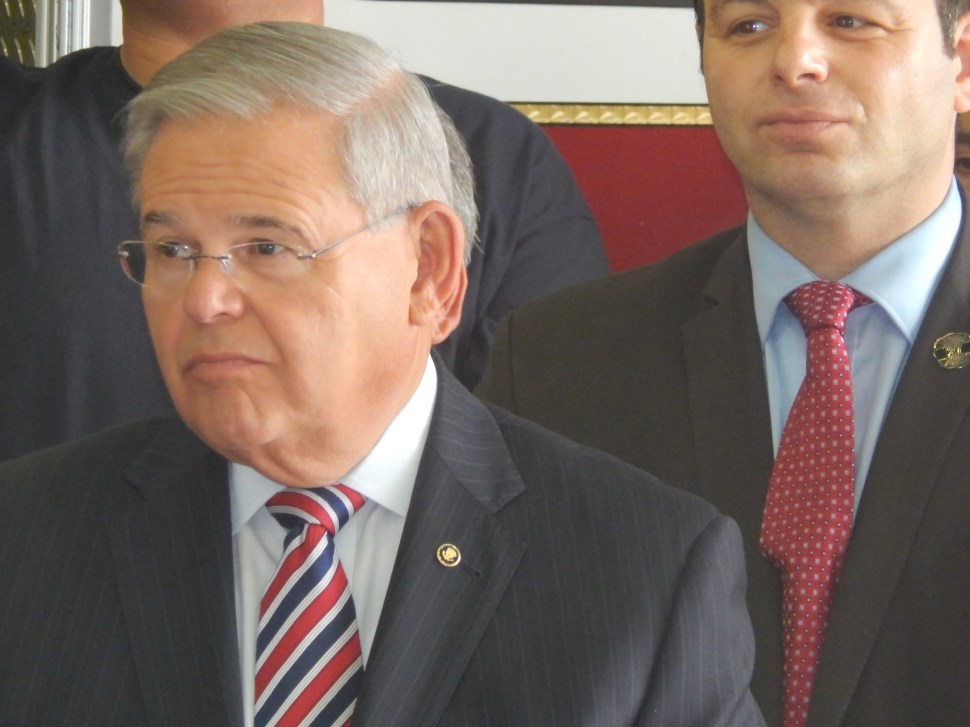 Despite rumors that former U.S. Senator Robert Torricelli might be seeking a Senate bid if Senator Robert Menendez is forced to step down due to his ongoing indictment, Torricelli claims that he is completely behind the sitting Senator.
"I do I think people have given Bob Menendez the benefit of any doubt and there is real hope that he can survive this problem," Torricelli told PolitickerNJ.
According to Torricelli, he and his fellow members of New Jersey's Democratic party are unified in their support of Menendez and are not focused on the what ifs or who will be a potential successor to the embattled Senator.
"Right now, all focus should be on what is currently happening," said Torricelli who claims to have helped raise over $50,000 for Menendez. "People who want to help the Democratic Party now should help Bob Menendez as I have done."
According to Monmouth University political analyst Patrick Murray, however, Torricelli has "put out feelers" to members of the Democratic Party about potentially entering using a Senate race to make his way back into elected office.
According to Murray, Torricelli is one of the only Democrats jockeying for the position if it opens up due to strong support for Menendez and fear of political turbulence if the Senator is cleared of all charges.
"Other than Bob Torricelli I think most Democrats are really not pushing this very hard in terms of the what if scenario," Murray said. "I mean most of them think, for one thing, it is very hard to count Senator Menendez out, and another, it could come back to bite you to not support him."
Long time Democratic Party fundraiser John Graham also believes that support for Menendez is strong.
"The fact remains that the Senator is and will remain the elected leader of the Democratic Party of New Jersey," Graham said in a statement. "Bob continues to receive not only his well-deserved respect from his Senate colleagues but the international respect from our allies around the world as a man of courage who is loyal to his word."
Menendez is currently under indictment for allegations that he accepted money and bribes in exchange for political favors. He plead not guilty to the charges in April.
Torricelli has faced similar troubles in the past. Though he served as a U.S. Senator from 1997 to 2003, Torricelli withdrew from his reelection race in 2002 after improper contributions being made to his campaign became public. Torricelli denied any wrongdoing.
Though he has stayed active in the political spectrum, a Senate run would be Torricelli's first attempt to reenter a political office since he withdrew from his reelection race.
Congressman Donald Norcross (D-1)—brother of Democratic Party bigwig George Norcross—is also rumored to be a potential successor to Menendez if he is forced to give up his seat.
However, according to Murray, because Norcross was recently elected to the House, his focus may no longer be on entering a potential senate race.
"[U.S. Rep. Frank] Pallone always wanted that seat too but, right now, with his position in the House he might be more focused on getting that Democratic majority," he said. "The smart money is on Bob Menendez."