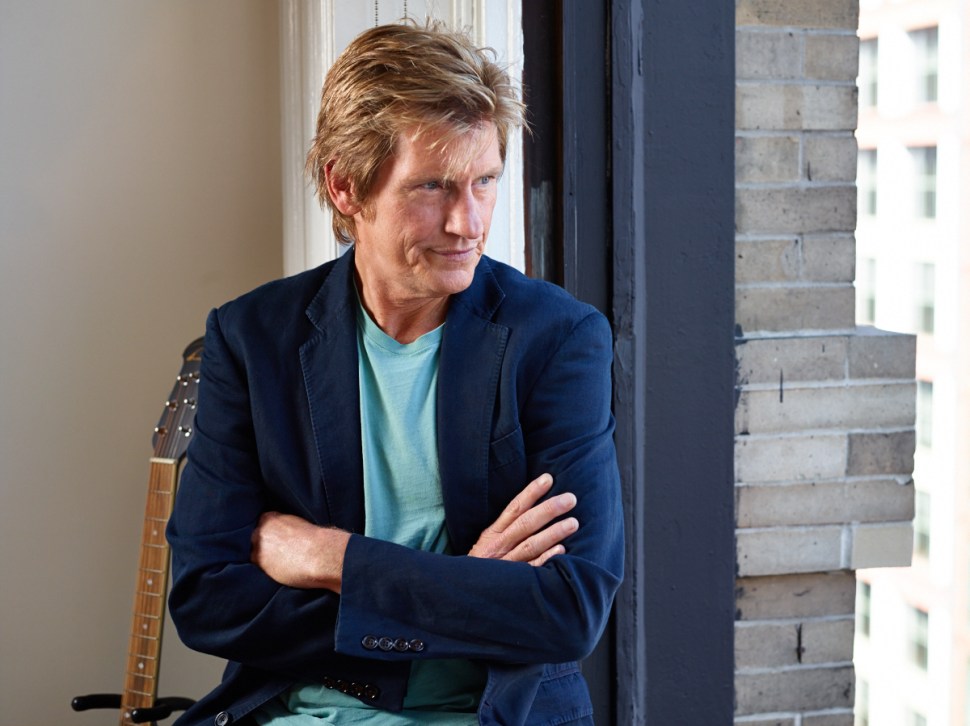 "I don't want to die anonymous."
That phrase is the repeated refrain that closes out the song "Sex&Drugs&Rock&Roll" by New York-based band The Heathens, a line shouted over and over in a tobacco-tinged voice for anyone who has ever wanted to be immortalized.
Or else it would be, had The Heathens ever actually existed.
The fictional four-piece punk band is the centerpiece for FX's newest half-hour comedy Sex&Drugs&Rock&Roll, and every lyric is being belted by a leather-pants-wearing Denis Leary, who stars as frontman Johnny Rock. And in typical Denis Leary fashion, everything—from the hair, to the clothes, to the attitude, to the battle of cry of "I do not want to die anonymous" itself—is a joke. More than that, though, it's not exactly a motto the 57-year-old comedian would embrace.
"Here's the thing," Mr. Leary told me, a lit cigarette in his right hand. "I've been famous for about 25 years now. In the end, there is no fucking legacy. Unless you're a world leader, or a lunatic like Hitler."
We were sitting in the downtown office of Mr. Leary's production company Apostle. Mr. Leary sat relaxed in a wide leather chair, wearing a blue blazer and sporting long hair that is not quite Johnny Rock levels of feathered, but does give him a more than passing resemblance to fellow comedian Jane Lynch. When he speaks, it's never without the smell of cigarette smoke and very rarely un-peppered by curse words of all varieties. Surrounding our conversation were posters for Apostle's numerous projects, from Mr. Leary's long-running firefighter dramedy Rescue Me to the Marc Maron vehicle Maron.
While his 1993 song "I'm An Asshole" is most likely his strongest pop culture touchstone, it eventually was TV that allowed him to flourish creatively for the longest. Rescue Me, co-created and primarily written by Mr. Leary, premiered in 2004 and ran for seven seasons, 93 episodes, and received one Emmy win, and eight nominations.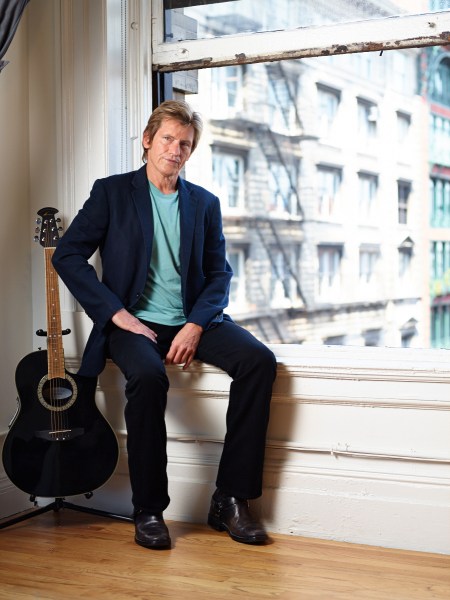 Sex&Drugs&Rock&Roll will mark not only Mr. Leary's return to the television medium (as actor and executive producer), but the same network he called home for seven years. The character of Johnny Rock goes through a similar return to form, discovering he has a daughter, Gigi, who is not only a massive music talent but also a ticket to cementing his own legacy. Premiering July 16, it's so far a mixed bag of a show—some episodes hit while others don't—but it's solidly bolstered by some truly impressive original music.
Again, though, it was the word "legacy" we kept coming back to, and it's a topic that, despite his resume, Mr. Leary has strong feelings toward. There are parallels between Mr. Leary and Johnny Rock besides the hair, but where they diverge is that never-ending chase to etch your name in stone.
"It's hard to tell people this," Mr. Leary said. "It's like, you walk down that sidewalk of fame in Hollywood and you don't know who anybody is. Maybe you finally find Jack Warden or somebody, but a young kid would go, 'Who is that?' He's one of the fucking greatest character actors who ever lived!"
Mr. Leary paused to take a drag on his cigarette. Then, "My kids didn't know who Paul Newman is … They thought he was [a] fucking chef."
The trouble was, for Sex&Drugs&Rock&Roll to work, Mr. Leary had to find a "young kid" of his own to play Gigi, someone with both acting range and the ability to pull off the show's 100 percent original music (written by Mr. Leary and "I'm An Asshole" co-writer Chris Phillips, with help from Greg Dulli of The Afghan Whigs and Foo Fighters frontman Dave Grohl). When the search proved fruitless, Mr. Leary got some help from some unlikely partners—the three teenage sons of his producing partner Jim Serpico. They brought up the name Elizabeth Gillies, star of the Nickelodeon sitcom Victorious.
"I said, 'There's not a fucking chance I'm putting a girl from Nickelodeon on my FX show,' " Mr. Leary said. "If I was to call [FX president] John Landgraf right now and say we have a chick from Nickelodeon, he's going to flip out on me."
Turns out Mr. Leary's worries were misplaced. On the music front, Ms. Gillies has a voice that seems more comfortable inside a Stevie Nicks cover than it does on Nickelodeon. But more importantly, over the course of a few verbal sparring sessions in the very offices our interview took place, Mr. Leary found out she is more than capable of comedic improvising, a mandatory talent for participants in a Leary-created show.
Mr. Leary worked with Ms. Gillies, familiarizing himself with his young co-star enough to where the improvisation became personal, and the lines between comedy and acting and real life began to blur.
Case in point: a scene from the fifth episode of Sex&Drugs&Rock&Roll sees all the major players—including country star turned Northern Exposure and Sex and the City alum John Corbett as guitarist Flash—take part in group therapy. "All of that was improvised," Mr. Leary said. "I knew if I put in personal shit, and they didn't know it was coming, I'd get great stuff.
"My father died very young, and I imparted to Liz how horrible it was. I was 25, I was only slightly older than her," he continued. "So I loaded her up with how the weight of that experience really destroyed me for many years. I think I scared the shit out of her. When we asked her that question on camera about her dad, she ended up crying about it."
Did Mr. Leary regret this? "I got it on camera," he said. "And I was like 'Fuck…this is great.' "
As it turns out, Sex&Drugs&&Rock&Roll delves into reality, even when it doesn't mean to. A joke in the pilot involving Johnny Rock being passed over by the paparazzi in favor of the Kardashian clan culminates in Rock exclaiming he'll "suck Bruce Jenner's dick, if he still has one." While context is everything, and of course the joke was written months before Jenner's re-emergence as Caitlyn Jenner, one might think it's a dangerous bomb to throw in the first place. Mr. Leary, however, balks at the thought.
"That's not a transphobic joke. That's a joke about fame in general," he said. "Watching Bruce Jenner's kid be photographed by the paparazzi angers [Johnny] so much, just by virtue of how they got famous."
Mr. Leary on political correctness in comedy: "It's like saying to a jazz musician: 'Oh, no, you can't riff on that melody. Any song but that one.'"
What makes it so dangerous in the first place isn't the subject necessarily, but the heated comedic environment where even America's cleanest comedian Jerry Seinfeld has entered into the political correctness conversation. (Mr. Seinfeld recently told Seth Meyers on Late Night "There's a creepy P.C. thing out there that really bothers me.")
Mr. Leary, if you couldn't tell, crosses the line of political correctness more often than Mr. Seinfeld, and he's no stranger to backlash. He tells me of times he was picketed in London, of outrage over lyrics in the "Asshole" song. (Most notably, Mr. Leary says, these lyrics: "Sometimes I park in handicapped spaces / While handicapped people make handicapped faces")
And for the most part, he's simply accepted it. "There's always that group of people that don't have a sense of humor. All they see is that we shouldn't be made fun of, or that shouldn't be made fun of."
"The danger," Mr. Leary continues, "is with [camera] telephones. Someone goes and films Tracy Morgan, or Louis C.K., or even an unknown comedian at the Comedy Cellar. Sometimes you go down a rabbit hole and suddenly a joke that was supposed to go one way goes the other way. Well, if you don't go down there and find it doesn't work, you'll never know. It's like saying to a jazz musician 'Oh, no, you can't riff on that melody. Any song but that one.' "
Funny enough, Mr. Leary turns on a dime when it comes to technology outside the comedy club. He mentions, multiple times, how excited he is that when he leaves the interview, he simply has to plug a phone in to listen to music. "I fucking hated vinyl," he said. "Vinyl sucked. They got all scratchy, they warped. The needles broke. The speakers were gigantic."
"In five years the only movies we're going to go see are IMAX experiences, superhero movies, maybe some nature thing," he said. "Everything else is going to be delivered to your house and you know what? I'm fine with it. I have a great TV, I have a great room to sit in to watch the TV, and I don't have to worry about some asshole talking to me."
So in this future Mr. Leary is so fond of, where vinyl records have warped into extinction and movie theaters are a thing of the past, how does he think the name Denis Leary will be remembered? A new Denis Leary emerges at this question, however momentarily. He doesn't joke, he doesn't raise his cigarette and, miraculously, his language is (relatively) clean.
"In the end, your real legacy is your kids," he says after a moment. "There's a lot of people in this business who don't have kids, and I look at them and I go, 'Dude, you really should find somebody.'"
He smiled then, his gap-toothed grin bigger than ever.
"My dream is this show becomes some kind of hit. And Liz Gillies becomes really famous and I don't really have to do anything," he said. "I just have to keep writing the show and playing the dad. Then I'll be remembered as the guy who wrote the 'Asshole' song, and Liz Gillies' TV dad."
I pointed out that what he just described, the older, seasoned professional cementing their legacy with the legacy of those that come after them, is also basically the plot to Sex&Drugs&Rock&Roll. Mr. Leary actually looked surprised, as if that had not dawned on him. He grinned, and he couldn't have looked more satisfied. "Exactly," he said.
Eventually our conversation winded down. I left Apostle, taking the elevator, but Mr. Leary headed out a back exit, the embattled rock star on to the next gig, his face too recognizable for him to exit by the lobby.