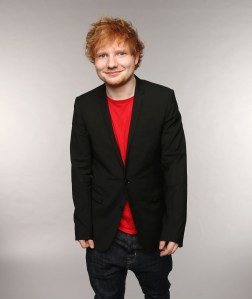 When you hear the name Ed Sheeran, is the first word that pops into your head "deadly?" Like, the first time you heard The A-Team drifting out over the airwaves, did you think "man, that silky-smooth English accent probably belongs to a cunning rogue both ambitious and deadly?"
Because that's what Sons of Anarchy creator Kurt Sutter thought, and now he's bringing that thought to life.
According to The Hollywood Reporter, Mr. Sheeran just signed on for a recurring role in Mr. Sutter's FX medieval drama The Bastard Executioner. Spotify's most streamed artist in the world for 2014 will play Sir Cormac, an "ambitious and deadly protege of a high ranking church elder." Talk about typecasting.
But Mr. Sheeran and Mr. Sutter have worked together before, when Mr. Sheeran covered Foy Vance's "Make It Rain" to play in the second-to-last episode of Sons. Something in Mr. Sheeran's performance obviously screamed blood-soaked tale of a 14th century travelling executioner to the showrunner, which makes a ton of sense to me. I got the same feeling from Thinking Out Loud.
Joining Mr. Sheeran in The Bastard Executioner is True Blood alum Stephen Moyer, Sons of Anarchy star Katey Sagal, and newcomers from across the pond Lee Jones and the delightfully named Flora Spencer-Longhurst. Tune in this Fall to watch them and our favorite ginger-haired singer probably get bludgeoned to death or something equally horrible, because we all remember how Sons of Anarchy went.