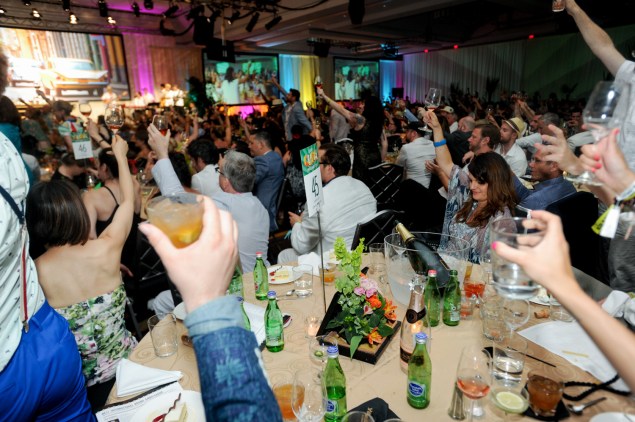 New Orleans – For one night only, the Grand Ballroom of the Sheraton Hotel in the French Quarter is dressed in Cuban décor. The room is a kaleidoscope of color, and palm trees are scattered about. Many guests themselves wear bright Caribbean attire and several bars have been set up to ensure the flow of alcohol is uninterrupted.
Almost everyone is inebriated, and that's exactly as it should be.
Welcome to the Spirited Awards, the climatic conclusion of a weeklong drinking endurance test called Tales of the Cocktail. Part booze-up, part industry conference, it's the annual confab for the cocktail community, where bartenders and distributors of every spirit known to man mix. The contest's winners are chosen by a panel of more than 100 industry experts, bartenders, brand ambassadors, writers and proprietors worldwide.
New York drinking establishments fare well tonight. The Prohibition-style bar Employees Only in the West Village wins Best American Bar Team and Best American High-Volume Cocktail Bar. And Ivy Mix, co-owner and head bartender of Leyenda in Carroll Gardens, receives an award for American Bartender of the Year. Jim Meehan, formerly the mixologist at Please Don't Tell, the speakeasy on St. Marks Place (famous around the world for being "that bar you enter through the telephone booth"), picks up Best Bar Mentor.
Mara LePere-Schloo
Mr. Meehan doubles as presenter for World's Best Bar, the boozy equivalent of Best Picture. The swaying crowd hushes—a bit. "The bar that will take home tonight's prize has only been around for a short time and has already established itself as an industry superstar. This year, the world's best bar is …" He pauses; you can hear an ice cube clink. "…Back in the U.S.—it's The Dead Rabbit."
Thunderous applause resounds.
This is the first time in four years the coveted World's Best Bar award has been back on U.S. soil, with the Artesian at the Langham Hotel in London winning the past two years and the Connaught, also in London, winning in 2012. Not only does The Dead Rabbit bring home the top prize, it can now add World's Best Cocktail Menu 2015 to its already impressive list of accolades.
"There was a whole period of uncertainty that we went through when we first came out here," says The Dead Rabbit's co-founder and managing partner Sean Muldoon, who came to New York from Northern Ireland. "We gave up a lot in Belfast to come here and do this. To be on stage was like all those years of hardship have paid off. Ever since we've opened, we've gone from strength to strength and things really have got much better."
More intoxicated on excitement than alcohol, the bar's other co-founder Jack McGarry chats with the Observer as he and Mr. Muldoon pose for photographs. "We set out to change the image of the Irish pub," Mr. Muldoon proclaims. "They may be great places, but they're not synonymous to world-class service."
At least that used to be the case.