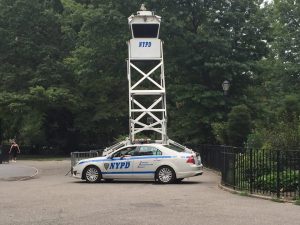 The NYPD has removed a patrol tower from Tompkins Square Park, only a week after placing it there.
EV Grieve reported that the tower was taken down at some time before 9 a.m. today. The disappearance of the tower is as sudden and unexplained as its appearance last week.
The patrol tower showed up in the park last Tuesday morning, to the surprise and disdain of many locals, one of whom started a petition calling for the removal of the tower. Anonymous flyers were posted in the surrounding area at the end of last week, calling for residents to file complaints about the tower with the Ninth Precinct. A satirical twitter account was also created, mocking the tower's purpose, and a group of schoolchildren used the tower as a backdrop to talk about justice on Friday.
The original purpose of the tower was not specified by the NYPD, but it appeared following a number of reports in the New York Post about the increasing number of homeless people in the park, as well as visits to the park from Mayor de Blasio and Police Commissioner Bill Bratton.
The DCPI could not be reached for comment.
This story is part of a series on Backsliding NYC. See the rest of the stories here.