It's not that Bojack Horseman–Netflix's original series by Raphael Bob-Waksberg about a depressed, superficial Hollywood has-been trying to make something of his post-limelight life while battling demons of the formerly famous (Freeloaders, Groupies, Jealousy, Narcism, Reflexive Cynicism, Grandiosity, Self-Loathing, Anti-Social Behavior, Destructive Relationship Patterns, Mood Swings)–is that groundbreaking with its subject matter. Look no farther than America's addiction to watching our Icarus Idols fly too close to the paparazzi lights and come crashing down to Earth, caught on video for TMZ.com. If they are lucky: Dancing With the Stars; if not, Behind the Music or a Bravo/VH1 dating show. And that's just "real life." Not, you know, a cartoon about a cartoon talking horse.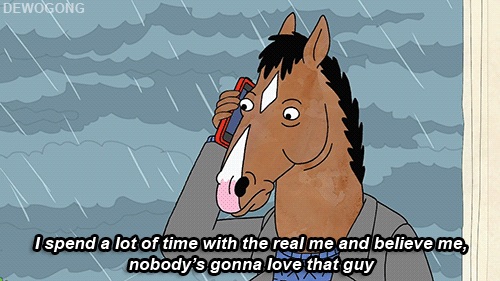 But Bojack itself, which premiered its second season last night, stands head and hoof above other shows that serve as cautionary tales for fame knocking too early in the morning.
Its dark subjects–death, drugs and existential despair are the show's three favorite topics–are perhaps mitigated by the fact that the titular character Bojack (voiced by Will Arnett) is quite literally a stallion, and in the world he occupies, most characters are talking animals whose anthropologically ascribed "traits" seem perfectly suited for their (kitty) posts. Ms. Caroline (Amy Sedaris) is Bojack's pink and purple feline agent, quick to unsheath her claws and mewling in frustration at her inability to rise at a firm run by a bullfrog (Steven Colbert) and increasingly, his son/her former intern, Charlie the tree frog, whose incompetency and nepotism has him failing upwards towards his own NBC pilot.[youtube https://www.youtube.com/watch?v=wulZFVNSo8s]
There is enough whimsy in these visual Easter Eggs–look at that sloth at the gym, OMG–that make the bitter pill Bojack is selling us easier to swallow. Bojack's obliviously happy antagonist, Mr. Peanutbutter, had, like our star, hit it big with a 90s sitcom and hadn't done much since. Yet he remains as upbeat as ever, despite his increasingly discontent human wife, Diane, and Bojack's transparent first season attempts to steal her away.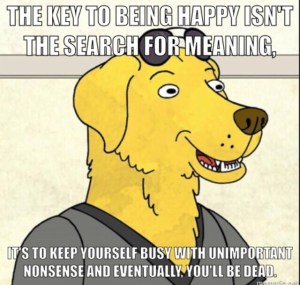 The first season focused on Bojack's rock bottom–the D-list fame, the one remaining fanboy turned mooching, permanent houseguest, Todd (Breaking Bad's Aaron Paul), the arduous climb back to household name status and the incredibly soul-crushing compromises it takes to get there. When, at the end of season 1, Diane's supposed ghostwriting of Bojack's self-propagandizing memoirs turns into an unauthorized biography, it wins him Best Movie: Musical/Comedy at a major Hollywoo (not a typo) award ceremony. This despite Diane's expose not being a movie or musical, nor something he himself wrote.)
"You just won a Golden Globe. If you can't be happy tonight," Ms. Caroline warns at the after party, arm and arm with her new beau, Vincent Adultman (three kids in a suit doing that thing from The Little Rascals,) "Maybe you'll never be happy again."
A dark coda for a dark show, one that makes me think Bojack (the horse) should really try out for the next season of True Detective.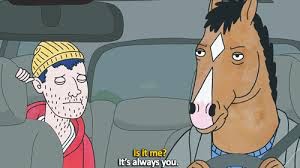 This season, that promised comeback itself is a dangerous lens to view the arc of someone's career. In The Comeback (the original show within the show) is what got former sitcom star Valerie Cherish (Lisa Kudrow) an HBO show, a trunk full of snakes, a broken marriage and am Emmy. Travolta riffing about McRoyals with cheese ended in public ridicule of his relationship to Scientology and inability to pronounce the name Idina Menzel.
Hollywood, as seen through the tunnel vision of Bojack's eye blinders, is All about Eve meets Corey Feldman's Coreyography meets Whatever Happened to Baby Jane? It's Elaine Stritch singing "I'm Still Here," McConaughey opining about flat circles when all we really want is for him to tell us it's All Right, All Right, All Right. A Degrassi star doing the "Wheelchair Jimmy" on stage. It's Mickey Rourke's portrayal of a  broken down piece of meat and Kevin Nash's slathered up T-Boner in Magic Mike. It's Oprah's docu-series, Lindsay. It's the rehabbing  of Rob Lowe, and Robert Downey Jr.'s Faustian bargain with Marvel. Jennifer Aniston in Cake.
Fame's second chance for fallen, formerly beloved stars is dicey: it can bring you Mario Lopez's veneer-twinkling smile on the gym's TV, or gossip about Screech's alleged murder of a bar patron. Kevin Spacey doing House of Cards and Capital One Commercials. John Stamos' Midas Touch with Endorsement Deals, which he has to share with Jeff Goldblum, of all people. Jon Hamm doing comedy. Vince Vaughn doing drama.


So far, Bojack's conviction in the second season…that he's turned a new leaf with dream role in the film Secretariat–along with all a self-help audio book that is so spot-on Hollywood guru-ism it might as well get its own valet parking in front of Universal–doesn't give us much hope that his soul-searching is anything deeper than cosmetic surgery. But the return of his icy mother (Wendy Malick), as well as the funeral of his mortal frenemy, Herb Kazazz (Stanley Tucci) may yet lead Bojack in the right direction. No, not to water, but perhaps something a little bit deeper: a relationship with an owl Wanda Pierce….played by none other than the ultimate Comeback Queen, Lisa Kudrow.