The journey from the subway to the sixth floor of 84 Mercer Street was anything but relaxing on the soupy June afternoon we visited, the heat making the movements of the bag-laden Soho tourists on Broadway even more tortuously languid than usual.
But after stepping off the elevator and into the 2,700-square-foot loft's broad, maple-floored entrance hall, we felt oddly becalmed—and not only because of the air conditioning. The ceilings, we noted, were unusually high, even for a loft—12 feet that soared to 21 at the skylight in the center of the living room. And then Warburg broker Claire Groome, who has the $5.89 million listing, pointed out that the living room lacked windows, which, suffused as it was with soft natural light from above, made for an unusually peaceful effect.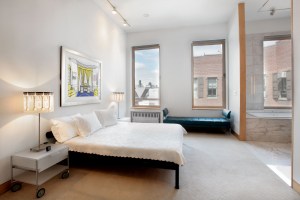 Ms. Groome, however, advocated for some light interior demo. "This wall is dying to come down," she said, tapping the drywall dividing the living room from an office/den with windows overlooking Broadway.
"It used to be an artist's loft, so nothing is structural," she added, though the owner of the past 30 years had overseen what we thought to be a fairly judicious placement of walls. Save, that is, for a sizeable recess in a living room wall that Ms. Groome told us had been a window before the owner deemed a neighbor's terrace too invasive. A similar level of privacy could also, she noted, be reached with opaque glass.
She further suggested popping open the staircase that leads from the living room to the private roof. Plugged shut at present, it opens onto a 2,600-square-foot expanse that is now covered in silver paint, but has the potential to be as every bit as oasis-like as the neighbor's offending terrace.
Moving back downstairs, we noticed another unusual wall, or rather lack thereof, in the master bedroom—the one that would have shielded the bath's shower and sink from the main room. This was, however, hardly a drawback for some buyers.
"The sexy open bathroom," Ms. Groome mused. "I had one broker come in and say it was a must for his client to have an open bathroom."