Claiming that his ex-wife "is not a fit and proper person to have legal or physical custody" of their three children, Omer Tsimhoni filed a motion on Wednesday in Oakland County (Michigan) Circuit Court that seeks sole custody of their daughter and two sons, aged 9, 10 and 14.
Readers of the Observer – or viewers of just about any morning news program—will recall that Omer and Maya Tsimhoni have been engaged in a nasty custody battle over the six years since they split. The dispute hit a stunning and freakish low a couple weeks ago when Judge Lisa Gorcyca ordered the three children confined to a juvenile detention facility following repeated refusals by the children to obey her orders to visit with their father during his appointed visitation periods. After more than two weeks at Children's Village, separated from each other and from their parents, Judge Gorcyca rescinded her order and the children were sent to overnight camp, where they are not allowed to communicate with either parent (other than while supervised on the camp's official visiting day). And yesterday came Mr. Tsimhoni's motion.
The motion claims that "Plaintiff Mother has been a constant roadblock to Defendant Father's relationship with the children, and her campaign began the moment she left Israel and filed for divorce in the United States. … Plaintiff Mother has falsely maintained that Defendant Father's parenting time be supervised, as she unjustifiably believes that the children are in danger from being physically harmed or kidnapped to places unknown. … Plaintiff Mother has flatly refused to cooperate or facilitate any relationship between the three minor children and their father, even leaving the country to avoid and obstruct Defendant Father's parenting time."
The motion paints a picture of Ms. Tsimhoni as a woman unhinged, noting that she has had at least eight lawyers over the past six years, including at least four who withdrew from her case. Moreover, the motion points not only to Mr. Tsimhoni's past complaints about her behavior, but also to those of several third parties. For example, the Guardian Ad Litem who was appointed to represent the children's interests has "filed Motions … requesting Plaintiff Mother show cause for violating this Court's existing orders" and also refers to the GAL's "multiple reports detailing Mother's wrongful behavior."
In addition to the GAL, the motion refers to Jennifer Hayes, MSW, a mental health professional who had been appointed by the Court to help heal the poisoned environment. The motion states that after Ms. Hayes issued a recommendation that didn't go Ms. Tsimhoni's way, Ms. Tsimhoni asked the Court to disqualify Ms. Hayes (the request was denied).
Indeed, Ms. Hayes concluded that Ms. Tsimhoni avoided meeting with her, even claiming not to understand English well enough to communicate with Ms. Hayes absent a translator (Ms. Tsimhoni is a practicing ophthalmologist in Michigan and speaks perfect English, albeit accented). Ms. Hayes ended up reporting that Ms. Tsimhoni had a "historical pattern of noncompliance and lack of cooperation on Maya's part when it comes to … orders from the Court." The Court adopted each of Ms. Hayes' recommendations.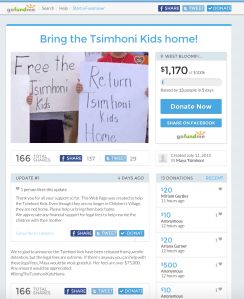 Yet another third party, a mental health professional named Dr. Katherine Okla, also concluded that Ms. Tsimhoni was impeding the children's bond with their father. "Although Maya does claim to believe in the importance to the children of a strong, positive relationship with their father, that is not being conveyed in a convincing manner to the children."
Ms. Tsimhoni has many supporters, as well, and they've helped her establish a Facebook page and even a GoFundMe, which to date has raised $1170 to help cover her legal bills.
This is front-page news in Detroit right now, having touched a nerve. Indeed, after the Observer's first story appeared – an exclusive interview with Mr. Tsimhoni, which remains the only contact he has had with the media—all kinds of people expressed strong reactions, ranging from parents who felt that they too had been alienated from their kids to those who concluded that by interviewing Mr. Tsimhoni the Observer had somehow "taken his side."
The appearance of the Observer's second story, an interview with a lawyer named Jennifer Hoult involved with representing the children in federal actions (her eligibility to do so was attacked by Mr. Tsimhoni's attorneys immediately after the Observer's story appeared) triggered just as forceful a reaction, including strong praise from those opposed to the over-jailing of Americans.
Today, the Observer heard from Mr. Tsimhoni again. In response to an emailed question asking to shed more light on why he filed this motion, he wrote:
"This painful ordeal has been going on for many years, and the reality is that it is in the best interest of my kids to have a relationship with both of their parents. Multiple mental health professionals, independent lawyers for the children, and the court have repeatedly noted that the kids' mother disobeys repeated recommendations on what is best for the kids.

The media scandalously – and inaccurately – reported that the kids 'were jailed because they didn't have lunch with me.' This is simply untrue.

I make the motion for full custody for a simple reason – I am convinced that its in the childrens' best interest to have both their parents in their lives, and this is the only way that will happen."
For the record, the Observer has no "side." The goal of these stories has been to faithfully record the events taking place as this sad and unusual custody battle unfolds. Interviewing someone, whether it's Mr. Tsimhoni or Ms. Hoult, should not be construed as agreeing with that person's point of view. But to the degree that the Observer is willing to take a position, it's this: three young kids do not belong in a detention facility simply because one or the other or both of their parents are behaving badly. We will hope that as the Tsimhoni children are swimming and sailing at sleepaway camp, the grownups entrusted with their futures back in Oakland County will find the wisdom needed to put the interests of the children first.