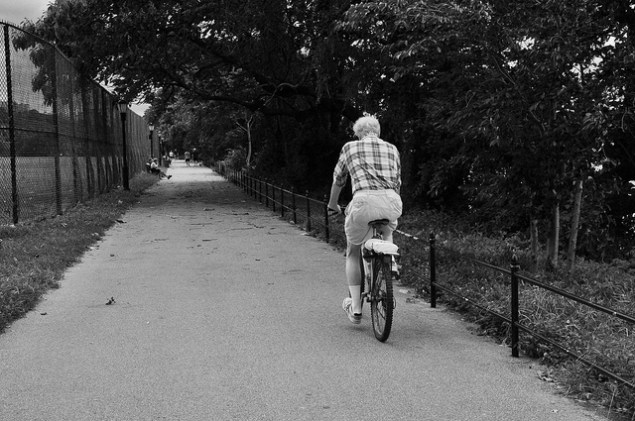 The question we've all been asking ourselves: "Will Michelle Williams ruin Ditmas?" has finally been asked by the New York Post (of course). "One lady came here [last week] because of Michelle Williams. She didn't know we existed," 95-year-old Mary Kay Gallagher tells the paper.
In other celebrity real estate news: model Gigi Hadid, who is the daughter of a Real Housewives of something star, is asking half-a-million more, or $2.45 million, than she paid for her Bowery apartment last year, The New York Daily News reports. She listed it, of course, with the stars of another reality TV franchise: Fredrik Eklund and John Gomes. Word has it that she learned Soho isn't cool anymore and wants to live on the Lower East Side.
Also moving on: Brooklyn Flea from Park Slope's PS 321 space. DNAInfo reports that the mini flea chain won't renew its contract after it expires on Columbus Day. Maybe Park Slopians got Brooklyn Flea'd out back when they lived in Fort Greene?
New York's open air staircases connect streets of different elevation in our sometimes surprisingly hilly city, but fixing them can be a headache, The Wall Street Journal reports. The stairs, many of which are in Inwood and Washington Heights, also include "bike channels" to wheel bikes and murals.
RFR Realty has defaulted on its Lever House mortgage because it can't refinance its $100 million loan with the ground lease expected to more than triple in 2023, Crain's reports. The default puts the developer in something of a precarious position, as lenders are wary of financing an office building built on land for which the $6 million lease is increasing to $20 million a year. "Based on his current lease revenue and operating costs, that would result in an $11 million yearly loss, according to research by the financial firm Nomura."
The Obama administration has announced an aggressive effort to reduce housing discrimination that will mandate cities and towns show how federal housing money has been used to reduce segregation in housing or face penalties, The New York Times reports. "The new rules are an effort to enforce the goals of the civil rights-era fair housing law that bans overt residential discrimination, but whose broader mandate for communities to actively foster integration has not been realized." The president cited unrest stemming from racial segregation in places like Ferguson, MO and Baltimore, MD as a motivating factor behind the more assertive approach.
The name of Andrew Berman, the highly vocal and media savvy head of the Greenwich Village Society for Historic Preservation, comes up a lot in print. If ever you were curious about the person beyond the preservation champion, Brick Underground has a Q&A.
The leaders of the Queens Library didn't have reading on the brain when they spent $310,000 in prohibited expenses while claiming to be running a deficit, as a new audit detailed in The Times reports. "Among the abuses, library executives used library funds to pay for "extravagant meals," alcohol, tickets to a Maroon 5 rock concert, admission to Disneyland, airline upgrades, Apple TVs, a smoking balcony off the president's office and smokeless ashtrays."
In case you missed it: after recruiting heavily for the last few months, Compass is planning to open its first Brooklyn office in Park Slope, The Real Deal reported. The start-up real estate brokerage is also planning to open a second outpost in Williamsburg.
Finally, next time you complain about the cold hue cast by your energy-efficient lighting, remember that even the Statue of Liberty has to put up with LEDs now. The Associated Press, via Crain's, reports that the mint-colored beacon will be illuminated by newly-installed, energy-efficient LED ground lights.