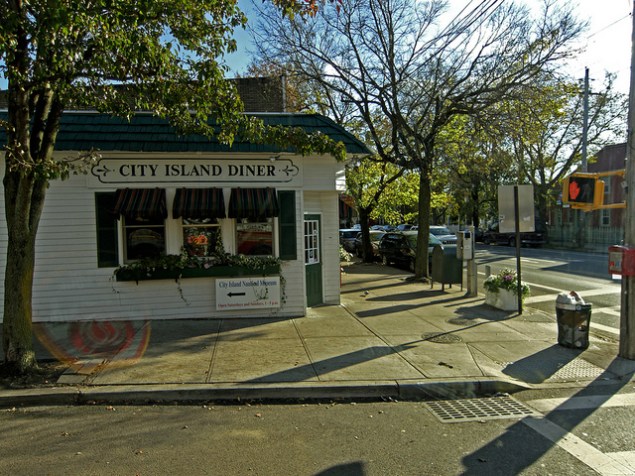 City Island is getting its first new large-scale residential development in decades, which Crain's opines, in combination with a new bridge and a slight uptick in visitors (right now there are virtually none) to the adjacent Hart Island, constitute a major change for the sleepy Bronx enclave. Though Greystone Properties insists that the 43-unit condo complex it's building won't be too jarring: 22 of the units will be freestanding townhouses, "each with two stacked units, giving the appearance of one-family homes."
And Sunday marked the first time that mourners were able to visit individual gravesites at Hart Island, the city's still-active potters' field—their experience is recounted in The New York Times.
Even less enthusiastic about change than City Island is the Upper East Side, where residents are up in arms about the Park Avenue Synagogue's plans for a rooftop greenspace at its new home on E. 89th Street (the former home of Trevor Day), DNAInfo reports. The community board denied the synagogue's renovation plans for the building, where it hopes to move by the end of the summer, which involve "installing a green space on the roof, along with a new elevator bulkhead and a tall fence." Residents complain "that the additions will block views from their apartments and clash with the historic character of the building."
Also on the Upper East Side, Joan Rivers palatial triplex co-op at 1 East 62nd has sold for the full asking price of $28 million to "Middle Eastern royalty," according to The New York Times. Monthly carrying costs for the 5,100 square foot apartment are $25,337.On the opposite end of the income spectrum, Umbrella House, a former squat turned co-op on the Lower East Side, has a far more communal and community-minded ethos than that word usually entails, The Times reports. There has, for example, never been a sale involving a broker and income levels, as well as resale prices, are capped relatively low.
Meanwhile, the Upper West Side's historic Metro Theater is likely to become a "fitness outfit," councilman Mark Levine tells The West Side Rag. At least it's not a juice bar? The space, on Broadway and 99th, has been vacant since it stopped showing movies in 2005.
Greenpoint residents are none too pleased about being in one of the city's pilot composting programs, which they say is attracting vermin, Gothamist reports. Possible culprits include the fact that residents are allowed to compost meat and dairy and a learning curve, according to sanitation commissioner Kathryn Garcia: "They just started program, and to be honest, there is a learning curve how to do it right so you don't end up with vermin issues."
Elsewhere in Brooklyn, the Civil War-era Church of the Redeemer, by the Barclays Center, is due to be demolished after selling for $20 million to the Jackson Group, which says it has not yet decided how it plans to redevelop the site, according to The Wall Street Journal.
It seems we're not the only ones offended by the transformation of Jacob Riis beach into hipster shopping mecca. In The New York Times, Gina Bellafonte bemoans the gentrification of the "people's beach," which now offers epicurean experiences via the Brooklyn Night Bazaar "an amalgamator of small-batch indulgences, which, like so much cooking now, exist as rarefied interpretations of average-Joe mainstays." Worse yet, the upscale offerings have divided the hipster haves from the largely minority have-nots, mirroring a trend that is prevalent throughout so much of Manhattan and Brooklyn.
Finally, activist investor Daniel Loeb has bought a stake in a 150,000-square-foot Long Island City warehouse at 30-02 48th Avenue, according to Crain's. The real estate firm Brickman bought the building for $21 million several years ago, with plans to turn it into a trendy office space. Mr. Loeb's investment would seem to suggest another vote of confidence in the neighborhood's transformation from a "cheaper, back-office location" to legitimately desirable destination.