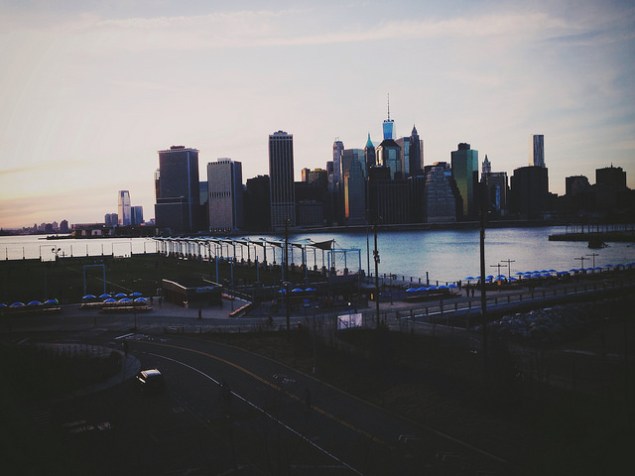 Uber is hardly taxi mogul Evgeny "Gene" Freidman's only headache. Mr. Freidman owes the state some $8 million in unpaid taxes and now a judge has ordered him to pay another $8 million to a bank after he defaulted on loan payments, Crain's reports. But no one's dancing on his grave just yet. Says one taxi macher: "He still has a lot of friends in the financial world… I have no idea why."
For people too fancy for the subway and taxis, Brick Underground has rated Uber, Lyft, Gett and Via (who ever heard of the last two?).
And for people too fancy to clean their own houses, they've also rated some cleaning services.
Speaking of new things that are not really anything new: Brooklyn is getting another co-working space, Crain's reports: Milk Studios will be renting a 60,000 square-foot facility at Industry City in Sunset Park, which they will then sub-lease.
And old problems in new places: some dog owners in luxury condo One Brooklyn Bridge Park are not only so discourteous as let their pups relieve themselves in the halls and stairs, but they're not even picking up after them, a problem that has prodded the condo to undergo dna testing to find the culprits, The New York Times reports. Money doesn't buy basic hygiene it seems, and as appeals to human decency weren't working, the board turned to genetic testing as a last resort.
Despite so many colleges engaging in an amenities arms race, there are still a lot of cider block dorms out there, according to The Times.
Among the "affordable" housing units that the city will add to its roster are $1,900 a-month studios and $2,000 one-bedrooms in Prospect Lefferts Garden that are significantly higher the neighborhood's average market-rate studio prices of $1,334 a month, according to DNAInfo.
Who doesn't need affordable housing for 100? The 25-year-old son of Jeopardy host Alex Trebek! Mr. Trekeb buying the boy a $1.92 million Harlem townhouse, The New York Post reports. Apparently, he "plans on opening a restaurant in Harlem."
And a landmarked East Harlem church claims that it wants to install a security fence in front of its recently restored building to protect the homeless people who like to sleep on the front steps, according to DNAInfo. Church leaders claim that the four-foot-high fence would be easily surmountable by sleepers and would keep passerby from potentially harassing them. Incidentally, no one seems to have asked the homeless people what they think of the fence proposal.
Meanwhile, Manhattan's first "pocket" park on W. 128th Street just celebrated its 50-year anniversary, The Wall Street Journal reports. In clearing the rubble-filled lot, the city unearthed a dead body, but the tiny park, sans cadaver, was soon embraced by the community. And "flash forward half a century and the site is still flourishing. Now called the Rev. Linnette C. Williamson Memorial Park, it hosts harvest parties, knitting circles, community gatherings, card games and gardening classes."'
Last of all, New York's potholes are costing the city a small fortune: $138 million in legal settlements over the past six years, according to The Wall Street Journal.