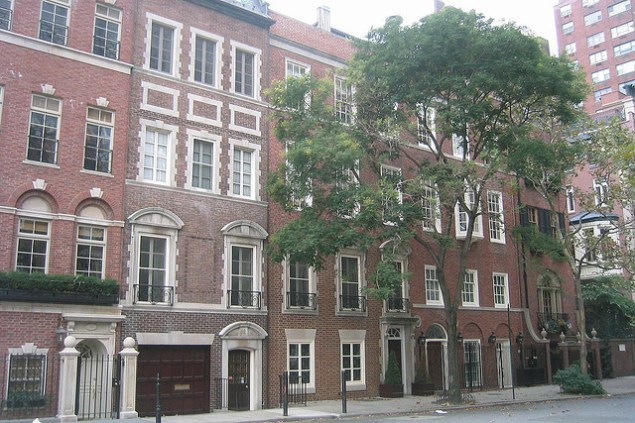 A federal judge has rejected an effort made by JP Morgan Chase to investigate the ownership of a Time Warner condo believed to be owned by Kabul Chawla, an Indian developer who is the target of hundreds of complaints from clients who say he failed to deliver on promised apartments, reports The New York Times, which published a series this winter about how a handful of buyers in the building were using units to launder or hide money. The bank, which invested in his companies, is trying to collect a $90 million judgement against the developer and his companies.
One of the big foreign spending groups has been feeling a pinch lately, though : Russian oligarchs.The Times reports that the country's recession is dampening the villa market in Rublovka "a mixture of Greenwich, Conn., and Beverly Hills, Calif." — populated by none other than Vladimir Putin and his inner circle, the area is "a patchwork of gated communities combining vast wealth with often dubious taste." Think sculptures of female nudes made of bullet casings, fake French chateaus and house prices that exceed $100 million. Or at least, did.
Old money vs. new money: residents on Sutton Place are peeved that a Bauhouse Group luxury tower, the developer had earlier said he expected to be 13 stories, maybe 30 at the most, will be a skyscraping 90 stories, The New York Daily News reports. Worse yet, a number of co-ops enabled the towering tower when they sold Bauhouse their air rights. Still, Bauhouse officials insist that they weren't planning to build 90 stories and "at the time of the December meeting with the shareholders, they only had enough air rights for 30 stories."
A similar battle is being fought in the Hamptons, where the Associated Press, via Crain's, reports that a number of villages are trying to limit the size of new home being constructed in their historic centers. Griping of mansion fatigue, one local quips that "None of these homes are going to appear in Architectural Digest. I think these people spend most of their time eating out in restaurants because they can't stand even living in them."
The new World Trade Center has cleared a lot of hurdles this month—announcing that 21st Century Fox and NewsCorp will anchor the building and showing off a design by Bjarke Ingels. But as Capital New York reports, the construction process will be far from smooth sailing, particularly because of a large, unmovable ventilation system on the site for the PATH train hub. "Construction crews will have to assemble the first three floors without disturbing the equipment. Then they must "duplicate" all of it; that is to say, they will build a replica of the machinery inside the tower."
Three black residents are suing New York City, accusing its affordable housing lotteries, which set aside a number of units in each development for neighborhood resident, of discriminating against minorities, according to The Times. "City officials have said the preference helps preserve neighborhoods. But the lawsuit, filed by the New York nonprofit Anti-Discrimination Center in United States District Court, alleges that the preference also denies equal access and serves to keep racial and ethnic minorities out of mostly white areas in violation of the federal Fair Housing Act and the city's Human Rights Law."
In other affordable housing news, one small boon to tenants in this year's much-maligned 421-a and rent regulation renewals: the window for loft law applications, which closed in May of last year and allows tenants of loft dwellings to attempt to legalize their units as dwellings and potentially bring them under rent stabilization protections, will be re-opened, according to DNAInfo.
And finally, surprise! Tribeca is home to New York City's most expensive zip code, according to Curbed.