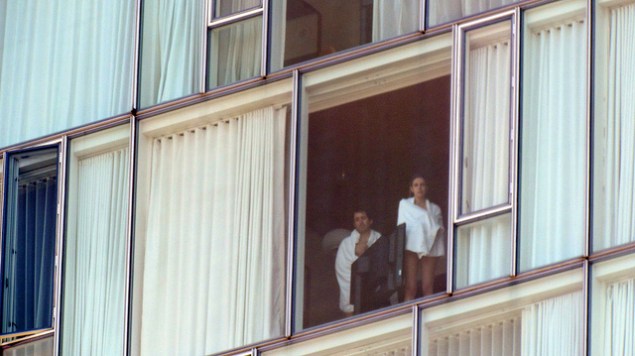 Related? Not anymore! The developer is cutting its ties to 1 MiMA Tower after selling the ultra-luxury rental to investment firm Kuafu, which plans to convert all the Midtown tower's units to condo, according to Crain's. But Related will still maintain MiMA, its 663-unit rental, at the base of the tower.
While some buyers are into the flashiest new amenities (i.e. port-cocheres and automated parking systems), many just want better basics, like vented dryers, range hoods and larger laundry rooms, The New York Times reports. But many developers are loathe to offer more mundane features because they can be complicated and costly to install and they're much harder to brag about.
The Rose Reading Room in the New York Public Library isn't scheduled to re-open until 2017, according to Gothamist. A year ago, a large rosette fell from the ceiling and though it didn't hit anyone, it did prompt a few architectural and engineering review of the space.
Juggernaut: Boston Properties and Rudin Management are teaming up with WeWork for its new 675,000 square foot Brooklyn facility, Bloomberg, via Crain's, reports. It will be at the Brooklyn Navy Yard and the first ground-up project for the co-sharing space.
Men far outnumber women as Citibike users—just a third of all members are women; The New York Times posits that it's because many women are too afraid to bike in the city. They also report that "to woo women, Citi Bike is hosting rides with women's cycling groups and trying to make cycling seem stylish."
Speaking of outreach: community board leaders are complaining that there was almost none for de Blasio's OneNYC report, for which he promised unprecedented outreach, Capital New York reports. "Capital called all 59 to gauge their level of input and received responses from 31. Of those, 22 board leaders said they had no input on the OneNYC plan, many adding that, even months after its release, they still have not been contacted. Only nine of the community boards that Capital reached reported having had any prior knowledge of the plan before its April 22 release."
There's a vintage Air Stream trailer on a Red Hook roof that's racked its owner up more than $30,000 in fines over the years. But as Brooklyn Paper reports, the owners seems unphased by such things: "the non-traditional home enthusiast who lives in the one-story building at the corner of Van Brunt and Seabring streets has also built a wooden hut the size of a studio apartment and installed two 10-foot planters on top of the building." His neighbor seem to be of the same mind. Says one: "It's lame that the city is giving him s— for that, but I'm sure he had permits for absolutely nothing."
The trend of gentrification sales is catching on, with a Washington Heights restaurant following in the footsteps of a Brooklyn deli that increased prices exponentially for a weekend to protest a massive rent increase, according to DNAInfo.