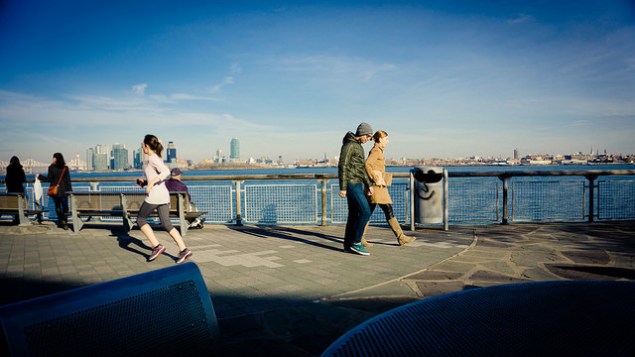 Silvercup Studios plans to open its third facility in the South Bronx, and to that end has bought a $15 million building in Port Morris, The Wall Street Journal reports. The Long Island City-based production studio intends to open the 120,000 square-foot facility on Locust Avenue; both of its other two sites are in LIC. As Alan Sun puts it: "This part of the Bronx is similar to where Long Island City was 25 to 30 years ago."
Developers are usually less than crazy about fast flips, particularly when resale units start hitting the market before sell-out. Though a successful flip can help push the building's prices up, it competes directly with sponsor units and none of the flip money comes to the developer. But The Real Deal reports that the Witkoff Group is delighted to see owners at 150 Charles flipping because under the terms offered, buyers agreed to pay them 10 percent of profits.
Few people put a lot of thought into where they'll move when their homes are under renovation, but it can be a challenge to find a short-term lease and storage for belongings during big renovations, The New York Times notes.
Douglas Elliman is making a big push in Connecticut, opening up a new office across from the Greenwich Town Hall and poaching brokers from other local brokerages, according to The Wall Street Journal. The move comes at the same time the brokerage is making a big national expansion push, and, according to co-honcho Howard Lorber, makes perfect sense. "Greenwich is one of those high-end markets where people travel," he said. "It's all the same customer."
Meanwhile, in East New York, the city is promising to build 1,200 affordable units in the next two years, Crain's reports. "The units will be built on private and public sites, and financed through various city and state programs. More than three-quarters of the units will be rentals geared toward families making at or below 60% of a metric called the area median income."
And on the Upper West Side, parents are at war over Playground 89 is an architectural gem or a hazard, The New York Post reports. At issue is a "dangerous" stone amphitheater that some parents would like to see paved into a basketball court.
How hard is it shop only at mom and pops for three weeks? A Wall Street Journal reporter investigates, with some mixed results. "As the days wore on, I started to appreciate the chains for their dull reliability. In Canarsie, the Wendy's, McDonald's and Dunkin' Donuts were all serving coffee, but the bodega had run out and wasn't inclined to make more."  Still, she notes, she was "tickled by small vendors' small touches."
Speaking of chains… at least Whole Foods is owning up to overcharging its customers for some prepared food items, according to Gothamist. Which explains the mystery of why every mid-sized to-go container we (and no doubt countless others) filled, no matter how judiciously we selected light foods, somehow always seemed to cost $14.
Jurassic Park: an ancient listing at the Dakota, which has been on and off the market for more than eight years, is back again for $14.5 million, The Real Deal reports.