With the recent arrival of Hot Girls Wanted, a loaded but ultimately ethical look at the world of first time sex video stars, reality porn pioneer Ed Powers has popped back into my frontal lobes. The debate that that's grown out of Rashida Jones' documentary reminds me just how much recorded sex and how the species consumes it has changed since my absolute favorite pornographer brought the shooter's point-of-view amateur premise to the masses.
Eighteen years ago, I met Mr. Powers, 60, and he's only ever been a mensch. Upon hearing that I was a fan he sent a box of VHS cassettes containing the work that made him most proud. Insert whatever joke you like, but Powers' Bus Stop Tales—an eighties precursor to the wildly popular Dirty Debutantes series—forever changed how I saw pornography, was seminal.
As now any person with a charged-up phone can whimsically hang a digital shingle and be in the porn industry, it's important to recall just how bulky and peculiar—yet a relative miracle of convenience—the first camcorders were. In Bus Stop Tales, that unseen and complicit mediator is a star left off the bill, mesmerizing strangers at various Los Angeles transit stations. Camera operator Powers engages attractive strangers, his unmistakably New York voice setting stage for a self-reveal. But it is his lens that functions as seducer, succeeding like literally nobody's business on the streets of Hollywood.
In one episode that still ranks among the top dozen or so screen experiences of any sort—cinematic, sports-oriented, anything—that will never exit my psyche, Ed Powers encounters a stereotypical hot blonde, a woman of the sort one might find in the Sunset Strip's glam rock heyday. And while camcorder magnetism brings her, tangibly, into a spatial realm where the sexual became viable, even in broad daylight—technology eliciting the inner Marilyn Monroe—it's MR. Powers' ability to persuade that takes offhand and public banter to a place in which I could imagine a screwing result. This, despite the series premise being overtly state on its cover. He's funny, self-effacing, curious in a way that's tough to fake. In a word, disarming.
"I'm a maniac, but the good kind of maniac," the auteur reassures his subject. He has encouraged his subject to forget where she'd set out to ride in the first place and join him in his apartment for an on-camera interview, then disrobe, and then do things healthy people do to please themselves in private. When that subtextual reveal takes place and Powers finally steps into the frame, a smallish man with glasses, he brandishes a line that would, over the decades, bring ease to a multitude of women caught up in on-camera adventure's revelry: "I hope you aren't afraid of really small penises."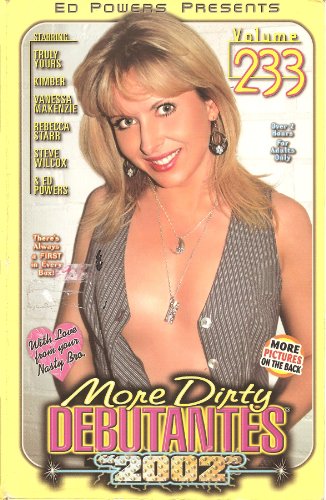 "Not only was he a real pioneer of the gonzo/pro-am niche," Sharan Street, editor of Adult Video News told me, "but he seems like one of the more principled people in the biz. I believe he treats the girls with respect and has never ripped people off. And he really cares about fans. He has told me, quite emphatically, that if a girl decides she doesn't want her scene out (he works with a lot of first-timers), he'll destroy the DVDs and pull the scene off his site."
Owner of an an M.O. as quaint as the camcorder itself, Ed Powers—not his birth name—got into porn for intellectual reasons. He was a kid handing out tokens in the sex shops that were, trust me, children, voluminous in the old Times Square. It was 1984 when Powers laid eyes on Anthony Spinelli's theatrical release Reel People. ("The Reel People in this motion picture are real people. They are sexually liberated folks who have allowed the producers of this film to freely discuss with them their sexual standards, beliefs and principles… and if they feel that their dialogue and erotic energy is right, they will have a sexual encounter with a new partner for the first time, and will permit it to be filmed. Remember, the Reel People you are about to see are not actors, they are real people!")
Bus Stop Tales and Reel People are now largely forgotten by a porn audience that is as come-and-go as any media consumption subset. Powers XXX Pornstar Radio show is the place to find an unadulterated taste of the pioneer's aesthetic. Ragged and retro and funny, his recent Tuesday show a combination of jokes, sound effects, awkward pauses with awkward callers, and — above all else — deep discussion of recorded sex's history and aesthetics. It was on the XXX Pornstar Radio show that I learned about the pioneering trans performer Kim Christie. (Who, unpredictably enough is presently living as a heterosexually married man.) Ed's a bit more scattered than the guy I met in '97. His subjects are full of clauses and they don't always have predicates. He's still comes across with humor, as an artist who's kind of needy, hella nerdy, and, just like back in the day, an obvious mensch.
I called Mr. Powers earlier in the summer and asked what had driven him to build on what Mr. Spinelli and others who courted realism left for him to build on.
"There were things that were realistic but not as spontaneous as seeing someone sitting somewhere and going up and explaining yourself to them," he explained. "To me, it's not about the sex. It's about discovering—together—with the viewer."
The hot girls of our moment, sadly, cannot even imagine that.
Donnell Alexander is author of the memoir Ghetto Celebrity: Searching for My Father in Me.