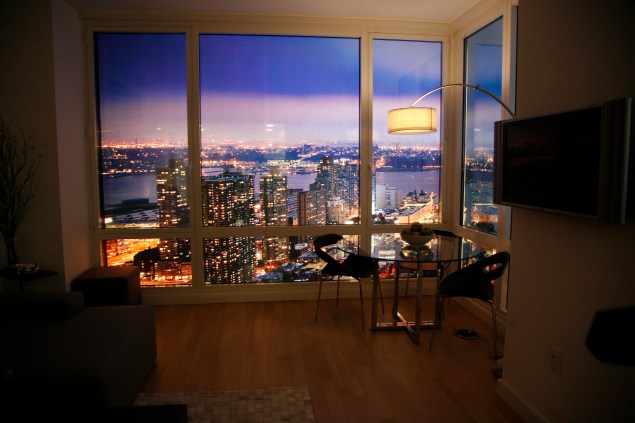 Last week, the Rent Guidelines Board approved the most shortsighted and counter-productive measure in its 46-year history. It decided there would be a 0 percent rent increase for one-year lease renewals for rent-stabilized apartments; and a two-percent increase on two-year leases. Sadly, the Board's policy is a direct reflection of Bill de Blasio's worst tendencies: a penchant for crowd-playing rhetoric and very little real interest in the actual mechanics or economics of governing.
In praising his handpicked Board's action—all nine members of the Rent Guidelines Board are appointed by the mayor—Mr. de Blasio revealed more about his abilities and limitations than he probably intended to. As expected, his statement praising the Board's action was heavy on populist rhetoric and light on any understanding of real-world economics. While that is not surprising coming from someone who apparently has never worked in the private sector—Mr. de Blasio's official biographies make no mention of it—one would think he would at least have some curiosity. Apparently not. For just after he took credit for "keeping New York City affordable," Mr. de Blasio's official press release had the chutzpah to tell building owners that "the City has tools to help you modernize your buildings and lower costs." The same tools, we suppose, that the City has used so well to maintain and run NYCHA housing.
Mayor de Blasio's rent regulation policy ultimately harms the very people he claims he is trying to help.
There are two fundamental problems with the RGB's action—and rent regulation itself. First, it is totally unfair to building owners. How people choose to invest their energy, intelligence and money is at core an individual decision. Democratic capitalism, with its faults and excesses, built this nation. America's history with price controls has not been a pretty one. And even in this latest Supreme Court term—in a case involving the California Raisin Board demanding a "contribution" of crops—the justices said that government manipulation of the economy can be an illegal taking.
The business choices people make are commensurate with the risks they are willing to endure and the returns they stand to gain. New Yorkers who wish to try their hand at being landlords know there are risks and limitations inherent in purchasing a building with rent-stabilized apartments. They know that there is a 45-year history of rent increases limited to 4 percent to 5 percent annually. For the RGB to dramatically, politically, and arbitrarily change the playing field by allowing zero increases is simply unfair. The United States Supreme Court has not yet agreed to hear a case based on the New York rent stabilization rules, but that day should come soon.
But the RGB's decision is more than just arbitrary: it smacks of deception and dishonesty. Mayor de Blasio declared that the RGB's decision was based on "months of research." The Board's research is a classic case of garbage in, garbage out. Its 28-page 2015 Income and Expense Study is so rife with extraneous minutiae, it is almost possible to miss what it leaves out: the most significant cost any building owner faces: his mortgage. The study marvels at the extra $155 per month that building owners city-wide generate monthly per-apartment from laundry, vending and parking; and then suggests that landlords enjoy a 40 percent margin after taxes, fuel, insurance and heating fuel are deducted. Hogwash! Without recognizing the single largest cost of owning a building—with City taxes and fees a close second—the RGB looks like an amateur ventriloquist desperately trying to divert the audience's attention from his badly-moving lips.
The second problem with Mr. de Blasio's rent regulation policy is that it ultimately harms the very people he claims he is trying to help. Moreover, it hurts lower-income people in several important ways. The most obvious is that it reduces the tenant's quality of life. Landlords have almost no incentive to improve their rent-stabilized properties. In fact, they have a perverse incentive to allow them to decay. For if a tenant leaves a dilapidated but rent-stabilized apartment, the landlord has a better chance of de-controlling that apartment. And that reduces the City's supply of affordable housing—one of Mr. de Blasio's most important objectives.
If Mr. de Blasio had even the slightest interest in real-world economics, he would realize that it is far harder and more costly to fill a bucket that has holes in the bottom. Mr. de Blasio focuses on building new affordable housing units but ignores the fact that his rent regulation policies just poke more holes in the bucket bottom. It is far more cost-efficient to retain a regulated apartment than to build a new one.
We recognize that New York is a very expensive place to live, and we don't want a city that only hedge fund managers and Russian oligarchs can afford. And we believe that senior citizens on fixed incomes deserve special protections. But we also hope Mr. de Blasio—or a more enlightened successor—recognizes that there are only two ways to make New York City more affordable: build more housing; and create a vibrant business economy that sustains higher-paying jobs.
Mr. de Blasio's give-away (of other people's money) is blatant pandering to his own national ambitions. It is a shame that he is doing so on the backs of an easy target—a caricature of rich landlords—but the people who are most hurt by the grandstanding are house poor New Yorkers.