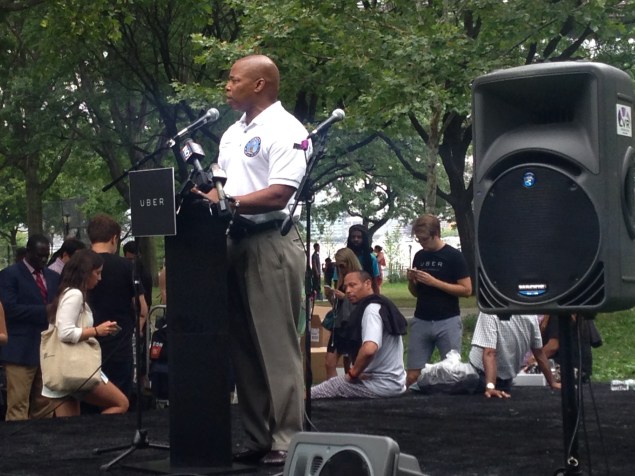 Brooklyn Borough President Eric Adams and Bronx Assemblyman Michael Blake joined the swelling ranks of city officials denouncing Mayor Bill de Blasio's plan to cap the number of new e-hail cars for the next year, arguing that the proposed bill would reduce options for minorities in outlying areas of the city.
The elected officials, who are both black, addressed a roughly hundred-strong Uber (UBER)-organized crowd gathered in Queensbridge Park in Queens—a hodgepodge of company drivers, customers and local residents of the adjacent Queensbridge Houses, apparently drawn by the free food, children's games and classic R&B and girl-group pop blasting from the speaker system. Both men asserted that the mayor's proposal to limit the number of new app-service cars allowed on the road to 201 for the next year would deny minorities opportunities in both employment and transit.
"Uber is about justice in our communities. Uber is about creating opportunities in our communities. This is not just about giving someone a ride, this is about giving someone a chance," said Mr. Blake, taking the stage with Uber general manager Josh Mohrer.
Mr. Blake related his own experiences having difficulty hailing traditional yellow cabs as an African-American, and the struggles his constituents have in looking for gainful work.
"If you have been a person of color and you stood out on the sidewalk and a taxi passed you by, if you are someone that is trying to figure out how to make ends meet from our communities, and 'I just need a job to make sure I have an opportunity for my family,' if I'm just trying to figure out how to have more justice in my communities, that's why you stand on the side of Uber," he said. "This legislation is wrong, plain and simple."
Mr. de Blasio's bill specifically calls for the city to use the one year window to conduct a study on the traffic congestion impact of services like Uber, which had hoped to bring another 10,000 new vehicles on the road by this time next year. But he has increasingly based his argument for a cap on assertions that regulations are needed to ensure that Uber does not mistreat its drivers or riders.
Mr. Adams, however, echoed Mr. Blake's argument that Uber is an antidote to past racial and geographic inequities in access to taxis.
"One of the biggest struggles I had was the fact that many people who were in the yellow cab industry was too yellow to come to Brooklyn," said Mr. Adams, who arrived more than an hour after Mr. Blake left, as his car was trapped in congested traffic on the Brooklyn-Queens Expressway. "Many of you, as I hear your voices, you provided a service that was absent to many people who lived in the outer boroughs. Your story is the American Dream."
On the whole, Mr. Adams took a less abrasive tone than Mr. Blake, and offered to act as a mediator between City Hall and the e-hail app companies.
Both men told the Observer that they believe Uber contributes somewhat to traffic congestion and that regulations are needed to protect consumers and workers. But they agreed that the de Blasio-backed cap—which has the endorsement of the mayor's financial backers in the taxi medallion industry—is too severe.
"We need to put down our guns, put down our tones and find ways of coming to a resolution. And the first part of that is putting this bill on hold," Mr. Adams said.
Today alone, Comptroller Scott Stringer and Manhattan Congresswoman Carolyn Maloney have come out against the proposal. They join Brooklyn Councilman Antonio Reynoso, Bronx Councilwoman Annabel Palma, Queens Councilman Eric Ulrich, Bronx Councilman Fernando Cabrera, Manhattan Councilman Ben Kallos and Staten Island Councilman Steven Matteo.
Except for Mr. Ulrich and Mr. Matteo, who are the entirety of the Council's small Republican delegation, all of the opponents are Democrats like Mr. de Blasio.
Council Speaker Melissa Mark-Viverito has not officially endorsed the proposal, but has spoken favorably of imposing a cap pending a study on multiple occasions.
"I think that's a thoughtful thing to do as a city, as municipality, as legislators. There are things that sometimes merge and surge and we have to find out what the impact is on the infrastructure of the city," she told the Observer yesterday.