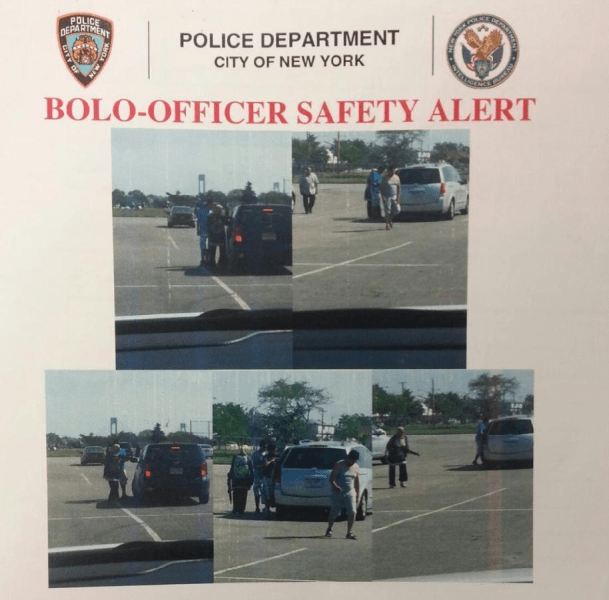 A lane on the Outerbridge Crossing was closed this afternoon as the police stopped traffic and searched cars looking for "unknown individuals armed with what appear to be assault rifles." The Outerbridge spans the Arthur Kill and connects Staten Island to Perth Amboy, NJ.
A reliable source inside the anti-terror offices of local authorities has told the Observer that the NYPD has issued a "BOLO-Officer Safety Alert." (BOLO stands for Be On the Lookout.) The photos, which were taken by a retired NYPD member, show people holding two assault rifles in a parking lot in the Midland Beach neighborhood of Staten Island; one of the people appears to be a woman in a yellow al-amira or shayla. The iconic Verrazano Bridge is visible over her shoulder in the photos.
UPDATE, 6:04 p.m.: After a forensic investigation, police are now saying the weapons in the photographs that spurred the large investigation today appear to be paintball guns.
"As part of the ongoing investigation, NYPD firearms experts conducted a forensic examination of the photographs. The preliminary opinion of these experts was that the weapons in the pictures strongly resemble replicas of firearms used in 'paintball' games," NYPD Deputy Commissioner John J. Miller said in a statement. "Interviews conducted by NYPD and FBI investigators in New Jersey have revealed that the registered owner of one of the vehicles indicated that he was planning to go paintball shooting with friends today."
The guns prompted a BOLO—be on the lookout—alert for law enforcement after a retired NYPD officer snapped photos of what the NYPD deemed "suspicious activity" in a parking lot in Staten Island's Midland Beach neighborhood.
"The complainant photographed this activity and supplied the pictures to the NYPD's Intelligence Bureau for investigation. The images show a man and a woman handling what appear to be semi-automatic rifles and pointing it in the windows of two cars. In some of the pictures, they are smiling," Mr. Miller said in a statement.
The BOLO was issued a day after Kuwaiti-born Mohammad Youssuf Abdulazeez killed four Marines and wounded at least three other people in shootings at a US Naval Reserve Center and a recruiting office in Chattanooga, Tenn., before being shot to death by authorities. When the BOLO was first issued, the police also locked down Ft. Wadsworth, a former US military installation on Staten Island that still serves as U.S. Coast Guard housing, but that precaution has since been lifted—and Coast Guard officials have not said why the facility was locked down. The police activity around Ft. Wadsworth reflects heightened scrutiny of domestic military facilities in the wake of threats of so-called "lone wolf attacks."
The Observer's source said, "They closed it [Outerbridge] and Ft. Wadsworth looking for these guys. My friend is there doing the checks so he told me when they were heading out a couple hours ago." The police are advising officers who spot either of the two vehicles, both of which have New Jersey plates, "approach with extreme caution and contact Intelligence Bureau Operations immediately." 
The BOLO mentioned that one of the presumed assault rifles "MAY be a paintball gun." Among tense law enforcement authorities, a joke has been making the rounds all afternoon: "If that's not paintball, that's a problem."
According to the Twitter account of Staten Island Borough President James Oddo, all lanes on all Staten Island crossings, including the Outerbridge, have been re-opened:
Mr. Oddo had previously noted on his Twitter account that his office had been "in constant communication with Mayor's Office, NYPD and OEM. If you can, please stay off roads. There are extensive delays."
At 5:30 p.m., Mr. Oddo wrote that he had spoken with Mayor Bill de Blasio about the situation, and was briefed in person by Staten Island's top cop, Chief Edward Delatorre.
Observer staffer Jillian Jorgensen contributed to this report.