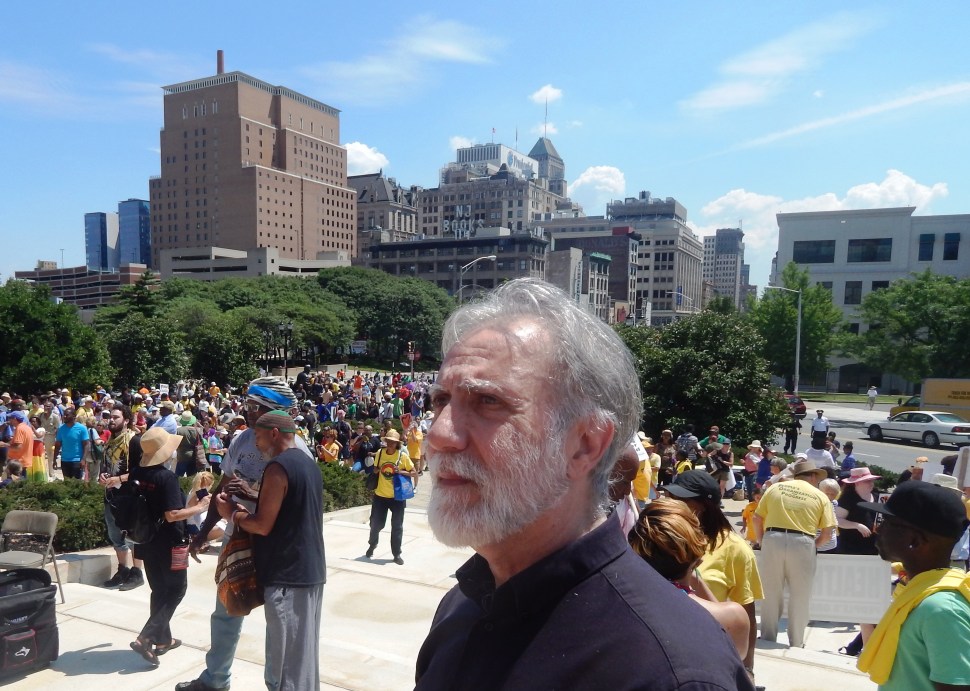 Who Were The Winners (And Losers) This Week in New Jersey Politics?
Winners
Jeb Bush
The former Florida Governor came into New Jersey this week and raised $500,000.
Peter Murphy
Having been convicted and served time for mail fraud, the former Passaic County Republican Committee Chairman received clearance by the executive membership of the committee this week to return to have a seat at the table.
(PolitickerNJ Editor, politickernj.com
http://politickernj.com/2015/07/winners-and-losers-week-of-the-jeb-bush-fundraiser/
'Stop Killing Us' The Cry As 1,000 March In Newark Against Police Brutality
NEWARK – They poured forth, one after another — Freddie Gray, Eric Garner, Mike Brown, Abdul Kamal, Kashad Ashford, Rekia Boyd, Jerame Reid—blacks killed by men wearing uniforms, names hammered into an anti-police brutality battle cry of remembrance on the streets of downtown Newark. "We're here united in opposition to racism, poverty, bigotry, inequality, and all forms of oppression," yelled People's Organization for Progress Chairman Larry Hamm, citing a pandemic of police brutality across America. "Stop killing us! Stop killing us! Stop killing us!"
(Max Pizarro, politickernj.com)
http://politickernj.com/2015/07/stop-killing-us-pop-chairman-hamm-leads-march-against-police-brutality/
All Hail, the Falstaff of Hudson Politics!
As you get older in life, things get taken from you, Al Pacino intones in Any Given Sunday, and so it was this past Saturday that PolitickerNJ savored the Jersey Journal's Political Insider column and protected the reading of it and the re-reading and pondered its sentences with mortal mournful attentiveness as at no time previous, knowing that the column is possibly one of those precious things soon to be taken from us. (PolitickerNJ Editor)
Anniversary reminds how political scandal helped make Christie governor
TRENTON – Last week marked the six-year anniversary of Operation Bid Rig III, the federal investigation launched by then US Attorney Chris Christie that lead to 44 indictments and many convictions for New Jersey mayors, assemblymen and city council members.
Seen as one of the deciding factors in Governor Chris Christie's victory over John Corzine in 2009, the question remains whether the legacy of the investigation, or Christie's erstwhile image as a principled, anti-corruption prosecutor will provide the same kind of leverage during his presidential bid.
(JT Aregood, politickernj.com)
http://politickernj.com/2015/07/revisiting-bid-rig-iii-six-years-after-the-fact/
Ocean County Event A Showdown For Democratic Gubernatorial Hopefuls
It's always perilous to write about the chairman of the Ocean County Democratic Party.
His name is Wyatt Earp, and so how does one invoke him without caving in to what the handlebar moustache-wearing, long toiling Democrat has heard his entire life, a life no doubt fraught with OK Corral punch lines, and stale illusions to "My Darling Clementine."
What's actually germane about the picnic Earp threw Saturday is that not only Senate President Steve Sweeney (D-3) and Jersey City Mayor Steven Fulop showed up, but so did state Senator Ray Lesniak (D-20), all three men trying to get traction in front of the 2017 gubernatorial contest. While Lesniak's presence at the event is interesting, he didn't exactly fly from Paris to get there. Earp's a friend, for starters, and the senator's shore home stands in Mantoloking, so it wasn't as though he had to even make the trek down from Elizabeth.
(Max Pizarro, politickernj.com)
http://politickernj.com/2015/07/funfight-at-the-ok-corral/
Bill Would Withhold Federal Dollars From 'Sanctuary Cities'
"Perth Amboy is a city of immigrants," said Wilda Diaz.
And Perth Amboy's mayor says the city welcomes all immigrants, including the undocumented. But is it a so-called "sanctuary city" — shielding them from federal agents?
(Brenda Flanagan, NJTV News)
http://www.njtvonline.org/news/video/bill-would-withhold-federal-dollars-from-sanctuary-cities/
Advocate: ADA Gave People with Disabilities A Voice
In the early 1970s, there were people with disabilities who couldn't go to school or get basic educational services. In some states, they couldn't vote or hold public office, get a drivers license, sign a contract, get married. Some states even had so-called "ugly laws" that banned from public places people whose physical appearance rendered them unpleasant to look at. That was legal. Twenty-five years ago that widespread, systemic discrimination against people with disabilities was rendered illegal when President H.W. Bush signed into law the Americans with Disabilities Act. It was breathtaking in scope but didn't end discrimination. Executive Director of Disability Rights New Jersey Joe Young told NJTV News Anchor Mary Alice Williams that the major significance that the ADA has, was that it give people with disabilities a voice.
(Mary Alice Williams, NJTV News)
http://www.njtvonline.org/news/video/executive-director-of-disability-rights-nj-ada-gave-people-with-disabilities-a-voice/
Christie Campaign Hitting The Right Note With Switch From Bruce to Bon Jovi
TRENTON — Gov. Chris Christie's recent assertion that he now prefers Jon Bon Jovi to his longtime musical idol Bruce Springsteen may actually have some subtle political advantages for him in key early presidential primary states.
(Claude Brodesser-Akner, NJ.com)
http://www.nj.com/politics/index.ssf/2015/07/christie_switch_to_bon_jovi_from_springsteen_may_h.html#incart_river_politics
Pension Fund Trustees Seek Billions In Damages From State
TRENTON — In the latest salvo in the battle between New Jersey and its public workers, the heads of the state's largest pension funds are accusing the state of breaching its contract by underfunding government workers' pensions.
(Samantha Marcus, NJ.com)
http://www.nj.com/politics/index.ssf/2015/07/pension_fund_trustees_seek_billions_in_damages_from_state.html#incart_river_politics
CNN poll: Trump Leads GOP Race, Christie Far Behind
Republican presidential candidate Donald Trump garnered more support than any of his GOP rivals in a new CNN poll released on Sunday morning, despite facing backlash for recent controversial remarks he made about U.S. Sen. John McCain.
(Erin O'Neill, NJ.com)
http://www.nj.com/politics/index.ssf/2015/07/cnn_poll_trump_leads_gop_race_christie_far_behind.html#incart_river_politics
Chris Christie Says He'll Fix NJ's Train Problems Once He's President
New Jersey Gov. Chris Christie, who condemned his constituents to decades more of gridlock and crowded train platforms by pulling the plug on a Hudson River tunnel in 2010, after construction had begun, said he might, hypothetically, revisit the project. But first voters have to elect him president.
(Nathan Tempey, Gothamist)
http://gothamist.com/2015/07/26/christie_tunnel_who_me.php
Property Tax Freeze Can Bring Cold Cash To Seniors
BOUND BROOK – Eduardo Narvarez says he still has "a good brain."
The 96-year-old veteran of World War II is also in good shape. On many days of the week he walks laps inside the Bridgewater Commons, though now he rests between laps on the third floor.
(Mike Deak, mycentraljersey.com)
http://www.mycentraljersey.com/story/news/local/new-jersey/2015/07/26/property-tax-freeze-can-bring-cold-cash-new-jersey-seniors/30585245/
Christie Counters Man Who Challenged Gun Record
Potential Iowa caucus-goers got their first look at Chris Christie's fiery side Saturday, when he defended his record on gun control and scolded a gun rights activist who challenged him during a town hall in Ankeny.
(Joel Aschbrenner, Des Moines Register)
http://www.desmoinesregister.com/story/news/elections/presidential/caucus/2015/07/25/chris-christie-scolds-audience-member-gun-record/30669681/
Christie Not Fretting Low Poll Numbers
Except for some forgotten butter, it was a very Iowa-centric weekend for Chris Christie.
During a two-day stop in the early-voting state, Christie attended a hog roast, strolled through a farmers market, ate a fried Oreo, held court at a sports bar and met with Iowa's longest serving delegate.
(Joel Aschbrenner, Des Moines Register)
http://www.app.com/story/news/politics/2015/07/25/christie-fretting-iowa-poll-numbers/30685459/
Christie Touts His Conservative Credentials
Governor Christie spent the past week on the campaign trail hitting key issues that are popular with the conservative voters who likely hold the key to his success as a Republican candidate for president.
His tour through the early voting states, which includes return trips to New Hampshire and Iowa this week, comes as his campaign and a super PAC supporting his candidacy are spending a combined $1 million to run political ads nationally on Fox News that show Christie criticizing President Obama over the Iran nuclear deal, just as the next round of horse-race polls are being conducted.
(Melissa Hayes, The Record)
http://www.northjersey.com/news/christie-touting-his-conservative-bona-fides-1.1380942
Obscure Filing And Lawsuit Aren't Ways To Change Status of N.J. Tribes
President Andrew Jackson would have loved Gov. Chris Christie. Christie didn't need bloodshed or an Indian Removal Act to obliterate three tribes in New Jersey. He just quietly told the federal government none exist, contrary to a legislative resolution.
(The Press of Atlantic City)
http://www.pressofatlanticcity.com/opinion/editorials/obscure-filing-and-lawsuit-aren-t-ways-to-change-status/article_e7eeb149-002d-58a7-9736-ba8dcac6cc11.html
 Jennings Column: Few Republicans Publicly Criticizing Garrett for Gay Remarks
The openly gay chair of the Passaic Republicans is putting pressure on other party leaders to denounce Rep. Scott Garrett's alleged objections to gay candidates. John Traier said he initially gave Garrett the benefit of the doubt, but Garrett did not return his message: (Jennings/The New Jersey Herald)
http://www.njherald.com/story/29633249/few-republicans-publicly-criticizing-garrett-for-gay-remarks
Quote of the Day: "A man must be big enough to admit his mistakes, smart enough to profit from them, and strong enough to correct them," –
John C. Maxwell
A man must be big enough to admit his mistakes, smart enough to profit from them, and strong enough to correct them.
John C. Maxwell
Read more at http://www.brainyquote.com/quotes/topics/topic_wisdom.html#RGK5oRqqpXMUFsmT.99