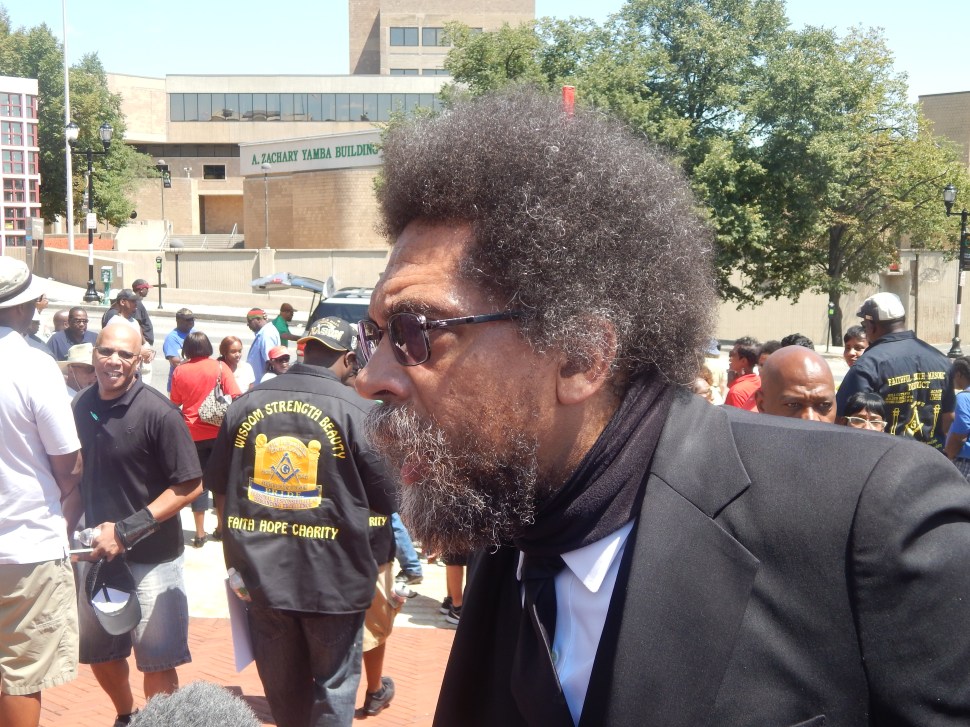 County Party committees have $1.7 million in cash reserves
Fundraising by county party officials is lagging behind the pace of three previous election years despite state assembly and county elections this fall, according to the latest reports filed with the Election Law Enforcement Commission (ELEC). (Staff reports, Politickernj.com)
http://politickernj.com/2015/07/elec-county-party-committees-have-1-7-million-in-cash-reserves/
Sen. Doherty takes on Jersey City's Fulop
Conservative state Senator Mike Doherty (R-23) Tuesday stepped into an argument between Assemblyman Jack Ciattarelli (R-16) and Jersey City Mayor Steven Fulop, siding with fellow Republican Ciattarelli against the Democratic mayor on the issue of tax abatements and school funding, and extending the argument to a critique of Fulop's methods.
(Max Pizarro, Politickernj.com)
http://politickernj.com/2015/07/doherty-tells-fulop-to-step-up-his-game-rather-than-sling-mud/
Clinton campaign's lack of energy, passion has state's Dem faithful concerned
The whole point of meeting a source at a bar is to get him (or her) in as relaxed a mood as possible in order to talk.
Midway into the conversation the source began slurring his words, eyes fixed on the empty beer bottle in front of him on the bar top. The dead, almost cross-eyed look in his eyes with a hint of curiosity for the unknown, suggested that the empty bottle might as well have been a lacquered Buddha statue on sale in Chinatown for $5.99.
(Editor, Politickernj.com)
http://politickernj.com/2015/07/sources-concern-among-dem-insiders-about-lack-of-clinton-passion/
Lesniak: Exxon deal should be scrapped
Senator Raymond Lesniak (D-20) is holding strong to his assertion that the ExxonMobil settlement in is in violation of state law and is calling for its invalidation. Lesniak believes that violations to state law can compel the judge to not except the settlement and that, if it is accepted, "it would be reversible on appeal."
(Alyana Alfaro, Politickernj.com)
http://politickernj.com/2015/07/lesniak-exxon-deal-should-be-invalidated/
Uber puts down roots in Hoboken
Uber officially cut the ribbon on its new Hoboken partner support center today, giving the technology company's 9,000 driver partners throughout the state a single stop for their support needs.
"Since launching Uber in (New Jersey) in September 2013, we haven't had a permanent home," said Uber New Jersey general Manager Ana Mahony "Now we're proud to have this home in Hoboken, and we're excited to give partners a place where they can get best in class customer service and support as we continue to grow our business."
(Staff reports, Politickernj.com)
http://politickernj.com/2015/07/uber-hoboken-hijinks/
In District 1, military service, business sense could be key to success.
The contest in the first legislative district between Assemblyman and businessman Sam Fiocchi (R-1) and Assemblyman Bob Andrzejczak (D-1), a decorated serviceman, continues to intensify. With the ailing economy of LD1 looming large over an area dense with veterans, it's unclear who will find the greater foothold with voters.
(JT Aregood, Politickernj.com)
http://politickernj.com/2015/07/in-ld1-race-military-service-weighs-in-beside-business-sense/
For Democratic candidates, Bill Clinton's usually an asset – except when he isn't
A PolitickerNJ conversation yesterday with U.S. Rep. Bill Pascrell (D-9) brought back memories of the 2012 campaign trail, when Pascrell enlisted the help of old pal former President Bill Clinton in the closing days of one of the most fascinating Democratic Primary elections of recent vintage.
There was an election, however, when Clinton was not in demand here in New Jersey.
(Max Pizarro, Politickernj.com)
http://politickernj.com/2015/07/the-year-nj-dems-banned-bill-clinton-from-a-statewide-election/
Tanelli Says South Bergen needs freeholder representation
For Bergen County Freeholder Vice Chairman Steve Tanelli, the opportunity to stay on the Board of Chosen Freeholders next year would mean the continued opportunity to represent South Bergen County's residents.
(Alyana Alfaro, Politickernj.com)
http://politickernj.com/2015/07/bergen-freeholder-race-tanelli-says-south-bergen-needs-freeholder-representation/
Fulop to Ciattarelli: Thanks for speaking up for the first time in 25 Years
In a possible dry run of a 2017 D v. R statewide collision, Jersey City Mayor Steven Fulop slapped back at a criticism leveled at Jersey City by Assemblyman Jack Ciattarelli (R-16).
(Max Pizarro, Politickernj.com)
http://politickernj.com/2015/07/fulop-to-ciattarelli-thanks-for-speaking-up-for-the-first-time-in-25-years/
GOP's Ciattarelli targets Jersey City
In a potential 2017 precursor to a general election for governor, a Republican lawmaker aimed today to unhorse the hard-charging Democratic Mayor from Hudson County.
On the heels of an attack earlier this year by an Assembly colleague and doing his own part to muddy Jersey City Mayor Steven Fulop, Assemblyman Jack Ciattarelli (R-16), said Jersey City losing $80 million in property taxes due to tax abatements exemplifies a broken school funding system.
(Max Pizarro, Politickernj.com)
http://politickernj.com/2015/07/gop-assemblyman-ciattarelli-targets-jersey-city/
New Jersey use of body cameras to expand
"Public confidence in our police officers is absolutely positively vital," said Acting Attorney General John Hoffman.
In a year of police shootings, community uproar and disturbing videos, Hoffman announced the expansion of body cameras in New Jersey.
(Michael Aron, NJTVNews)
http://www.njtvonline.org/news/video/new-jersey-use-of-body-cameras-to-expand/
Chris Christie vows crackdown on legal weed as soon as he's prez
New Jersey Gov. Chris Christie is once again threatening marijuana users in states that have legalized the drug, telling them to "enjoy it" while they can because, if he becomes president, there'll be a crackdown.
http://www.huffingtonpost.com/entry/chris-christie-marijuana_55b7fb15e4b0224d88346271
(Matt Ferner, The Huffington Post)
NJ protestors demand congress strip Planned Parenthood funding
Some 150 protesters turned out for New Jersey's Right to Life rally targeting Planned Parenthood — and, particularly, a trio of incendiary undercover videotapes shot by an anti-abortion group — that allegedly show Planned Parenthood officials bargaining to sell the body parts of aborted fetuses.
(Brenda Flanagan, NJTVNews)
http://www.njtvonline.org/news/video/nj-protestors-demand-congress-strip-planned-parenthood-funding/
Poll shows Christie NH support waning
Back in June when he officially announced his candidacy, Chris Christie said he was "all in" in New Hampshire. But even though he's been back a half dozen times since, the more time he spends in New Hampshire, the more ground he seems to lose in the polls. Take, for example the latest poll from Monmouth University.
(David Cruz, NJTVNews)
http://www.njtvonline.org/news/video/poll-shows-christie-nh-support-waning-but-he-remains-in-top-10/
Port Authority lashes out at Speziale
In an escalating legal battle, Port Authority lawyers say Paterson Police Director Jerry Speziale tried to "flout" airport security on three separate trips, most recently on Friday, when Speziale was detained after trying to take an oversize bag on board a flight at John F. Kennedy International.
(Steve Strunsky, NJ.com)
http://www.nj.com/news/index.ssf/2015/07/port_authority_lashes_out_at_speziale_says_hes_flouted_airport_security_before.html#incart_2box_nj-homepage-featured
Republicans 'not the anti-immigration' party, Christie tells N.H. voters
Gov. Chris Christie called on people to "get real" on immigration and called for a serious discussion on reforming it for people seeking to come to the United States legally.
The governor and Republican presidential candidate, fielding a question at a New Hampshire town hall meeting about securing the border, argued the Republican Party is "not an anti-immigration party" but rather that the GOP is against "illegal immigration," he said.
(Matt Arco, NJ.com)
http://www.nj.com/politics/index.ssf/2015/07/republicans_not_the_anti-immigration_party_christi.html#incart_river
Christie trashes pollster that put him behind in N.H.
Gov. Chris Christie unleashed on a New Jersey pollster on Tuesday, just hours after a poll was released showing the Republican presidential hopeful losing ground in the early-voting state of New Hampshire.
(Matt Arco, NJ.com)
http://www.nj.com/politics/index.ssf/2015/07/christie_trashes_nj_pollster_who_put_him_way_behind_in_new_hampshire.html#incart_river
Christie: I'll meet with Cuomo, feds on Hudson River rail tunnel
Governor Christie said Tuesday that he and New York Gov. Andrew Cuomo would accept an invitation to talk with the Obama administration's top transportation official about Amtrak's failing 105-year-old tunnel under the Hudson River.
(Herb Jackson, The Record)
http://www.northjersey.com/news/christie-i-ll-meet-with-cuomo-feds-on-hudson-river-rail-tunnel-1.1382096
Chris Christie not invited to money primary
Gov. Chris Christie isn't among a select group of Republican presidential candidates getting the chance to make fundraising pitches in the coming days to the billionaire Koch brothers and other wealthy conservatives in California.
(Bob Jordan, Asbury Park Press)
http://www.app.com/story/news/politics/new-jersey/chris-christie/2015/07/28/christie-koch-brothers-conference/30780111/
Bucco bill would protect emergency responders
Hoping to discourage potential violent rioters — such as those who took to the streets in Baltimore in April — Assemblyman Anthony M. Bucco is cosponsoring a bipartisan bill that would toughen and clarify penalties for those who interfere with or harm law-enforcement officers and other emergency responders when they are on the job.
(William Westhoven, The Daily Record)
http://www.dailyrecord.com/story/news/local/2015/07/27/bucco-bill-protect-emergency-responders/30749297/
Menendez fights administration on human trafficking
In his latest rift with President Barack Obama, Sen. Robert Menendez is challenging the administration's commitment to human rights after the State Department reported that Malaysia and Cuba have improved how they address human trafficking.
(Nicole Gaudiano, USA Today)
http://www.mycentraljersey.com/story/news/politics/2015/07/28/menendez-human-trafficking/30803137/
Quote of the Day: "Don't cry because it's over, smile because it happened." ― Dr. Seuss