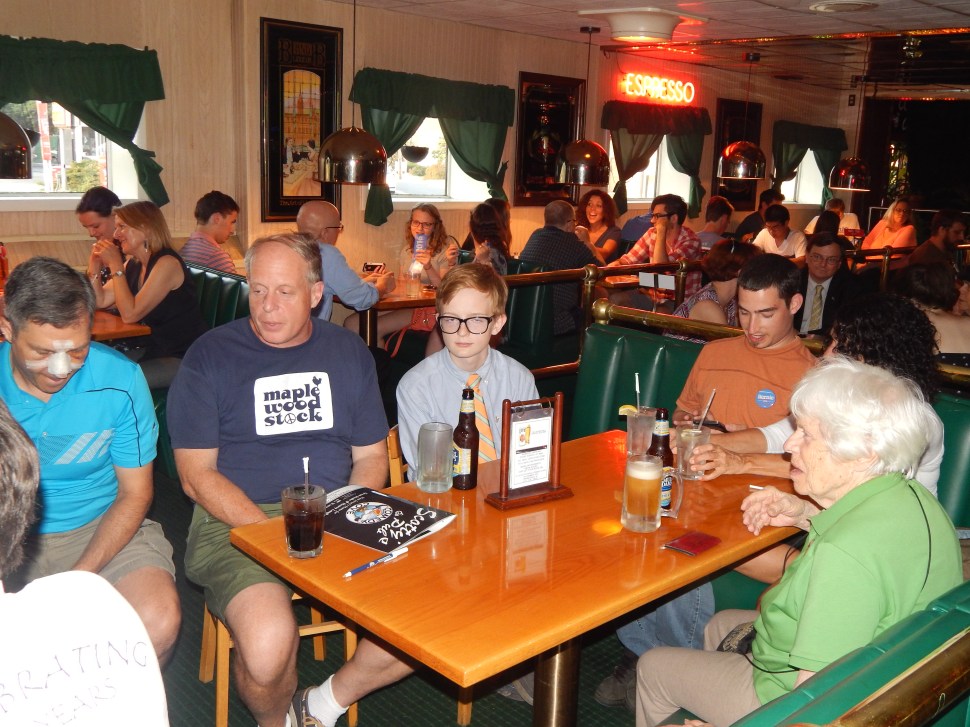 A look at what's going on in New Jersey politics, where the Feds are asked to bail out a foundering pension system, a former U.S. senator steps back into the spotlight and Steve Sweeney is making his mark in various counties.
Torricelli to host fundraiser on his country farm for Dem challengers
In another sign of accelerated political activity by the veteran politico, former U.S. Senator Robert Torricelli is hosting a fundraiser next month at his Hunterdon country barn for LD16 Democratic challengers Maureen Vella and Andrew Zwicker.
(Max Pizarro , politickernj.com)
http://politickernj.com/2015/07/party-in-ld16-torricelli-to-host-fundraiser-on-his-country-farm-for-dem-challengers/
Sweeney to hold roundtable with Bergen County leaders
Senate President Steve Sweeney (D-3) in the coming weeks intends to demonstrate the capacities of his power in jump ball counties with a series of legislative roundtables around the state, starting in Bergen, widely seen as a 2017 gubernatorial battleground.
(Max Pizarro, politickernj.com)
http://politickernj.com/2015/07/sweeney-to-hold-roundtable-with-bergen-county-leaders/
Sweeney wants to help out in Burlington
Senate President Stephen Sweeney (D) said today that, if asked to help fundraise and campaign for incumbent Burlington County Freeholders Aimee Belgard and Joanne Schwartz, he would.
"They haven't asked but I am sure they will," Sweeney told PolitickerNJ. "If and when they do I will be helpful."
(Alyana Alfaro, politickernj.com)
http://politickernj.com/2015/07/sweeney-will-be-helpful-to-burlington-county-freeholders/
South Jersey welcomes Sanders at live telecast
The crowd was out in force for presidential hopeful Bernie Sanders' telecast at the Collingswood Community Center Wednesday night.
( JT Aregood, politickernj.com)
http://politickernj.com/2015/07/laying-down-the-law-south-jersey-welcomes-sanders-at-live-telecast/
Ortiz-Berger aims to bring Latino representation to Bergen
Daisy Ortiz-Berger thinks she is the right candidate to fill the seat James Tedesco vacated on the Bergen County Board of Chosen Freeholders when he was elected County Executive last year. Currently, the seat is occupied by Democrat Thomas Sullivan Jr.— he was appointed to fill the one-year unexpired term—but Republican challenger Ortiz-Berger thinks her business savvy, Latina heritage and "desire to do what is right" might give her an edge over the incumbent in November.
(Alyana Alfaro, Politickernj.com)
http://politickernj.com/2015/07/bergen-freeholder-race-ortiz-berger-aims-to-bring-latino-representation-to-bergen/
BurlCo Freeholder race may alter field for '16 and '17
As the Burlington County Board of Freeholders approaches its 2015 election, Republican insiders see an opportunity for county Republicans to win back the two seats they lost in 2012 and get back to a 5-0 majority on the board. Burlington County Republican Committee Chairman William Layton and Republican strategist Chris Russell both see the race as a chance for Republicans to consolidate their influence in a crucial district before the national house contest in 2016..
( JT Aregood, politickernj.com)
http://politickernj.com/2015/07/burlco-freeholder-race-may-alter-field-for-16-and-17/
Singleton in D.C. talking to Dem leaders about a CD3 challenge in 2016
A Democratic Party source spied a familiar Trenton politician in Washington, D.C. today: Assemblyman Troy Singleton (D-7), who is said to be talking to Democratic Party leaders in Congress this week about possibly challenging U.S. Rep. Tom MacArthur (R-3) in 2016.
(Max Pizarrro, politickernj.com)
http://politickernj.com/2015/07/source-singleton-in-d-c-talking-to-dem-leaders-about-a-cd3-challenge-in-2016/
Slates form for Elizabeth Board of Ed control election
It's Armageddon in Elizabeth.
Wait, we wrote that last year.
Nothing's changed. It is simply the ongoing, abiding state of political Armageddon in Elizabeth.
(Max Pizarro, politickernj.com)
http://politickernj.com/2015/07/slates-form-for-elizabeth-board-of-ed-control-election/
AG's Office Investigating Sparta shooting
The Attorney General's Shooting Response Team is conducting an investigation into the circumstances surrounding a shooting involving an off-duty state trooper that occurred during the early morning hours of Sunday in Sparta, according to the AG's Office.  Nobody was injured in the incident involving the trooper and three young men, the AG said.
( Max Pizarro , politickernj.com)
http://politickernj.com/2015/07/ags-office-investigating-sparta-shooting/
Camden County opens up new elections and archives center
The Camden County Freeholder Board has opened a 61,694 square foot facility on 6.23 acres in Gloucester Township.
The Camden County Elections and Archive Center houses the offices of the Superintendent of Elections, Board of Elections, County Adjuster and some election services of the County Clerk's Office.  It also provides secured storage for county record management, along with space for 800 voting machines.
(Politicker Staff, politickernj.com)
http://politickernj.com/2015/07/camden-county-opens-up-new-elections-and-archives-center/
Bernie Sanders backers organize for 2016 Dem prez candidate around NJ
The last time people in New Jersey screamed the name "Bernie" in unison was when Yankees slickster Bernie Williams used to pull injury rehab ball with the Trenton Thunder, that Yankees farm club on the river. But Wednesday, all around New Jersey – including in a roadside comedy club turned campaign organizing venue – the "Bernie" chant rose for the Vermont Senator running for the 2016 Democratic nomination for president.
"I'm fed up," Timothy Gill of Maplewood told PolitickerNJ.
(Max Pizarro, politickernj.com)
http://politickernj.com/2015/07/bernie-sanders-backers-organize-for-2016-dem-prez-candidate-around-nj/
Sweeney to Christie: Sign the sexual assault bill
New Jersey Senate President Stephen Sweeney joined with state Senator Nellie Pou (D-35) and members of the New Jersey Coalition Against Sexual Assault (NJCASA) in an effort to urge Governor Chris Christie to sign legislation that would extend rights to sexual assault victims that are only currently available to victims of domestic violence.
Alyana Alfaro, politickernj.com)
http://politickernj.com/2015/07/sweeney-to-christie-sign-the-sexual-assault-bill/
Senate president advocates national loan restructuring
Senate President Steve Sweeney says the federal government should help save the state's sinking pension system with a national loan restructuring program.
(NJTVNews)
http://watch.njtvonline.org/video/2365536752/
Christie campaign seeks financial disclosure extension
Chris Christie is seeking an extension on submitting a public disclosure of his personal finances with the Federal Election Commission, his presidential campaign confirmed

on Wednesday

.
( Matt Arco, NJ.com)
http://www.nj.com/politics/index.ssf/2015/07/christie_campaign_seeks_financial_disclosure_exten.html#incart_2box_nj-homepage-featured
Sweeney wants federal loan program to rescue public worker pensions
State Senate President Stephen Sweeney said Wednesday the answer to New Jersey's rising public employee pension debt lies in creating a trillion dollar federal loan program that will help states avoid insolvency, spare millions of government workers from economic devastation and take the pressure off state budgets.
( Samantha Marcus,nj.com)
http://www.nj.com/politics/index.ssf/2015/07/sweeney_wants_federal_loan_program_to_rescue_publi.html#incart_most-comments
Chris Christie knocks down Trump's wall
As much as we hate the idea of our governor thumbing his nose at yet another infrastructure project, it's good to see Gov. Chris Christie roundly dismiss Donald Trump's proposal to build a "great, great wall" along the border with Mexico, and get Mexico to pay for it.
(Star-Ledger)
http://www.nj.com/opinion/index.ssf/2015/07/christie_takes_on_trump_and_the_great_wall_of_mexi.html#incart_river
U.S. Rep. Fattah, N.J. resident indicted for alleged misuse of federal, campaign funds
A U.S. Congressman and a Gloucester County resident were among those indicted Wednesday for their alleged roles in a racketeering conspiracy that also involved the misuse of campaign and federal funds, according to the U.S. Justice Department.
(Greg Adomaitis, NJ.com )
http://www.nj.com/news/index.ssf/2015/07/us_congressman_nj_resident_indicted_on_alleged_mis.html#incart_river
Christie's Medicaid spending plans would cost N.J. $3B a year, analysis says
Gov. Chris Christie's plan to control Medicaid spending he has advanced as a Republican presidential candidate would withhold $3 billion a year from the New Jersey budget, devastating the insurance program used by one in five residents who are low-income, elderly and disabled, according to a report Wednesday.
Susan K. Livio. NJ.com
http://www.nj.com/politics/index.ssf/2015/07/christies_plans_to_revamp_medicaid_spending_would.html#incart_river
Paterson's Torres seeking support for recreation tax referendum
Patterson Mayor Jose "Joey" Torres this week sent municipal employees an email asking them to sign a petition backing a citywide referendum on the proposed establishment of a new recreation tax.
(Joe Malinconico, Patterson Press
http://www.northjersey.com/news/paterson-s-torres-seeking-support-for-recreation-tax-referendum-1.1382676
Officials holding meetings on New Jersey disaster aid
State and federal disaster recovery experts are planning to meet with local emergency management officers to tell them about applying for disaster assistance related to a storm that walloped parts of southern New Jersey in June.
(Associated Press)
http://www.northjersey.com/news/officials-holding-meetings-on-new-jersey-disaster-aid-1.1382698
Wall Street donations may be drying up for Garrett over his opposition to gay candidates
Wall Street contributions, which helped Rep. Scott Garrett build the biggest campaign bankroll in the New Jersey delegation in Congress, may be drying up as a result of his opposition this month to recruiting gay Republicans to run for the House, Bloomberg Politics reported.
(Herb Jackson, The Record)
http://www.northjersey.com/news/report-wall-street-donations-may-be-drying-up-for-garrett-over-his-opposition-to-gay-candidates-1.1382603
Cuomo: Feds must offer more for Hudson tunnels
New rail tunnels under the Hudson River are needed to reduce delays, but the expensive project won't work without a greater financial commitment from the federal government, Gov. Andrew Cuomo said Wednesday.
(David Klepper, Associated Press)
http://www.courierpostonline.com/story/news/local/south-jersey/2015/07/29/cuomo-feds-must-offer-hudson-tunnels/30854047/
Christie's tunnel vision sign of neglect
A new rail tunnel across the Hudson River into Manhattan is critical to New Jersey's economic future. There's no getting around that basic fact. It was true before Hurricane Sandy swept through and damaged the existing century-old tunnels, back when Gov. Chris Christie in 2010 scuttled the $12.4 billion ARC — Access to the Region's Core — project that would have doubled peak rail service. It's even more true now.
(Daily Record)
http://www.dailyrecord.com/story/opinion/editorials/2015/07/29/christies-tunnel-vision-sign-neglect/30837513/
Christie's Exxon proposed deal could be decided Thursday
A $225 million settlement between the Christie administration and ExxonMobil is set to be discussed in front of a state judge.
(Associated Press )
http://www.pressofatlanticcity.com/news/ap/new_jersey/christie-s-exxon-proposed-deal-could-be-decided-thursday/article_af4fb8df-0c3c-5cc5-8217-009e7c1a1c6e.html
Chris Christie's personality is selling point, but New Hampshire may not be buying
He flew to this state immediately after announcing his presidential candidacy and burned nearly a half-million dollars on his initial ad purchase, directed at voters here. He has locked down the former state Republican chairman to lead his New Hampshire campaign. And he has already held more than a dozen town-hall-style events in the state.
Despite Chris Christie's intense focus on winning New Hampshire, many local Republicans are not exactly enamored with the New Jersey governor. Interviews over the last month with dozens of current and former New Hampshire Republican Party town and county chairmen and chairwomen, officials and voters struck three consistent concerns about the Christie campaign's chances here: the size of the field, his brushes with controversy at home and, perhaps most worrisome for his campaign, his personality.
(Nick Corasaniti, New York Times)
http://www.nytimes.com/2015/07/30/us/politics/chris-christie-focused-on-new-hampshire-faces-doubts-among-states-republicans.html?_r=0