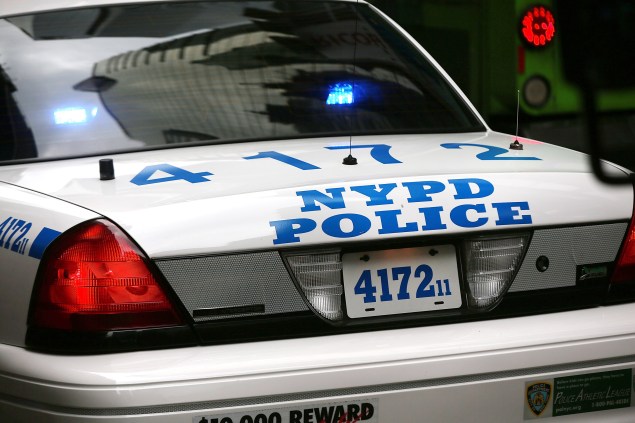 The blind spot shall see, if Public Advocate Letitia James and Queens Councilman Rory Lancman get their way.
The two politicians crammed into a retrofitted city bus today with reporters, safety advocates, union drivers and representatives of the Queens-based Rosco Vision Systems company to show off sensor technology that could be placed in the blind spots of city vehicles—and trigger alarms alerting drivers to an imminent collision with a car, pedestrian or cyclist. Ms. James and Mr. Lancman are pushing a bill that would require the city to test the technology—called Mobileye—on at least 100 of its 28,000 public vehicles and report on the results.
"We must examine every possible avenue to reduce crashes," said Ms. James, adding that the bill could both contribute to Mayor Bill de Blasio's Vision Zero safety agenda while also producing private sector jobs locally. "We would like a company from New York City, that hires residents from New York City."
Ms. James said retrofitting a vehicle with Mobileyes would cost $500 to $1,500 a pop—a small sum compared to the $88 million the city has paid out in damages for collisions over the past eight years. Her office estimated the technology would reduce fender benders by 60 percent and bring down frontal collisions by 95 percent.
Instead of demonstrating the technology firsthand, the bus sat parked at the curb outside City Hall while the crew aboard watched videos of past trial runs of the Mobileye system.
"As you might imagine, driving around the city with a bus loaded like this, and trying to demonstrate the technology, could be a little bit dangerous and a little bit challenging," explained Rosco Vice President Ben Englander.
According to Mr. Englander, the computerized cameras can discern the shape and speed of a person, car or animal from a harmless object like a drifting plastic bag and respond accordingly. He said it had been tested on city buses in London and other urban locales.
Ms. James' and Mr. Lancman's bill would not actually apply the technology to New York City buses, which belong to the Metropolitan Transportation Authority, a state-controlled entity. Rather, the bill would apply the Mobileyes to the blind spots of cop cars, ambulances and garbage trucks, using Comptroller Scott Stringer's Claimstat system to determine which groups of vehicles crash the most.
"We're talking about a very modest cost for a tremendous benefit for all of us who are on the streets, who care about our safety, and for our taxpayers," said Mr. Lancman.