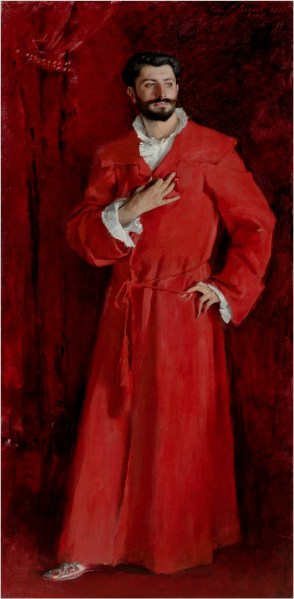 What is American about American art? Or, rather more precisely, what attributes of a painting make it uniquely American? The question arises, and persists, while visiting two engaging shows currently on view at the Metropolitan Museum of Art. Each of these exhibitions—among the major highlights of New York City's museum offerings this summer—focuses on the work of a giant of 19th-century American painting: George Caleb Bingham (1811-1879), and John Singer Sargent (1856-1925).
A stroke of programming genius, perhaps, or simply serendipitous good fortune, the shows presents a unique opportunity to compare and contrast the work of these key figures, near contemporaries, who made a similarly lasting impact on American art, but whose backgrounds and artistic temperaments could hardly be more different. Born in Virginia, and based in Missouri, Bingham was a homegrown talent, and largely self-taught. Born in Florence of American parents, and educated in the finest art academies in Europe, Sargent became an international celebrity, a darling of high society in both Europe and the U.S.  But each was possessed of a pioneering spirit in his primary profession—and portraiture was pivotal to their careers.
"Sargent: Portraits of Artists and Friends," on view through October 4, explores the artist's remarkable career as a portraitist, including commissioned works of high society matrons and patrons, as well as more casual almost impromptu pictures of his friends, which he painted for his own pleasure. Organized by Richard Ormond for the National Portrait Gallery in London (where the show debuted), in association with Met curators H. Barbara Weinberg and Elizabeth Kornhauser, the exhibition features some 90 works, including a number rarely or never-before shown in New York.
On view in this incandescent show are a number of Sargent's most famous paintings, including the irrepressible Madame X (Madame Pierre Gautreau), from the Met's collection, and Dr. Pozzi at Home, (1881), loaned by the Hammer Museum in Los Angeles. This stunning work shows the gynecologist, renowned in his time, wearing a flaming red robe and embroidered satin slippers, looking handsome and regal, with mannered hand gestures that recall an El Greco figure.
Sargent's commissioned portraits, especially later works done in the U.S., such as his paintings of collector and museum founder Isabella Stewart Gardner (1888), and actor Lawrence Barrett (1890), can exude a sense of staid propriety, if not stiffness. They hardly conceal Sargent's own boredom with the genre, which he sometimes admitted to friends. But when the artist lets loose, the results are dazzling, as in the non-commissioned portraits of artists, musicians—Sargent was himself an accomplished musician and sometime music promoter—friends, acquaintances, and what must have surely been lovers.
During his lifetime, Sargent was mum about his sexuality. His personal papers left in his studio, which may have shed light on the matter, were either lost or destroyed shortly after the artist's death in 1925. But the widespread speculation—scholarly and otherwise—about Sargent's would-be homosexual proclivities, is certainly justified in his seductive, endearing and sometimes eroticized portraits of male friends and companions. He conveys deep feelings toward male sitters, such as the musician Léon Delafosse, painter Francisco Bernareggi, and his frequent companion, painter Ambrogio Raffele, not to mention his appreciation for the male body in the number of watercolors of male nudes also included in the exhibition.
One of the most poignant and moving portraits, though, Carolus-Duran, is of a mentor. Here, Sargent shows obvious reverence for his teacher, one of the most prominent Parisian society portraitists of the day. It was Carolus-Duran who showed Sargent the ropes, as it were—how to gracefully maneuver through the upper echelons of society and exploit it as a source of both patrons and models.
Among the highlights of the exhibition are two portraits of Robert Louis Stevenson. Robert Louis Stevenson and His Wife (1885) shows the lanky writer casually strolling across his living room, while his wife, Fanny, slumps in an armchair on the right, wearing the glittering robes of a princess from India. A series of darkened open doorways at center right was inspired, according to the exhibition's sumptuous catalogue, by Diego Velázquez's Las Meninas (1656), which Sargent had studied at the Prado.
Similarly riveting are Sargent's two portraits of his friend Claude Monet: one in a formal silhouette pose, and the other showing the older artist painting outdoors, which Sargent has wittily and convincingly rendered in Monet's Impressionist style. In works like these Sargent reminds the viewer of his incredible technical command of the medium. Seemingly effortlessly, he was able to draw from the depths of art history to the flashiest bravura of avant-garde painting of the day. There is a certain fearlessness about Sargent's work that relates on some level to the endeavors of George Caleb Bingham.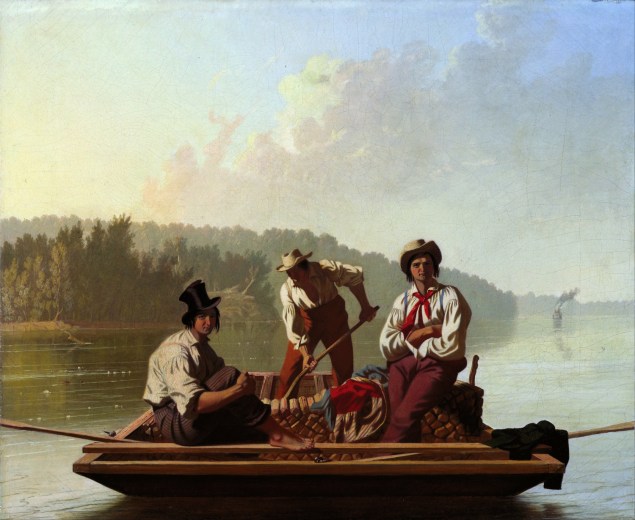 Bingham was the first major American artist to be based west of the Mississippi. He started his career as a portrait painter, but is renowned today for his haunting images of boats, barges and docks along the Missouri River, populated by rustic characters—boatmen, dockhands, fur traders, layabouts and card sharks—of the then barely settled Midwest of the mid-19th century.
All but one of Bingham's 17 iconic river paintings are featured in "Navigating the West: George Caleb Bingham and the River," on view at the Met through September 20. Co-organized by the Amon Carter Museum of Art, Fort Worth, and the Saint Louis Art Museum, where it previously appeared, and adapted for the Met by museum curator Elizabeth Mankin Kornhauser  and assistant curator Stephanie L. Herdrich, the exhibition also contains some 50 related drawings and works on paper by Bingham, archival materials, plus examples of works by his Hudson River School contemporaries, and other pieces that help underscore his unique achievement.
The exhibition begins appropriately enough with the 1834-35 Self-Portrait. A rather static composition and a bit awkward in its execution, with stiff brushwork and flat areas of color, the portrait is nevertheless compelling. It shows a rather stern, ruddy-cheeked young man in black, conveying the intense sobriety of a lawyer or doctor rather than a creative type. Bingham, who had a lifelong interest in law, politics and religion, preferred to downplay his role as an artist. He was, in fact, a successful politician. He was elected to a number of important posts throughout his life, including a seat in the Missouri House of Representatives in 1848; he supported the Union during the Civil War, and was appointed state treasurer.
In the 1840s, while profiting from a steady stream of portrait commissions, Bingham began his series of river paintings. Among the most celebrated, The Jolly Flatboatmen (1846), shows a centralized group of figures in a boat, set against a cloudless blue sky, and floating on a gorgeously rendered misty river. While a fiddler plays, a young man in a red shirt and blue jeans jumps up above the deck in an ebullient dance. Though wholly theatrical, the image has a fresh and spontaneous quality, as if captured in a photograph. The picture is convincing as a slice-of-life portrayal of life on the Missouri, although Bingham's was already an idealized one. By the 1840s, the types of flatboats he preferred to paint were already nearly obsolete, and the carefree, wayward adventurers he depicted were largely denizens of the past.
Still, Bingham never had a pretense to realism; indeed, his work is often associated with Luminism, an American art movement centered on the effects of light in nature studies with a mystical or spiritual bent.
Bingham's best works, such as Fur Traders Descending the Missouri (1845), are close in feeling to the painters of the Hudson River School. This celebrated painting shows two figures and a cat occupying a shallow flatboat as it drifts downriver. The work is permeated by an atmosphere of hushed reverie as the silhouetted black cat on one end of the boat balances the figures on the right.
One of the young men is clearly half Native American and half European, a reference to the complex racial and social makeup attendant to the Western expansion in the early 19th century. As noted in the exhibition's excellent catalogue, the work's original title, French Trader—Half-Breed Son was changed soon after its purchase by the American Art-Union in 1845. That same year, Bingham again addressed volatile Native American issues in The Concealed Enemy, a remarkable study of what is believed to be an Osage warrior, rifle in hand, observing white settlers from behind a dramatic rocky outcropping.
Like Sargent, Bingham was possessed of a true pioneering spirit. This is the one trait that comes across in both exhibitions, and most unites the otherwise disparate works of two charismatic individuals who marked their times. It is perhaps a trait that is uniquely American in its adventurousness, determination and clear-sightedness.