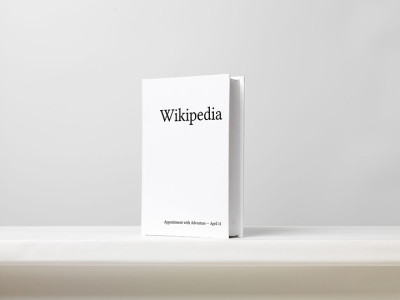 Have you ever wondered just how big Wikipedia really is? Artist Michael Mandiberg did. So he printed it.
After 24 days, 3 hours, and 18 minutes, Mr. Mandiberg has fully uploaded his ready-to-print encyclopedia of Wikipedia, known as Print Wikipedia, to Lulu.com, an online bookstore.
For the past three years, Mr. Mandiberg has been working on software that converts all 11,594,743 Wikipedia entries into 7,600 PDF volumes ready for print. With each of the 7,600 volumes running 700 pages, the entire collection amounts to 5,244,111 pages. The project includes contributions from over 7.5 million people.
On June 18, as the Observer reported, Mr. Mandiberg officially began uploading Print Wikipedia at the Denny Gallery on the Lower East Side. The upload kicked off his exhibition "From Aaaaa! to ZZZap!" which spanned the duration of the upload (originally projected to take about two weeks, it took 24 days total). To avoid the crazy environment impact of printing all 7,600 volumes, the exhibit included only 106 of the volumes.
Now that the 7,600 volumes are online, the exhibition is over.
"Print Wikipedia i​s a both a utilitarian visualization of the largest accumulation of human knowledge and a poetic gesture towards the inhuman scale of big data," said Mr. Mandiberg in a statement. "If books are a reduced version of the universe, then this is the most expanded version we've ever seen."
Individual volumes of Print Wikipedia are available for $80 each, and the entire collection is available for $500,000. Alas, no one has yet sprung for the whole compendium.